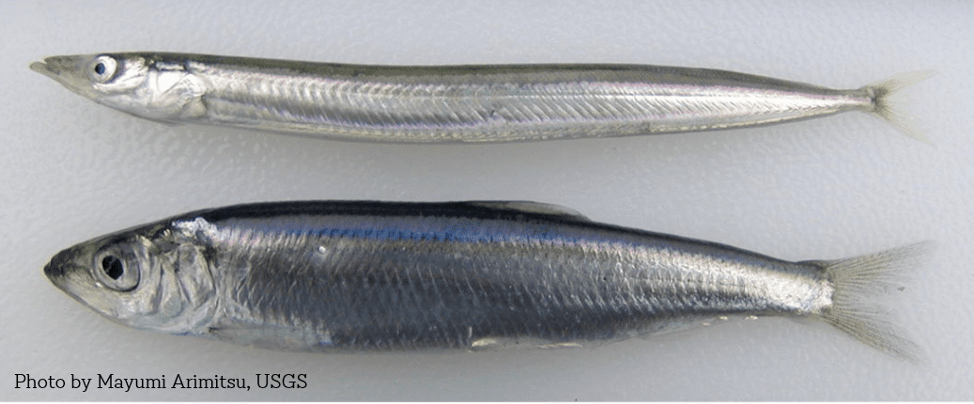 Do marine plastics pose a threat to salmon survival in the Salish Sea?
Microplastics in our water is a relatively new problem and many are rightfully concerned. Spurred by encouragement from the broader LLTK community, we reviewed the available research to determine if marine plastics pose a threat to salmon survival. The following information is based on studies assessing marine plastic effects on zooplankton and fish conducted inside and outside of the Salish Sea. We looked specifically at zooplankton and forage fish when reviewing available research because they are important food for salmon and may play a role in transferring plastics through marine food webs.
As many of us know, plastic is a pervasive human-caused pollutant in the marine environment. Plastics can enter the marine environment either from marine-based activities like fishing, aquaculture, and shipping, or land-based activities that result in wastewater effluent, runoff, or river discharge (Desforges et al. 2014). When we're thinking about plastics affecting salmon, size matters. Smaller sized plastics less than 5 millimeters, also known as microplastics, are concerning because they are the most likely to be consumed by juvenile and adult salmon either intentionally (they can look like food) or accidentally.
Upon consumption, marine plastics can physically and chemically affect zooplankton and fish. Physical effects from eating it can obstruct their mouths and throats, block their digestive track, artificially fill their stomachs, and be absorbed into other parts of their body (Cedervall et al. 2012; Cole et al. 2013; Rochman et al. 2013; Desforges et al. 2014, 2015). Chemical effects may also occur from the toxic ingredients in the plastic (e.g., petroleum products) or from environmental chemicals that attached to the plastic from seawater (e.g., PCBs) (Cole et al. 2013; Rochman et al. 2013; Hipfner et al. 2018). It's important to note that effects from plastics may be unique among species, types of contaminants, and types and sizes of plastics (Desforges et al. 2015; Ašmonaitė et al. 2018).
Despite marine plastic pollution being a widely known environmental issue, very little field research has been done in our region to assess how salmon are affected after consuming marine plastic either directly or via their food. Most of the research assessing effects has been laboratory-based and results are often varied. In 2019, researchers performed a thorough review of plastic effects on marine organisms and found an effect was more likely to be detected at higher concentrations of microplastics and mortality occurred at extreme concentrations that are not typically found in the environment (Bucci et al. 2019). This review indicates that field studies may provide a more realistic understanding of exposure and consumption rates for target species, such as salmon.
Along the British Columbia coastline, two different field studies assessed marine plastic consumption rates for zooplankton and forage fish, important food for salmon. In the first study, scientists determined about 3% of copepods and around 6% of euphausiids (AKA krill) were eating microplastics and that there was no correlation between the amount of microplastics eaten and the amount in the seawater (Desforges et al. 2015). In the second study, scientists determined that very few forage fish, sand lance (1.5%) and herring (2.0%), had eaten microplastics (Hipfner et al. 2018). This research also suggested that larger forage fish are less likely to consume plastic. Together, these studies indicate that zooplankton and forage fish are most likely NOT conduits for indirect plastic consumption in salmon on the outer coast of British Columbia.
As was mentioned previously, very little is known about the impacts of marine plastics on salmon either through direct consumption or via their food (pers. comm. A. Spanjer 2019). The first and only field study regarding plastic consumption rates by salmon in the Salish Sea determined juvenile Chinook consume an average of 1.15 microplastic pieces per day (Collicutt et al. 2018). At this rate of consumption, it is unlikely to lead to significant mortality events. This study also found no significant relationship between the amount of microplastics found in seawater and sediment compared to the amount consumed by the juvenile Chinook. The United States Geological Survey (USGS) is currently doing a laboratory-based study examining how long polyester fiber is retained in the gut of juvenile Chinook after consumption, but that research is currently ongoing (pers. comm. A. Spanjer 2019).
Based on the available research investigating marine plastic effects on zooplankton and fish, we can conclude that marine plastics do not currently pose a significant threat to salmon survival in the Salish Sea. However, marine plastics will continue to persist as pollution on land and in our oceans if we do not take action to reduce them. Ellen MacArthur with the World Economic Forum estimated that the world's oceans will have more plastic than fish by 2050. Whether her estimate is accurate or not, we can all do our part to help reduce plastic pollution. Please see below for a list of five ways you can reduce marine plastic pollution:
Join a beach cleanup – Puget Soundkeeper Alliance and The Surfrider Foundation are frequently hosting beach and lake cleanups to reduce the amount of debris in our waterways.
Remember your reusable containers – Actively using your reusable water bottle, coffee mug, or to-go containers will not only reduce plastic but can save you money in the long run.
Buy microbead-free products –Microbeads are too tiny to be filtered out at the wastewater treatment facility. Buying personal products that do not contain microbeads will reduce the amount of microplastics entering our oceans.
Reduce clothes washing – When we wash our clothes, they shed microfibers that do not get filtered out, like microbeads. By reducing how often we wash our clothes, we can lower the number of microfibers that are being released. We're not saying wear dirty clothes, but if you can, wear items more than once and choose natural fiber clothing (these fibers will biodegrade over time).
Make informed decisions – As consumers, we can make conscientious decisions about the products we buy and the companies we support. This can take the form of buying items in bulk rather than individually wrapped items, as well as the packaging our purchases come in. By being aware of how much plastic your household generates, you can find ways to reduce it and ultimately lower your carbon footprint. 
Work Cited
Ašmonaitė, G., Larsson, K., Undeland, I., Sturve, J., Almroth, B.E. 2018. Size matters: Ingestion of relatively large microplastics contaminated with environmental pollutants posed little risk for fish health and fillet quality. Environ. Sci. Technol., 52: 14381 – 14391.
Bucci, K., Tulio, M., Rochman, C.M. 2019. What is known and unknown about the effects of plastic pollution: A meta-analysis and systematic review. Ecological Society of America, doi:10.1002/eap.2044.
Cole, M., Lindeque, P., Fileman, E., Halsband, C., Goodhead, R., Moger, J., Galloway, T.S. 2013. Microplastic ingestion by zooplankton. Environ. Sci. Technol.,47: 6646 – 6655.
Collicutt, B., Juanes, F., Dudas, S.E. 2019. Microplastics in juvenile Chinook salmon and their nearshore environments on the east coast of Vancouver Island. Environmental Pollution, 244: 135 – 142.
Desforges, J.W., Galbraith, M., Dangerfield, N., Ross, P.S. 2014. Widespread distribution of microplastics in subsurface seawater in the NE Pacific Ocean. Marine Pollution Bulletin, 79: 94 – 99.
Desforges, J.W., Galbraith, M., Ross, P.S. 2015. Ingestion of microplastics by zooplankton in the Northeast Pacific Ocean. Arch. Environ. Contam. Toxicol., 69: 320 – 330.
Gall, S.C. and Thompson, R.C. 2015. The impact of debris on marine life. Marine Pollution Bulletin, 92: 170 – 179.
Hipfner, J.M., Galbraith, M., Tucker, S., Studholme, K.R., Domalik, A.D., Pearson, S.F., Good, T.P., Ross, P.S., Hodum, P. 2018. Two forage fishes as potential conduits for the vertical transfer of microfibres in Northeastern Pacific Ocean food webs. Environmental Pollution, 239: 215 – 222.
Rochman, C.M., Hoh, E., Kurobe, T., Teh, S.J. 2013. Ingested plastic transfers hazardous chemicals to fish and induces hepatic stress. Scientific Reports, 3: 3263.