Long Live the Kings (LLTK) has a dual mission, restore wild salmon and steelhead and support sustainable fishing in the Pacific Northwest. As such, we recognize the important role of hatcheries in mitigating for degraded freshwater habitat and providing opportunities for our fellow community members who have the rights, needs, and passion for fishing.
At the same time, we are aware of the potential and ongoing negative impacts of hatcheries, the fact hatchery fish require quality habitat too, and the importance of producing the right kind of hatchery fish that can match or adapt to environmental conditions as they change. Therefore, we are wary of the perspective that a simple across the board production increase in our existing hatchery programs is a fix to our low salmon abundance. Without a supportive ecosystem or diverse hatchery populations, more juvenile hatchery fish released may not equate to more salmon returning to our waters as adults. Further, even if increased hatchery production provides short-term gains, if done improperly, its impacts could leave people, salmon, whales and our shared ecosystem worse off in the long run.
Our ultimate goal will always be sustainable wild salmon runs, but this will take decades of work and deeper investments—especially in our most heavily urbanized or damaged areas—and strong attention to impacts of a changing climate. In the meantime, hatcheries remain a necessary tool that must be continually honed in response to new science.
The divide between people who are "pro" and "anti" hatchery is growing, and LLTK is labeled as either depending on who you ask. This polarization is unfortunate because, like many things, progress towards abundant salmon runs will be won through evaluation, understanding, common sense, compromise, and relentless improvement… not by picking sides.
We would like to take this opportunity to share our thoughts about hatcheries based on our 30+ years of history with them, and some of the issues that are intertwined with hatchery management.  We offer these insights in hopes that those with management authority will consider them and take the necessary steps to assure we have salmon and steelhead for this and future generations.
LLTK has a history with hatcheries.
In the 1980s, LLTK's first project was to transform a traditional hatchery on the Wishkah River near Grays Harbor into a workshop with multiple fish-rearing strategies targeting wild fish recovery. Since then, we have been involved with assessing, operating, and experimenting with hatcheries and transforming their management.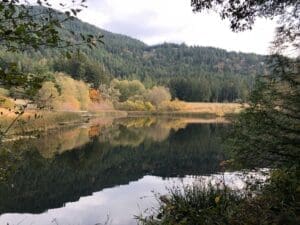 We currently manage two hatcheries. Our Glenwood Springs facility on Orcas Island is focused on supplementing Chinook salmon in the San Juans and the Strait of Georgia for harvest by humans and orca whales. Here, we are conducting experiments to improve the effectiveness of hatchery production, with a goal of higher survival rates at sea and larger returning fish. We also support a kokanee fishery in Cascade Lake and rear kokanee from Lake Sammamish for a wild population recovery program[1].
The second hatchery in Lilliwaup on Hood Canal is focused on rebuilding salmon and steelhead populations at severe risk of extinction. Our work here contributes to recovery efforts that include improved hatchery management, habitat restoration, and controlled harvest, with the combined goal[2] of ultimately removing these populations from federal endangered species listings and restoring them to harvestable levels. This facility has shown success working with steelhead, Chinook, and summer chum. In fact, Hood Canal summer chum recovery has been so successful, it is one of only two salmon populations in Washington trending towards delisting under the federal Endangered Species Act (ESA).
In addition to operating these hatcheries, from the late 1990s through 2010, LLTK facilitated Hatchery Reform, a bipartisan Congressional effort to help align hatchery production with wild fish recovery. The objective was to reduce risks hatcheries pose to wild fish while balancing the need to satisfy tribal treaty rights and commercial and recreational harvest goals. The Hatchery Scientific Review Group (HSRG) – an independent panel of academic, federal, tribal and state scientists– was formed and charged with reviewing all hatchery programs in Puget Sound and Coastal Washington. The panel then provided recommendations to state, tribal and federal managers for creating sustainable harvest and conservation goals for salmon populations and managing natural and hatchery production toward meeting those goals. They also provided guidance on how to monitor, evaluate, and adaptively manage hatchery programs in accordance with the best available science.
The HSRG recommendations included promoting adaptation of natural and hatchery populations to local conditions, minimizing adverse genetic interactions and competition between hatchery- and natural-origin fish, minimizing the effects of hatchery facilities on the surrounding ecosystem, and maximizing the survival of hatchery fish.[3] On-the-ground, these recommendations were tailored to the specific watershed in which a hatchery operates.
Hatchery Reform was a fundamental shift from viewing a hatchery as an isolated fish production factory to hatcheries as an integrated part of Northwest salmon ecosystems. Some of the recommended actions for improving hatcheries have not been fully implemented, limiting the effectiveness of Hatchery Reform. Additionally, gauging the success of Hatchery Reform is a long-term effort across multiple generations of salmon, complicated by a changing physical environment, climate and aquatic ecosystem. Therefore, we believe tribal, state and federal managers should continue to focus on implementing the principles and recommendations of Hatchery Reform while simultaneously evaluating and adjusting these actions to manage our hatcheries in the context of performance, new science, climate change, laws and treaties, and societal goals related to hatchery and wild fish populations.
LLTK is very concerned with the future of both hatchery and wild fish in the Pacific Northwest.
Severe declines in US and Canadian Chinook fisheries and survival of hatchery and wild fish in the ocean started well before cost-driven and ESA-related reductions in hatchery production in Washington State. Something in the marine environment changed drastically starting in the late 1970s, and the impacts continue to affect both hatchery and wild salmon.[4] Now environmental conditions in freshwater and marine environments are becoming less favorable and reliable for salmon production, complicating management in Washington State and across the entire Pacific Northwest.
The number of hatchery Chinook salmon released into Puget Sound has been reduced since the 1980s. But because the marine survival of Chinook, coho, and steelhead from the Salish Sea (Puget Sound and the Strait of Georgia) has dropped significantly over the last forty years, we are not convinced that simply increasing hatchery production will result in a commensurate increase in the number of returning adult salmon. In fact, "business as usual" hatchery practices may become increasingly less effective as we face new environmental challenges.
The Salish Sea marine environment has changed in fundamental ways, and our salmon and steelhead populations may not be keeping up. Through the Salish Sea Marine Survival Project, LLTK and our US and Canadian partners have worked together to investigate the changes and what we might be able to do about it. Factors affecting food supply–like climate change–and predation appear to be the most critical impacts to juvenile salmon and steelhead across Salish Sea populations, while impacts such as nearshore and estuary habitat loss, contaminants, and disease also impact specific populations in some areas. A thorough report of these results will soon be available at www.marinesurvivalproject.com. We already have begun working with our partners to test solutions to many of these problems.
LLTK also strongly believes that there needs to be an initiative to not only protect but to increase the diversity of our salmon and steelhead, both hatchery and wild populations, to have an abundant resource now and into the future. About 40% of the wild Puget Sound Chinook populations have gone extinct, a large portion of which were earlier returning spring Chinook.[5] Today, fewer than 10% of Puget Sound Chinook return in the spring.[6]  Habitat loss and hatcheries have also affected the genetic and life history diversity of remaining Puget Sound Chinook populations, making them more homogenous. [7]  These impacts have removed the diversity that had developed to survive changes in climate and physical conditions over millennia.  Luckily, studies show there are still significant remnants of genetic diversity in our naturally spawning populations.[8]  There is also emerging evidence that genes that control size, return timing, and other characteristics that were historically more variable are conserved in hatchery (and presumably wild) salmon, and that it may be possible to express these characteristics again through experimentation and natural processes.[9]
Releases of juvenile Chinook from hatcheries have become less variable as well: since the 1970s, hatchery release windows have narrowed. Now, most Chinook are released into the Salish Sea around the third week of May. This differs substantially from wild Chinook which typically have prolonged, bi-modal outmigration periods with peaks in February-March and May-June.[10]
Lower life-history variability and loss of genetic diversity, including the change in balance of early and late adult return timing in our aggregate Chinook population (hatchery and wild, combined), may be setting these fish up for reduced success as climate and conditions change rapidly in the region. These environmental changes impact some areas and times of the year more than others. Diversity in salmon populations and variability in outmigration timing may spread our odds of success so that if one group of fish struggles, there are still others to meet our societal and environmental needs. In addition, other species in the ecosystem rely on salmon as prey throughout the year, such as our endangered Southern resident orcas. Can hatchery operations be modified to support these needs?
Hatcheries need to be the best they've ever been.
LLTK understands that approximately 80% of the Chinook that return to Washington State are currently hatchery-origin[11]. Given that we must balance the reality of extensive habit loss with our need to meet fisheries obligations, tribal treaty rights, and orca recovery goals, it is likely that hatcheries will continue to be a dominant form of salmon production in the Northwest.
This does not mean we should simply increase hatchery production to counter habitat loss. Instead, for the sake of the environment, and our tax dollars and fishing license fees, the quality of hatchery production is of utmost importance. We need to continuously experiment based on our understanding of salmon and how they respond to their ecosystem.  U.S. and Canadian scientists and hatchery managers are working to test hatchery practices that may improve marine survival and increase the size of fish that return to our waters as adults– both widely acknowledged problems. Trial efforts to restore lost diversity in wild populations are also showing promise, for example, re-introducing spring Chinook in the North Fork of the Skokomish River[12]. These sorts of efforts need to be supported and expanded.
If used properly–with appropriate production goals, a focus on factors affecting productivity, and well-managed risks–hatcheries can better and sustainably meet harvest needs and conservation objectives in the face of significant and ongoing habitat constraints. Continual updates and improvements to operations based on new science, refined standards, and an appreciation for new environmental realities like climate change should be a consistent part of good management. Success will require increased investment in our hatchery programs, effective and adequate monitoring (which is chronically underfunded), mutual trust and cooperation, and patience.
Opinions on hatcheries aside, we should all be working towards better habitat.
All salmon, hatchery and wild alike, need healthy habitat and clean, cold water. Increased focus is needed on habitat recovery and removing barriers to fish migration. These actions are critically important, but tragically underfunded. Conservative estimates suggest that only 20-25% of habitat actions needed to recover salmon and provide sustainable fisheries are funded. At this pace, we are hopeless to keep up with our rate of land development or even rebound from current impacts in the face of a changing climate.
Understanding that we will never have the funding to do everything immediately, we must prioritize strategically. Because our Chinook migrate from Puget Sound up the coast, the success of fisheries from Oregon to Alaska are related to protections for a few very weak wild Chinook populations in Puget Sound. Habitat recovery priorities should in part be guided by the specific recovery needs for these salmon populations. And finally, we must do much better at protecting the existing habitat we have, and that means fundamentally rethinking our relationship to the landscape, better prioritizing the needs of salmon, and being willing to make tough choices.
The bottom line.
LLTK recognizes and accepts the central role of hatcheries in supporting fishing opportunities here in Washington State, now and in the future. We recognize the intense problems for fishing communities associated with reduced returns of salmon and steelhead to Northwest rivers. We recognize that ESA listings for southern resident orcas and salmon make managing fisheries more difficult. But these challenges can be met. They must be.
As the world changes around us, wild and hatchery populations that may have been successful and able to support abundant fisheries in 1960 are proving to be less successful in 2020. We are convinced that just doing more of the same thing won't yield the results we seek. Attempting to manage hatcheries in ways that ignore fundamental changes to the environment, new scientific findings, or competing priorities isn't productive. We need more salmon diversity, critical analysis including effective monitoring, and determination to relentlessly improve on what we are doing today.
LLTK is advancing science and implementing solutions while we work to build a coalition of interested people and organizations to directly address these challenges based on science, rights, economics, and goals that leave our grandchildren with a better environment and more fishing opportunities.
References
[1] This program is supported by King County Natural Resources and the Lake Sammamish Kokanee Work Group.
[2] Partners in this effort include Hood Canal Coordinating Council and their member organizations, Hood Canal Salmon Enhancement Group, NOAA, WDFW, and others.
[3] See www.hatcheryreform.us for more information. In 2006, the HSRG went on to evaluate all hatchery programs in the Columbia River basin and many in California, facilitated by another party. LLTK continued working with the US Fish and Wildlife Service to develop their own Hatchery Reform recommendations for their Northwest salmon and steelhead programs until 2010.
[4] See Long Live the Kings' Salish Sea Marine Survival Project for more information. www.marinesurvivalproject.com.
[5] NOAA Technical Memorandum NMFS-NWFSC-78 U.S. DEPARTMENT OF COMMERCE National Oceanic and Atmospheric Administration National Marine Fisheries Service Independent Populations of Chinook Salmon in Puget Sound July 2006
[6] Losee et al. 2019. Changing salmon: An analysis of body mass, abundance, survival, and productivity trends across 45 years in Puget Sound. Fish and Fisheries 00: 1-18.
[7] Ruckelshaus, M.H., K.P. Currens, W.H. Graeber, R.R. Fuerstenberg, K. Rawson, N.J. Sands, and J.B. Scott. 2006. Independent populations of Chinook salmon in Puget Sound. U.S. Dept. Commer., NOAA Tech. Memo. NMFS-NWFSC-78, 125 p.
[8] Ibid.
[9] McKinney et al. 2020. A mobile sex-determining region, male-specific haplotypes, and rearing
environment influence age at maturity in Chinook salmon. https://doi.org/10.1101/2020.04.23.056093
[10] Nelson BW, AP Shelton, JH Anderson, MJ Ford, and EJ Ward. 2019. Ecological implications of changing hatchery practices for Chinook salmon in the Salish Sea. Ecosphere. 10(11):e02922.
[11] https://www.fws.gov/salmonofthewest/wild.htm
[12] This project is made possible by the Skokomish Tribe and Tacoma Public Utilities.
Post updated on March 24, 2021