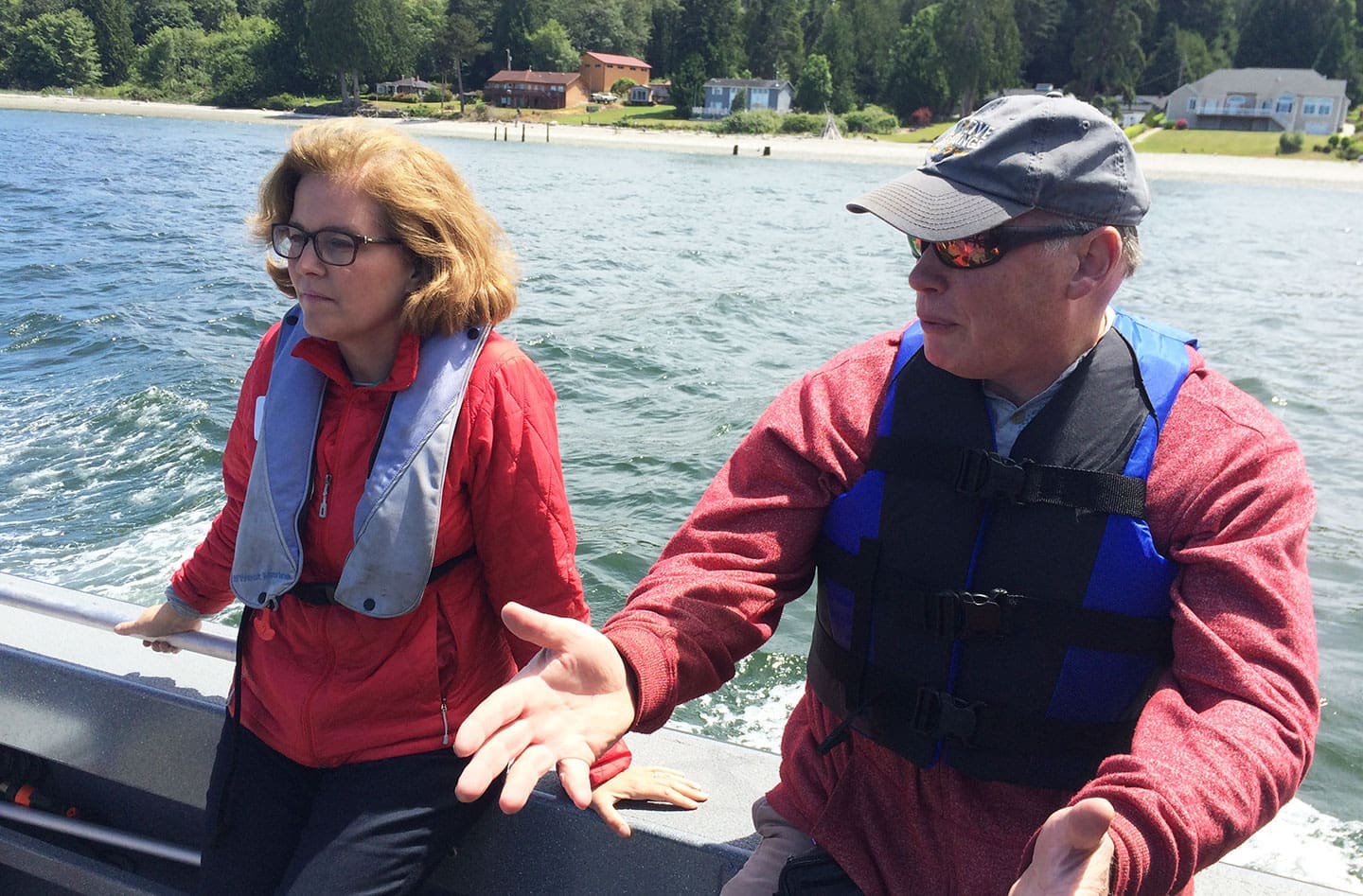 Is the Hood Canal Bridge Impacting Out-Migrating Salmon and Steelhead?
LLTK is working with our partners to better understand and mitigate the impacts of the Hood Canal Bridge on out-migrating salmon and steelhead. This work is based on recent research findings by scientists from NOAA Fisheries, which indicated that 36% of juvenile steelhead being tracked as they migrated past the Bridge were presumed dead; and on preliminary modeling conducted by the Pacific Northwest National Laboratory which showed that the Bridge may be restricting water circulation in Hood Canal.
As a narrow fjord, the Canal naturally has difficulty flushing polluted water and replenishing oxygen, leading to periodic fish kills and shellfish harvest closures. The Hood Canal Bridge, which crosses more than 80% of the width of the Canal, may be exacerbating this problem.
Is the Hood Canal Bridge impacting the survival of out-migrating #salmon and #steelhead?
Click To Tweet
This summer, LLTK partner the Port Gamble S'Klallam Tribe, has been documenting fish use in and around the bridge, to obtain a sense of how fish interact with the structure of the Bridge. Check out their video below of krill and a school of summer chum using a calm water area in the middle of the bridge sundeck.
LLTK staff have also been working with the Hood Canal Coordinating Council and the Port Gamble S'Klallam Tribe to host field trips for decision makers in order to acquaint them with the potential challenges the Bridge poses for out-migrating fish and for maintaining water quality in the Canal.
In June, we led State Senator Christine Rolfes and Mason County Commissioner Randy Neatherlin on a tour of the Bridge subdeck and a boat tour of the floating portion. In August, we met at the Bridge with Congressman Derek Kilmer from Washington's 7th District, Congressional staff for Senators Patty Murray and Maria Cantwell, Washington State Representative Steve Tharinger, and a number of Tribal and state agency representatives.
Visitors saw firsthand where fish aggregate under the Bridge, how predators might be impacting these migrating fish, and how the floating structures of the Bridge itself could affect water flow in and out of the Canal.
Learn more about our Hood Canal Bridge Ecosystem Study >
Pictured above: Senator Christine Rolfes (left) and Paul McCollum from the Port Gamble S'Klallam Tribe.