JOIN US: To receive LLTK news, event updates, and links to salmon recovery articles in local media, please join our community on Facebook and Twitter.
---
The movement to save salmon is built on many fronts. From cutting edge computer modeling with artificial intelligence to a 20-minute lesson in a 3rd grade classroom, we need progress in all areas to rebuild salmon populations for the next generation. Here are 10 things YOU can do to help save salmon and steelhead.
Learn about Salmon. Salmon conservation and recovery requires us to deal with long standing problems, but new problems and solutions are regularly identified. Subscribing to the Long Live the Kings email list is an easy way to be updated on some of the latest salmon news. We send our quarterly e-news, Fishues, as well as special messages. Sign up at the bottom of this page. For students and educators, please visit our classroom page for lesson plans, videos, and more resources about salmon.
Dispose of your waste properly. It's tempting to save some time and throw everything into one garage bin, but those few seconds saved can results in environmental damage that is very difficult to undo. Get it right the first time, especially with pharmaceuticals and hazardous waste. Each city or county will have its own guidance on waste disposal, but for King County residents, follow instructions here. And, don't forget to pick up your pet waste!
Don't drip and drive. Leaking fluids from a car or truck is often washed into our rivers, streams, and in front of our ocean beaches. These chemicals are toxic to wildlife and extremely difficult and expensive to remove from the water. Get your vehicle running right and help save salmon by following the tips here.
Be RainWise. Water from storms can wash pollutants into lakes, creek, and Puget Sound. RainWise is a rebate program that helps eligible property owners manage stormwater by installing rain gardens and/or cisterns on private property. This prevents flooding, adds attractive landscaping, and can provide water for summer irrigation. If you don't have space for a rain garden, consider adding native plants to your yard. Native plants are naturally adapted to your local climate, weather, soil types, and rainfall so they don't need extra watering, fertilizers, or pesticides. Like a rain garden, native plants help absorb rain, hold soil, and trap runoff.
Tell them how much you care. Every year, only a small fraction of the proposed habitat restoration and environmental monitoring projects are funded. Your elected officials care about salmon, steelhead, and the environment, but they are faced with hard decisions about what to do with limited funds. They need your support to create the laws and devote the funding necessary to save our salmon. Find and contact your legislators here.
Understand tribal treaty rights. Since time immemorial, tribes have stewarded the Salish Sea and continue to today. Treaties guarantee tribes the rights to some natural resources, and as these resources have declined, tribes have used these rights to protect resources. Understanding this history will make you a more powerful salmon conservation advocate.
Support businesses who support salmon conservation. When possible, we encourage you to purchase products and services from LLTK partners and business that support environmental conservation. View our partners here and learn more about Salmon-Safe products and services here.
Buy a fishing license. We know, this one sounds counterintuitive, but sustainable fishing is critical salmon recovery. Fishing provides an opportunity to learn about the environment and build a deeper connection with this amazing resource. Between 2015 and 2017, licensing revenue contributed $12.1 million to healthy habitat. Find more info on fishing licenses here.
Volunteer. Long Live the Kings and others have opportunities to volunteer your time to help save salmon. Planting trees and removing invasive species is a popular way to volunteer, but few people realize that your professional skill might be much more valuable. Graphic designs, advertisers, construction workers, web developers, and many others have service they can donate to fundraisers or provide directly to organization in-kind. Sign up to volunteer here.
Donate. Your donations help Long Live the Kings launch new projects, take bold action, grow the movement to save salmon, and much more. We cannot thank our donors enough for what they have helped us accomplish. Join them here.
Are there more ways to save salmon? ABSOLUTLEY! Share your ideas below.
In 2018, we were looking for a partner to revamp the website for our education and outreach campaign, Survive the Sound (STS). Like most nonprofits, we had a shoestring budget, limited staff time, and needed more than a web developer, but a true partner that would be able to understand our goals and bring together a unique website on a tight timeline. Enter Montana Banana, the exact collaborator we were hoping for. Their team was excited about the mission and delivered in a big way, helping us bring salmon education and awareness to thousands of new people. We are lucky to have so many expert partners that help us move salmon and steelhead recovery forward and we're glad to count Montana Banana among them.
Montana Banana describes themselves as, "a team of mature experienced computer geeks with an orientation towards online marketing and solving business problems." We can't think of a better way to explain them. Plus, many of them are local to Seattle, so they already knew how important salmon were to Puget Sound and had a deep appreciation for the environment that supports these beautiful fish. Their genuine interest in LLTK's work showed through as they dug deeper to understand more about the problems facing salmon. Consequently, their growing knowledge of our mission resulted in a smooth and successful web development process, benefiting our STS racers each year.
One of the greatest testaments to their company values is that they have done much of their work for LLTK pro bono. Their CEO and Founder, Stewart McCollough, simply said, "I just can't take any more money away from the fish." Everyone can find a place in salmon recovery work, and Montana Banana found theirs by doing what they do best, designing a great website and giving the generous gift of expertise.
In addition to the STS website, they've done the websites for our 2020 Annual Report and recent Strategic Plan, and we can't wait for our next project together. If you have a need for  "experienced geeks", give us a shout – we'd be happy to chat about our experience and connect you with their team. We often talk about supporting business that do good, and this team is no exception. When you support businesses that support salmon recovery, you help build a community of people and businesses that are jointly invested in environmental stewardship.
To this day, we still have no idea why they picked the name "Montana Banana" and we're fine with that.
Long Live the Kings (LLTK) has a dual mission, restore wild salmon and steelhead and support sustainable fishing in the Pacific Northwest. As such, we recognize the important role of hatcheries in mitigating for degraded freshwater habitat and providing opportunities for our fellow community members who have the rights, needs, and passion for fishing.
At the same time, we are aware of the potential and ongoing negative impacts of hatcheries, the fact hatchery fish require quality habitat too, and the importance of producing the right kind of hatchery fish that can match or adapt to environmental conditions as they change. Therefore, we are wary of the perspective that a simple across the board production increase in our existing hatchery programs is a fix to our low salmon abundance. Without a supportive ecosystem or diverse hatchery populations, more juvenile hatchery fish released may not equate to more salmon returning to our waters as adults. Further, even if increased hatchery production provides short-term gains, if done improperly, its impacts could leave people, salmon, whales and our shared ecosystem worse off in the long run.
Our ultimate goal will always be sustainable wild salmon runs, but this will take decades of work and deeper investments—especially in our most heavily urbanized or damaged areas—and strong attention to impacts of a changing climate. In the meantime, hatcheries remain a necessary tool that must be continually honed in response to new science.
The divide between people who are "pro" and "anti" hatchery is growing, and LLTK is labeled as either depending on who you ask. This polarization is unfortunate because, like many things, progress towards abundant salmon runs will be won through evaluation, understanding, common sense, compromise, and relentless improvement… not by picking sides.
We would like to take this opportunity to share our thoughts about hatcheries based on our 30+ years of history with them, and some of the issues that are intertwined with hatchery management.  We offer these insights in hopes that those with management authority will consider them and take the necessary steps to assure we have salmon and steelhead for this and future generations.
LLTK has a history with hatcheries.
In the 1980s, LLTK's first project was to transform a traditional hatchery on the Wishkah River near Grays Harbor into a workshop with multiple fish-rearing strategies targeting wild fish recovery. Since then, we have been involved with assessing, operating, and experimenting with hatcheries and transforming their management.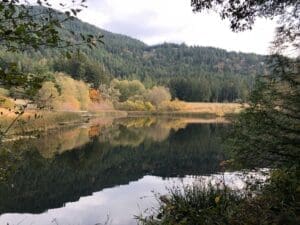 We currently manage two hatcheries. Our Glenwood Springs facility on Orcas Island is focused on supplementing Chinook salmon in the San Juans and the Strait of Georgia for harvest by humans and orca whales. Here, we are conducting experiments to improve the effectiveness of hatchery production, with a goal of higher survival rates at sea and larger returning fish. We also support a kokanee fishery in Cascade Lake and rear kokanee from Lake Sammamish for a wild population recovery program[1].
The second hatchery in Lilliwaup on Hood Canal is focused on rebuilding salmon and steelhead populations at severe risk of extinction. Our work here contributes to recovery efforts that include improved hatchery management, habitat restoration, and controlled harvest, with the combined goal[2] of ultimately removing these populations from federal endangered species listings and restoring them to harvestable levels. This facility has shown success working with steelhead, Chinook, and summer chum. In fact, Hood Canal summer chum recovery has been so successful, it is one of only two salmon populations in Washington trending towards delisting under the federal Endangered Species Act (ESA).
In addition to operating these hatcheries, from the late 1990s through 2010, LLTK facilitated Hatchery Reform, a bipartisan Congressional effort to help align hatchery production with wild fish recovery. The objective was to reduce risks hatcheries pose to wild fish while balancing the need to satisfy tribal treaty rights and commercial and recreational harvest goals. The Hatchery Scientific Review Group (HSRG) – an independent panel of academic, federal, tribal and state scientists– was formed and charged with reviewing all hatchery programs in Puget Sound and Coastal Washington. The panel then provided recommendations to state, tribal and federal managers for creating sustainable harvest and conservation goals for salmon populations and managing natural and hatchery production toward meeting those goals. They also provided guidance on how to monitor, evaluate, and adaptively manage hatchery programs in accordance with the best available science.
The HSRG recommendations included promoting adaptation of natural and hatchery populations to local conditions, minimizing adverse genetic interactions and competition between hatchery- and natural-origin fish, minimizing the effects of hatchery facilities on the surrounding ecosystem, and maximizing the survival of hatchery fish.[3] On-the-ground, these recommendations were tailored to the specific watershed in which a hatchery operates.
Hatchery Reform was a fundamental shift from viewing a hatchery as an isolated fish production factory to hatcheries as an integrated part of Northwest salmon ecosystems. Some of the recommended actions for improving hatcheries have not been fully implemented, limiting the effectiveness of Hatchery Reform. Additionally, gauging the success of Hatchery Reform is a long-term effort across multiple generations of salmon, complicated by a changing physical environment, climate and aquatic ecosystem. Therefore, we believe tribal, state and federal managers should continue to focus on implementing the principles and recommendations of Hatchery Reform while simultaneously evaluating and adjusting these actions to manage our hatcheries in the context of performance, new science, climate change, laws and treaties, and societal goals related to hatchery and wild fish populations.
LLTK is very concerned with the future of both hatchery and wild fish in the Pacific Northwest.
Severe declines in US and Canadian Chinook fisheries and survival of hatchery and wild fish in the ocean started well before cost-driven and ESA-related reductions in hatchery production in Washington State. Something in the marine environment changed drastically starting in the late 1970s, and the impacts continue to affect both hatchery and wild salmon.[4] Now environmental conditions in freshwater and marine environments are becoming less favorable and reliable for salmon production, complicating management in Washington State and across the entire Pacific Northwest.
The number of hatchery Chinook salmon released into Puget Sound has been reduced since the 1980s. But because the marine survival of Chinook, coho, and steelhead from the Salish Sea (Puget Sound and the Strait of Georgia) has dropped significantly over the last forty years, we are not convinced that simply increasing hatchery production will result in a commensurate increase in the number of returning adult salmon. In fact, "business as usual" hatchery practices may become increasingly less effective as we face new environmental challenges.
The Salish Sea marine environment has changed in fundamental ways, and our salmon and steelhead populations may not be keeping up. Through the Salish Sea Marine Survival Project, LLTK and our US and Canadian partners have worked together to investigate the changes and what we might be able to do about it. Factors affecting food supply–like climate change–and predation appear to be the most critical impacts to juvenile salmon and steelhead across Salish Sea populations, while impacts such as nearshore and estuary habitat loss, contaminants, and disease also impact specific populations in some areas. A thorough report of these results will soon be available at www.marinesurvivalproject.com. We already have begun working with our partners to test solutions to many of these problems.
LLTK also strongly believes that there needs to be an initiative to not only protect but to increase the diversity of our salmon and steelhead, both hatchery and wild populations, to have an abundant resource now and into the future. About 40% of the wild Puget Sound Chinook populations have gone extinct, a large portion of which were earlier returning spring Chinook.[5] Today, fewer than 10% of Puget Sound Chinook return in the spring.[6]  Habitat loss and hatcheries have also affected the genetic and life history diversity of remaining Puget Sound Chinook populations, making them more homogenous. [7]  These impacts have removed the diversity that had developed to survive changes in climate and physical conditions over millennia.  Luckily, studies show there are still significant remnants of genetic diversity in our naturally spawning populations.[8]  There is also emerging evidence that genes that control size, return timing, and other characteristics that were historically more variable are conserved in hatchery (and presumably wild) salmon, and that it may be possible to express these characteristics again through experimentation and natural processes.[9]
Releases of juvenile Chinook from hatcheries have become less variable as well: since the 1970s, hatchery release windows have narrowed. Now, most Chinook are released into the Salish Sea around the third week of May. This differs substantially from wild Chinook which typically have prolonged, bi-modal outmigration periods with peaks in February-March and May-June.[10]
Lower life-history variability and loss of genetic diversity, including the change in balance of early and late adult return timing in our aggregate Chinook population (hatchery and wild, combined), may be setting these fish up for reduced success as climate and conditions change rapidly in the region. These environmental changes impact some areas and times of the year more than others. Diversity in salmon populations and variability in outmigration timing may spread our odds of success so that if one group of fish struggles, there are still others to meet our societal and environmental needs. In addition, other species in the ecosystem rely on salmon as prey throughout the year, such as our endangered Southern resident orcas. Can hatchery operations be modified to support these needs?
Hatcheries need to be the best they've ever been.
LLTK understands that approximately 80% of the Chinook that return to Washington State are currently hatchery-origin[11]. Given that we must balance the reality of extensive habit loss with our need to meet fisheries obligations, tribal treaty rights, and orca recovery goals, it is likely that hatcheries will continue to be a dominant form of salmon production in the Northwest.
This does not mean we should simply increase hatchery production to counter habitat loss. Instead, for the sake of the environment, and our tax dollars and fishing license fees, the quality of hatchery production is of utmost importance. We need to continuously experiment based on our understanding of salmon and how they respond to their ecosystem.  U.S. and Canadian scientists and hatchery managers are working to test hatchery practices that may improve marine survival and increase the size of fish that return to our waters as adults– both widely acknowledged problems. Trial efforts to restore lost diversity in wild populations are also showing promise, for example, re-introducing spring Chinook in the North Fork of the Skokomish River[12]. These sorts of efforts need to be supported and expanded.
If used properly–with appropriate production goals, a focus on factors affecting productivity, and well-managed risks–hatcheries can better and sustainably meet harvest needs and conservation objectives in the face of significant and ongoing habitat constraints. Continual updates and improvements to operations based on new science, refined standards, and an appreciation for new environmental realities like climate change should be a consistent part of good management. Success will require increased investment in our hatchery programs, effective and adequate monitoring (which is chronically underfunded), mutual trust and cooperation, and patience.
Opinions on hatcheries aside, we should all be working towards better habitat.
All salmon, hatchery and wild alike, need healthy habitat and clean, cold water. Increased focus is needed on habitat recovery and removing barriers to fish migration. These actions are critically important, but tragically underfunded. Conservative estimates suggest that only 20-25% of habitat actions needed to recover salmon and provide sustainable fisheries are funded. At this pace, we are hopeless to keep up with our rate of land development or even rebound from current impacts in the face of a changing climate.
Understanding that we will never have the funding to do everything immediately, we must prioritize strategically. Because our Chinook migrate from Puget Sound up the coast, the success of fisheries from Oregon to Alaska are related to protections for a few very weak wild Chinook populations in Puget Sound. Habitat recovery priorities should in part be guided by the specific recovery needs for these salmon populations. And finally, we must do much better at protecting the existing habitat we have, and that means fundamentally rethinking our relationship to the landscape, better prioritizing the needs of salmon, and being willing to make tough choices.
The bottom line.
LLTK recognizes and accepts the central role of hatcheries in supporting fishing opportunities here in Washington State, now and in the future. We recognize the intense problems for fishing communities associated with reduced returns of salmon and steelhead to Northwest rivers. We recognize that ESA listings for southern resident orcas and salmon make managing fisheries more difficult. But these challenges can be met. They must be.
As the world changes around us, wild and hatchery populations that may have been successful and able to support abundant fisheries in 1960 are proving to be less successful in 2020. We are convinced that just doing more of the same thing won't yield the results we seek. Attempting to manage hatcheries in ways that ignore fundamental changes to the environment, new scientific findings, or competing priorities isn't productive. We need more salmon diversity, critical analysis including effective monitoring, and determination to relentlessly improve on what we are doing today.
LLTK is advancing science and implementing solutions while we work to build a coalition of interested people and organizations to directly address these challenges based on science, rights, economics, and goals that leave our grandchildren with a better environment and more fishing opportunities.
References
[1] This program is supported by King County Natural Resources and the Lake Sammamish Kokanee Work Group.
[2] Partners in this effort include Hood Canal Coordinating Council and their member organizations, Hood Canal Salmon Enhancement Group, NOAA, WDFW, and others.
[3] See www.hatcheryreform.us for more information. In 2006, the HSRG went on to evaluate all hatchery programs in the Columbia River basin and many in California, facilitated by another party. LLTK continued working with the US Fish and Wildlife Service to develop their own Hatchery Reform recommendations for their Northwest salmon and steelhead programs until 2010.
[4] See Long Live the Kings' Salish Sea Marine Survival Project for more information. www.marinesurvivalproject.com.
[5] NOAA Technical Memorandum NMFS-NWFSC-78 U.S. DEPARTMENT OF COMMERCE National Oceanic and Atmospheric Administration National Marine Fisheries Service Independent Populations of Chinook Salmon in Puget Sound July 2006
[6] Losee et al. 2019. Changing salmon: An analysis of body mass, abundance, survival, and productivity trends across 45 years in Puget Sound. Fish and Fisheries 00: 1-18.
[7] Ruckelshaus, M.H., K.P. Currens, W.H. Graeber, R.R. Fuerstenberg, K. Rawson, N.J. Sands, and J.B. Scott. 2006. Independent populations of Chinook salmon in Puget Sound. U.S. Dept. Commer., NOAA Tech. Memo. NMFS-NWFSC-78, 125 p.
[8] Ibid.
[9] McKinney et al. 2020. A mobile sex-determining region, male-specific haplotypes, and rearing
environment influence age at maturity in Chinook salmon. https://doi.org/10.1101/2020.04.23.056093
[10] Nelson BW, AP Shelton, JH Anderson, MJ Ford, and EJ Ward. 2019. Ecological implications of changing hatchery practices for Chinook salmon in the Salish Sea. Ecosphere. 10(11):e02922.
[11] https://www.fws.gov/salmonofthewest/wild.htm
[12] This project is made possible by the Skokomish Tribe and Tacoma Public Utilities.
Post updated on March 24, 2021
In partnership with PCC Community Markets and Hama Hama Oysters, LLTK  hosted a webinar on December 16th where we stepped into the culinary world of salmon. In this webinar, we discussed salmon sustainability with Aimee Simpson, Director of Advocacy & Product Sustainability at PCC, and hear more about preparing salmon from Sara Harvey, the Culinary Operations & Saloon Manager at Hama Hama Oysters. Learn more about PCC's sustainability program here and see Sara's entire meal recipe below. Watch the webinar below.
Meal Overview
1. 2 hours before dinner – soak the cedar board, preheat the oven to 400
2. Make the mostarda (see below) – set that to the side
3. Since you've opened the bottle of wine for the mostarda, pour yourself a glass
4. 1 hour before dinner – Boil the potatoes
5. Clean the greens
6. Get the salmon set up on the board
7. 30 minutes out – throw the potatoes in the oven
8. Start sautéing the greens
9. When the potatoes are almost done (about 15 minutes), throw the salmon in
10. The greens should be done by now
11. Pull the potatoes out
12. Pull the salmon out (about 10 minutes)
13. You definitely need another glass of wine at this point
14. Dinner is ready
Recipes

Cedar Plank Salmon
Ingredients:
– cedar plank
– salmon filet (find your nearest PCC here)
– salt
– fresh herbs (thyme, rosemary, fresh bay – what are you using in the mostarda?)
– olive oil
Method:
1. Soak the cedar board for an hour in cold, clean water – pat dry with a towel
2. Clean the fish – leaving the skin on, and removing the pinbones
3. Lay herbs down on the cedar board, lay the salmon skin side down over the
herbs
4. Salt the fish lightly, and drizzle olive oil over the top
5. Roast at 400 for about 10 minutes, or until the salmon starts to show little beads
of white on the edges, and the fattest part of the fish is warm in the center
(cooked to medium)
6. Remove from the oven leaving on the cedar board, and lay a few lemon rings on
top of the fish while it rests

Blackberry Mostarda
Option A – Make this sexy, more complicated Blackberry Mostarda
Ingredients:
– about a quart of mixed berries – fresh or frozen
– a half cup of shallot, minced
– a cup of sugar – we like brown, any will work (try piloncillo, coconut, or palm)
– a cup of honey (or maple syrup)
– one half cup mustard seeds
– one quarter cup of whole grain mustard
– two tablespoons of dijon mustard
– a pinch of red chili flake
– a cup vinegar – raw apple cider is great, red or white wine will totally work – stay
away from balsamic or distilled
– a cup of red wine (tip: if you wouldn't drink it, today – don't cook with it)
– a generous tablespoon of chopped winter herbs – sage, thyme, rosemary all work
(though not necessarily together for this one)
– salt to taste, add towards the end
Method:
1. Add sugar, honey, vinegar, and wine to a medium sized heavy bottom pot – bring
to a gentle simmer
2. Add the mustard seeds, and cook for 5 minutes to soften them
3. Fold in the mustards, the shallot, and the chili flake
4. Fold in the berries and cook gently until the fruit begins to break up (not mushing
completely) – about 15 minutes over low heat
5. Remove from heat, mix gently, season with salt – and cool to room temperature
Option B – Throw plain blackberries on top of the cooked salmon and drizzle with a little
balsamic vinegar – *chef kiss*

Braised Winter Greens
Ingredients:
– one bunch kale (for 2 people)
– three garlic cloves, large, chopped
– a large shallot or a small sweet onion, sliced thin
– one ounce olive oil (that's two tablespoons if you're playing along)
– one quarter cup chicken stock
– one tablespoon fresh lemon juice or red wine vinegar
– salt to taste
Method:
1. Clean the kale by stripping the leaves off the stem, and tearing roughly
2. Wash and shake dry, don't stress it too much
3. Heat the oil in a large skillet over medium high heat, add the garlic and onion and
cook until browning and fragrant
4. Add the rinsed & torn kale, the pan will make all kinds of exciting sounds as the
residual water meets the oil, and creates steam – this will help wilt the greens
without overcooking them
5. Using a pair of tongs, toss the kale around until it starts to darken and stops
taking up so much room in the pan
6. Add the lemon juice or vinegar
7. Add the chicken stock
8. Cook until liquid is mostly gone and the greens are tender – cover if necessary or
add more chicken stock / water if you need.
9. Add a knob of butter at the end if you're feeling decadent
10. Salt to taste

Smashed Taters
Ingredients:
– A couple pounds of fingerling potatoes – little reds, or baby yellows would work
– Bay leaf, thyme, garlic – for the blanch pot
– Olive Oil
– Flake Salt
Method:
1. Put the potatoes, whole, in the pot
2. Fill it up with cold water
3. Add some sprigs of thyme, bay leaf, a couple garlic cloves – if nothing else, add a
generous amount of salt, the water should taste like the ocean
4. Bring the pot up to a boil, and gently simmer until the biggest potato in the pot is
fork tender
5. Drain and DO NOT RINSE – pick the herbs and garlic out and toss them
6. Leave them in the colander for a while – let them steam out – this is critical
7. While the potatoes are steaming in the sink, preheat your oven to 400
8. With a wooden spoon or your hands if you have no pain receptors, gently
sploosh the potatoes, so they smash down without breaking up totally – like a ball
of cookie dough at grandma's house.
9. Generously oil a pan with cooking quality olive oil (not extra virgin – the smoke
point on that stuff is too low for what we're about to do)
10. Put the smashed potatoes in the pan – drizzle more olive oil over the top – I
recommend about a half cup of oil total and toss them around to make sure it's
evenly dispersed. **This is where you really need to look at yourself and ask how much of a
good thing is too much today, because you can add practically as much
fat as you like, with the result varying from nice roasted potatoes with a
little olive oil on them, to practically confited tender sodden nuggets of
flaky starchy fatty goodness with crispy skins peeling back and curling in
the oven's heat . You drive this bus.
For Immediate Release: 8/26/20 – Seattle, WA 
SUMMARY
A group of partners working to improve salmon stocks have deployed a newly developed device on the west side of the Ballard Locks that uses underwater sound to keep harbor seals away from this salmon migration bottleneck. If effective, the device may help salmon populations in jeopardy by reducing predation without harming marine mammals.
STORY
The U.S. Army Corps of Engineers and Oceans Initiative, with support from Long Live the Kings, University of St Andrews, Genuswave, Puget Sound Partnership, Washington Department of Fish and Wildlife, Muckleshoot Indian Tribe, and other partner organizations have deployed a Targeted Acoustic Startle Technology (TAST) on the west side of the Ballard (Hiram M. Chittenden) Locks. The TAST is intended to keep harbor seals away from the fish ladder allowing salmon to reach the Lake Washington Ship Canal from Puget Sound. Seals and sea lions are known to linger at this migration bottleneck and consume large numbers of salmon returning to the spawning grounds. If successful, the device may help recover dwindling salmon runs, without harming marine mammals.
"We are always looking for new innovations to help the environment," said USACE spokesperson Dallas Edwards. "We are excited to see the results of this study."
Every salmon and steelhead originating from the Sammamish or Cedar river must pass through the Ballard Locks twice during its life, once as a young smolt and again as an adult. With limited routes to get through the locks, salmon are funneled through a small area. This makes an easy meal for some marine mammals that use this human-made obstacle to their advantage.
Over the past 50 years, observers have also seen a spike in marine mammals near the locks, compounding the significant habitat declines over the past century across the watershed. This combination of factors has led to the lowest returns of salmon and steelhead in history, resulting in fishery closures and populations on the edge of extinction.
During the summer and fall salmon migration, the area is being monitored by scientists from Oceans Initiative, a Seattle-based marine conservation research nonprofit. The scientists are observing marine mammal behavior when the device is on and comparing that with their behavior when the device is off.
"Everyone at Oceans Initiative is excited to see whether this benign use of acoustic technology can protect endangered salmon, without harming seals," said Laura Bogaard, who is leading data collection at the Locks. "During the first week of observing with the TAST on, it feels like  the seals have shifted away from the fish ladder compared to observation days when the TAST was off. We are keen to see if this observation is also reflected in our data when it comes time for analysis."
If the device is effective at reducing the presence of marine mammals at the Locks, it may then be deployed at other locations in Puget Sound, giving resource managers a sorely needed tool to prevent marine mammals from consuming large numbers of salmon and steelhead at migration bottlenecks.
Designed at the University of St Andrews in Scotland, the TAST uses sound to startle animals and induce a flight response, causing the animal to leave the area, with the intention of training the animals to keep away altogether. It produces short sounds that are unexpected and startling, but does not lead to hearing damage, as is often the case for other acoustic methods. This helps to maintain its effectiveness much better over time. Recently, a Scotland-based company, Genuswave, brought the device to market after a number of peer-reviewed articles showed positive results.
Prof Vincent Janik, the Director of the Scottish Oceans Institute and one of the developers of the system remarked: "My colleague Thomas Goetz and I came across this very specific acoustic method after testing many commercially available devices and generally aversive sounds on seals. The reactions in our tests were in stark contrast to the habituation we saw in response to all other sounds. Seals avoided the area of exposure more and more over time, even when freely available food was presented next to the device."
The TAST deployed at the locks is a marked improvement over similar devices used in the past. Some other devices using noise to deter marine mammals have seen very limited success and rely on high-volume sounds that risk damaging the hearing of marine mammals. The TAST being deployed at the Locks emits sound at volumes that do not harm seals or sea lions, and at frequencies outside the hearing range of salmon and other marine mammals, such as orca whales.
Marine mammals are notorious for eating fish at the Locks thanks to Herschel, an 800-pound sea lion that, with other sea lions, was a significant factor contributing to the decline of the nearly extinct steelhead population in the watershed. Almost every strategy available, including other acoustic devices, has been used to separate marine mammals from salmon at the Locks, but none have proven successful. While Herschel hasn't returned to the locks since the 1980s, other sea lions appear annually, and smaller harbor seals are now seen camping in the fish ladder to intercept returning fish.
If the Locks are reopened this summer to the thousands of tourists who visit each year, they may be able to see the device in action or see scientists observing marine mammals in the area. Operation of the device should not affect visitors to the locks.
The effort to deploy and evaluate the TAST at the locks is made possible through a grant from the Puget Sound Partnership to build on the findings from the Salish Sea Marine Survival Project, an international research effort led by the salmon recovery nonprofit, Long Live the Kings and their Canadian co-leaders, the Pacific Salmon Foundation.
Other partners have invested time to make this effort possible including, NOAA Fisheries and the Suquamish Tribe.
PHOTOS BY LAURA BOGAARD, OCEANS INITIATIVE 
FOR MORE INFORMATION, CONTACT:
Laura Bogaard, Oceans Initiative, laura@oceansinitiative.org, (206) 334-4743
ALT: Rob Williams, Oceans Initiative, rob@oceansinitiative.org
Lucas Hall, Long Live the Kings, lhall@lltk.org, (206) 382-9555 Ext. 30
Prof Vincent Janik, University of St Andrews, vj@st-andrews.ac.uk, +44 1334 467214
Recovering salmon in our urban environments is more than correcting past environmental damage. We're learning lessons and pioneering new methods so that growing Puget Sound communities and salmon can live together for centuries.
Over 2 million people live in King County which makes it one of the most populous counties in the Pacific Northwest. The 6 distinct watersheds in the county face a litany of environmental problems from the headwaters to the marine environment: high water temperatures, migration barriers, contaminated runoff, hardened shorelines, degraded estuary habitat, and legacy contamination.
Since 2018, Long Live the Kings (LLTK) has been working with partners in King County in a collective effort to ensure salmon thrive in our backyards. Here are some of the projects we're working on in King County.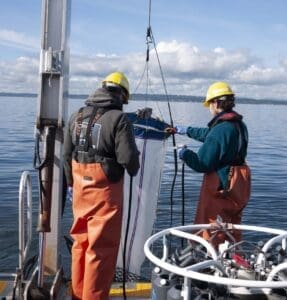 Improving Water Quality in the Lake Washington Ship Canal
In the Lake Washington Ship Canal, summer water temperatures can reach lethal levels for salmon leading to delayed migration, more parasites and disease and can even kill fish directly. Every migrating salmon in this watershed has to pass through the canal twice in its life and addressing this problem is an important step to save threatened runs and bring tribal and recreational salmon fishing back to Seattle.
To tackle this huge problem, LLTK is convening partners to build a common understanding of the problem based on the latest science and explore the potential options to address it. By 2022, we intend to have a completed report which is needed to guide a feasibility study and design process.
LLTK's role in this project is made possible by a grant from King County and in-kind support from Lake Washington/Cedar/Sammamish Watershed – WRIA 8.
Restoration Effectiveness in the Duwamish Estuary
Working waterfronts and waterways are essential components of our economy and are fundamental to our regional identity. However, over the past century of urban industrialization, the Duwamish estuary has lost 97% of the habitat it once provided these fish. LLTK's Salish Sea Marine Survival Project has confirmed that healthy estuaries are a critical need for young Chinook salmon: without functional estuary habitat, young salmon are less likely to survive to adulthood.
LLTK is leading a new partnership with Vigor and the University of Washington (UW)'s Wetland Ecosystem Team to restore habitat along the Harbor Island shoreline within the Duwamish estuary. This project will evaluate the effectiveness of a blue-green infrastructure approach to create functional estuary habitat for juvenile salmon along working shorelines. The partnership between LLTK, Vigor, and UW exemplifies collaboration across sectors to support the economy and environment. Lessons learned from this project will support future restoration projects within urban waterways.
Saving Lake Sammamish Kokanee
Kokanee are non-anadromous sockeye salmon, meaning they spend their entire lives in freshwater. Kokanee are culturally significant, important to regional
biodiversity, and have existed in Lake Sammamish for centuries. In the 2000s, one of the two runs in the area went extinct and the second is now on the brink of extinction.
A larger group of stakeholders is supporting a broad set of actions, including habitat restoration projects, to help recover these fish. Fresh water predation, warm water, and lack of habitat are some of the biggest problems facing these fish. In 2019, King County contacted LLTK with hope to apply our successful conservation hatchery programs used to rebuild steelhead and summer chum populations in Hood Canal, for Kokanee in Lake Sammamish. Kokanee were flown to our Glenwood Springs facility on Orcas Island where they are given cool, clean water to grow into adults and eventually spawned. In time. they will be reintroduced to Lake Sammamish to help rebuild the population.
Addressing Mortality at the Ballard Locks
Seals and sea lions are known to exploit natural and human-made features to consume thousands of salmon, the Ballard Locks being a prime example. Marine mammals are regularly seen planted in front of or inside the fish ladder, feeding on salmon trying to find a route through the Locks. Many fish don't make it past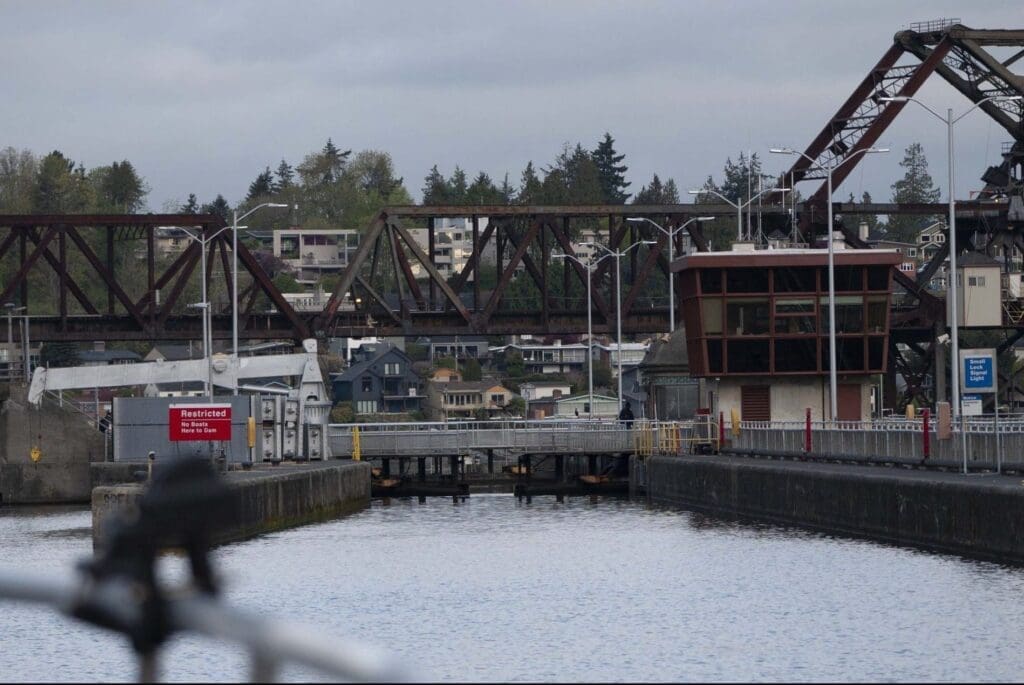 the Locks and some are injured so badly that they are unlikely to make it to the spawning ground. During the 1980s, virtually every strategy was implemented to separate marine mammals from fish with no success. Today, salmon are at some of their lowest numbers and steelhead are functionally extinct in the basin.
LLTK has identified a new device that has shown promising results in other situations, and we're working with partners to deploy and evaluate it at the Locks. The device is expected to be safe for marine mammals and salmon because it uses underwater sounds at modest volumes outside the hearing range of whales or salmon. The sound startles seals and sea lions out of the area. If effective, it could be an immensely valuable tool to keep marine mammals away from salmon at migration bottlenecks.
Humans have relied on salmon for as long as we have lived on the coastlines and rivers of the northern hemisphere – or the 'salmonshpere' as it is starting to be known. From the native peoples of the northwestern edge of the Pacific Ocean to the Salish people of Puget Sound, salmon were the currency and lifeblood of their daily existence and culture. This week in 2020, as we celebrate Earth Day and renew our connection to the natural environment, we do so in the spirit of native peoples who have understood for millennia that salmon are a gift from nature to be recognized, honored and celebrated.
This 50th anniversary of Earth Day is a good time to reflect on our relationship to this keystone species, what their plight and recovery tells us about our own condition, and where we see hope on the horizon. On the first Earth Day in 1970, concerns were mounting here and around the world about rivers on fire and unbreathable air. But salmon harvests in Pacific Northwest (BC, WA, OR and CA) were still relatively robust. Fortified by millions of hatchery fish and nurtured by a streak of good ocean conditions, harvests in the region numbered between 35 and 60 million fish. And in 1974, Tribes successfully reclaimed their treaty rights to fish in their usual and accustomed areas through the Boldt Decision, and were designated co-managers of the resource, along with the state of Washington.
However, happy days were short-lived here for people and salmon. In the late 1980s, salmon populations and harvests started to plummet. By the late 1990s when wild Chinook, chum, coho, sockeye and steelhead were being listed under the federal Endangered Species Act (ESA), salmon populations in the Northwest were already extinct in as much as 40% of their former spawning areas, and harvests were reduced to a quarter of the highs from previous decades. In a stark reality check, the harvest of all salmon species combined in British Columbia last year was the lowest on record, only 1.6% of peak harvest 35 years ago. A combination of factors led to this decline, and while harvest was immediately ratcheted back, other threats are requiring significant work to pin down and address.
The community response in Washington state to salmon ESA listings was both immediate and novel. We would take on the responsibility to execute our own plans for recovering habitat for salmon, watershed by watershed, community by community. Tribes, local governments, forest managers, business and NGOs all contributed. This bottoms up, "can do" approach became known as the "Washington Way", and has guided recovery efforts since 1999. The critical need now is adequate funding to implement.
Presaging this hands on approach, Long Live the Kings (LLTK) was founded in 1986 by salmon advocates wondering if they could sustainably supplement salmon populations by working in concert with habitat restoration and fisheries managers to help restore wild salmon and support sustainable fisheries. LLTK started out by running three novel field facilities, two based on natural rearing techniques and one focused entirely on rescuing wild salmon populations at risk of extinction. LLTK's trajectory since then has mirrored the evolution of salmon management and recovery. We have led on important and consequential efforts like guiding hatchery reform, understanding poor marine survival and infusing recovery plans with community input and data on climate change. For over three decades, LLTK has worked to advance science, improve management and implement solutions for salmon and people.
On this 50th Earth Day, let's take stock of where we've been, where we are, and where we want to go, and let this be the first day of the next 50 years protecting our salmon, our communities, and our planet.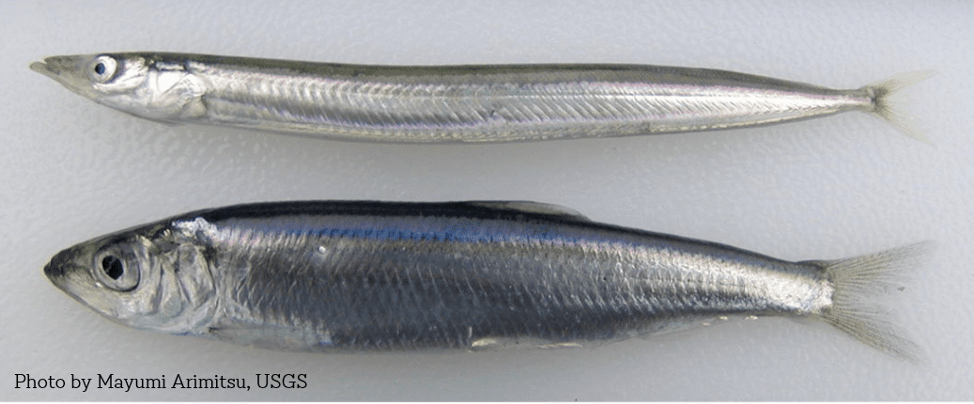 Microplastics in our water is a relatively new problem and many are rightfully concerned. Spurred by encouragement from the broader LLTK community, we reviewed the available research to determine if marine plastics pose a threat to salmon survival. The following information is based on studies assessing marine plastic effects on zooplankton and fish conducted inside and outside of the Salish Sea. We looked specifically at zooplankton and forage fish when reviewing available research because they are important food for salmon and may play a role in transferring plastics through marine food webs.
As many of us know, plastic is a pervasive human-caused pollutant in the marine environment. Plastics can enter the marine environment either from marine-based activities like fishing, aquaculture, and shipping, or land-based activities that result in wastewater effluent, runoff, or river discharge (Desforges et al. 2014). When we're thinking about plastics affecting salmon, size matters. Smaller sized plastics less than 5 millimeters, also known as microplastics, are concerning because they are the most likely to be consumed by juvenile and adult salmon either intentionally (they can look like food) or accidentally.
Upon consumption, marine plastics can physically and chemically affect zooplankton and fish. Physical effects from eating it can obstruct their mouths and throats, block their digestive track, artificially fill their stomachs, and be absorbed into other parts of their body (Cedervall et al. 2012; Cole et al. 2013; Rochman et al. 2013; Desforges et al. 2014, 2015). Chemical effects may also occur from the toxic ingredients in the plastic (e.g., petroleum products) or from environmental chemicals that attached to the plastic from seawater (e.g., PCBs) (Cole et al. 2013; Rochman et al. 2013; Hipfner et al. 2018). It's important to note that effects from plastics may be unique among species, types of contaminants, and types and sizes of plastics (Desforges et al. 2015; Ašmonaitė et al. 2018).
Despite marine plastic pollution being a widely known environmental issue, very little field research has been done in our region to assess how salmon are affected after consuming marine plastic either directly or via their food. Most of the research assessing effects has been laboratory-based and results are often varied. In 2019, researchers performed a thorough review of plastic effects on marine organisms and found an effect was more likely to be detected at higher concentrations of microplastics and mortality occurred at extreme concentrations that are not typically found in the environment (Bucci et al. 2019). This review indicates that field studies may provide a more realistic understanding of exposure and consumption rates for target species, such as salmon.
Along the British Columbia coastline, two different field studies assessed marine plastic consumption rates for zooplankton and forage fish, important food for salmon. In the first study, scientists determined about 3% of copepods and around 6% of euphausiids (AKA krill) were eating microplastics and that there was no correlation between the amount of microplastics eaten and the amount in the seawater (Desforges et al. 2015). In the second study, scientists determined that very few forage fish, sand lance (1.5%) and herring (2.0%), had eaten microplastics (Hipfner et al. 2018). This research also suggested that larger forage fish are less likely to consume plastic. Together, these studies indicate that zooplankton and forage fish are most likely NOT conduits for indirect plastic consumption in salmon on the outer coast of British Columbia.
As was mentioned previously, very little is known about the impacts of marine plastics on salmon either through direct consumption or via their food (pers. comm. A. Spanjer 2019). The first and only field study regarding plastic consumption rates by salmon in the Salish Sea determined juvenile Chinook consume an average of 1.15 microplastic pieces per day (Collicutt et al. 2018). At this rate of consumption, it is unlikely to lead to significant mortality events. This study also found no significant relationship between the amount of microplastics found in seawater and sediment compared to the amount consumed by the juvenile Chinook. The United States Geological Survey (USGS) is currently doing a laboratory-based study examining how long polyester fiber is retained in the gut of juvenile Chinook after consumption, but that research is currently ongoing (pers. comm. A. Spanjer 2019).
Based on the available research investigating marine plastic effects on zooplankton and fish, we can conclude that marine plastics do not currently pose a significant threat to salmon survival in the Salish Sea. However, marine plastics will continue to persist as pollution on land and in our oceans if we do not take action to reduce them. Ellen MacArthur with the World Economic Forum estimated that the world's oceans will have more plastic than fish by 2050. Whether her estimate is accurate or not, we can all do our part to help reduce plastic pollution. Please see below for a list of five ways you can reduce marine plastic pollution:
Join a beach cleanup – Puget Soundkeeper Alliance and The Surfrider Foundation are frequently hosting beach and lake cleanups to reduce the amount of debris in our waterways.
Remember your reusable containers – Actively using your reusable water bottle, coffee mug, or to-go containers will not only reduce plastic but can save you money in the long run.
Buy microbead-free products –Microbeads are too tiny to be filtered out at the wastewater treatment facility. Buying personal products that do not contain microbeads will reduce the amount of microplastics entering our oceans.
Reduce clothes washing – When we wash our clothes, they shed microfibers that do not get filtered out, like microbeads. By reducing how often we wash our clothes, we can lower the number of microfibers that are being released. We're not saying wear dirty clothes, but if you can, wear items more than once and choose natural fiber clothing (these fibers will biodegrade over time).
Make informed decisions – As consumers, we can make conscientious decisions about the products we buy and the companies we support. This can take the form of buying items in bulk rather than individually wrapped items, as well as the packaging our purchases come in. By being aware of how much plastic your household generates, you can find ways to reduce it and ultimately lower your carbon footprint. 
Work Cited
Ašmonaitė, G., Larsson, K., Undeland, I., Sturve, J., Almroth, B.E. 2018. Size matters: Ingestion of relatively large microplastics contaminated with environmental pollutants posed little risk for fish health and fillet quality. Environ. Sci. Technol., 52: 14381 – 14391.
Bucci, K., Tulio, M., Rochman, C.M. 2019. What is known and unknown about the effects of plastic pollution: A meta-analysis and systematic review. Ecological Society of America, doi:10.1002/eap.2044.
Cole, M., Lindeque, P., Fileman, E., Halsband, C., Goodhead, R., Moger, J., Galloway, T.S. 2013. Microplastic ingestion by zooplankton. Environ. Sci. Technol.,47: 6646 – 6655.
Collicutt, B., Juanes, F., Dudas, S.E. 2019. Microplastics in juvenile Chinook salmon and their nearshore environments on the east coast of Vancouver Island. Environmental Pollution, 244: 135 – 142.
Desforges, J.W., Galbraith, M., Dangerfield, N., Ross, P.S. 2014. Widespread distribution of microplastics in subsurface seawater in the NE Pacific Ocean. Marine Pollution Bulletin, 79: 94 – 99.
Desforges, J.W., Galbraith, M., Ross, P.S. 2015. Ingestion of microplastics by zooplankton in the Northeast Pacific Ocean. Arch. Environ. Contam. Toxicol., 69: 320 – 330.
Gall, S.C. and Thompson, R.C. 2015. The impact of debris on marine life. Marine Pollution Bulletin, 92: 170 – 179.
Hipfner, J.M., Galbraith, M., Tucker, S., Studholme, K.R., Domalik, A.D., Pearson, S.F., Good, T.P., Ross, P.S., Hodum, P. 2018. Two forage fishes as potential conduits for the vertical transfer of microfibres in Northeastern Pacific Ocean food webs. Environmental Pollution, 239: 215 – 222.
Rochman, C.M., Hoh, E., Kurobe, T., Teh, S.J. 2013. Ingested plastic transfers hazardous chemicals to fish and induces hepatic stress. Scientific Reports, 3: 3263.
Megan Moore, a researcher from NOAA's Northwest Fisheries Science Center, discusses her group's research, partnered with Long Live the Kings, to help recover steelhead populations throughout the Puget Sound. We're grateful for Megan's work to help us recover steelhead in Puget Sound!
Long Live the Kings and Seattle City Light have been proud partners in salmon recovery since LLTK's inception. Together, we power projects around our region that help salmon and steelhead overcome the many challenges they face. This most recent City Light project in Stossel Creek is just the type of work we want to see our private, public, and nonprofit partners coming together to accomplish.
In 2015, Seattle City Light purchased and is in the process of restoring a 154-acre property along Stossel Creek, a tributary to the Tolt River in eastern King County, Washington. City Light purchased the property as part of its proactive Endangered Species Act Land Program, which purchases property containing important habitat for endangered and threatened fish species. This program was established by the City of Seattle in 1999 under Resolution 29905 to help restore and protect habitat for fish protected under the Endangered Species Act (ESA). Stossel Creek is a tributary in the Snohomish River watershed approximately 30 miles east of Seattle, which provides important habitat for ESA-threatened steelhead and coho salmon. The City Light property contains over 3,500 feet of Stossel Creek as well as an additional 1,300 feet of an unnamed creek and wetlands. Steelhead and coho spend a significant portion of their life as juveniles in streams, so protecting or improving the creek habitat on the property can improve the water quality of the creek as well as the river.
The previous owner logged portions of the Stossel Creek property in 2012, which had not been replanted at the time of purchase. Erosion from the logged areas and dirt access roads may contribute sediment to streams where it can smother steelhead and coho redds, killing the eggs, or get trapped in fish gills, impairing breathing. Thus, key objectives in purchasing the property were to protect the wetlands, soils, and streamside vegetation and to reforest logged portions of the site. Trees provide shade that maintains cool water temperatures in streams and associated wetlands, a critical need particularly in the summer months. Trees also provide habitat for insects that are a food source to both fish species.
City Light looked for outside funding to aid with replanting the site, and in doing so developed a unique partnership with Mountains to Sound Greenway Trust, Northwest Natural Resource Group, and Seattle Public Utilities (the Partners), to apply for and receive a grant from the Wildlife Conservation Society, supported by the Doris Duke Charitable Foundation, as well as funds from Carter Subaru of King County.  As the Partners planned the replanting of the Stossel Creek property with the objective of reforesting the site, they took the long view of how the climate will change as the site matures. As climate changes, so too will ecosystems that are shaped by it. The Partners in this project used this understanding to plan a forest restoration project that takes into account the expected changes in climate to ultimately result in a more complex and resilient forest structure by the end of the century. Rather than reforest in a traditional way, this Stossel Creek site was planted using a climate-adapted approach.
The Partners' approach included planting tree seedlings from seed sources originating from southwestern Oregon and northern California, where the climate is similar to the warmer and drier summer climate expected at the Stossel Creek site during the mid to late 21st century. These seedlings were planted alongside locally sourced Douglas-fir and Western redcedar. A total of seven different tree species native to the Pacific Northwest, both deciduous and coniferous, were planted to provide relatively high species diversity. This method increases the functional redundancy of a forest – meaning, forest resilience that comes from multiple species from different taxonomic groups playing similar roles in the ecosystem. Plantings were located away from natural regeneration and grouped by associations suitable for local site conditions such as soil type and aspect. Trees were planted in a wider spacing than traditional methods to decrease the potential for competition during future droughts. These strategies were designed to increase the chances for long-term success of the forested landscape on the Stossel Creek property. Success will be determined through at least a decade of monitoring of tree health and survival within established monitoring plots.
The climate-adapted reforestation of the Stossel Creek property is a novel project designed to explore new replanting strategies that intentionally account for climate change. Through an innovative public-private partnership, this project demonstrates the use of new tools and approaches to restoring and conserving natural resources available today, with the ultimate goal of establishing a resilient forest into the foreseeable future and ameliorating expected climate impacts to aquatic habitat. Demonstrating and recognizing the role of these practices in creating more-resilient forests can help land managers plan and implement more comprehensive approaches to forest restoration and, in this case, fish habitat protection as the climate changes.
Links to film coverage:
https://www.king5.com/article/news/local/seattle-pilot-project-planting-trees-that-can-adapt-to-global-warming/281-575731931
https://www.king5.com/article/tech/science/environment/new-forest-climate-change/281-49507137-bc9f-4874-b6d6-a662222f08f9