JOIN US: To receive LLTK news, event updates, and links to salmon recovery articles in local media, please join our community on Facebook and Twitter.
---
Through this spring and early summer, as salmon and steelhead migrate out of their home rivers, we are filled with hope that they will thrive in marine waters and return big and strong to support local fishing communities and Orca whales, and continue to nourish the health of their native watersheds, thus restarting the cycle. This hope is both brightened by recent successes and tempered by the great challenges they, and we, face.
Good news includes two specific successes from Long Live the Kings and our partners that deserve celebration. As part of a recovery effort in partnership with the Skokomish Tribe and Tacoma Power, three-year old spring Chinook reared at our Lilliwaup facility returned this May to the north fork of the Skokomish River for the first time in memory. Also in Hood Canal, the Endangered Species Act listed population of summer chum in Lilliwaup Creek, once in single digits, are now, in 2018, considered "self-sustaining" and no longer require intervention. Our mission is to restore wild salmon populations, so to see this success and be able to step away from the work is truly gratifying.
Continuing challenges include poor marine survival of both salmon and steelhead in the Salish Sea, and problems with barriers to migration that we know are preventing recovery. Long Live the Kings is nearing completion of the two country, 60 partner, and 200 researcher Salish Sea Marine Survival Project and we are already recommending solutions. The solutions come in the form of specific actions such as reducing toxics, treating parasites that can make fish sick, identifying ways to reduce excessive predation on young fish, and improving hatchery practices that can increase survival. Our fun and educational Survive the Sound fish-tracking game reached over 35,000 kids and adults this year, educating them about these challenges and what it really takes for these salmon and steelhead to make it to the ocean.
Long Live the Kings' leadership and successes in the Marine Survival Project, population recovery in rivers, and our outreach to the community with Survive the Sound speaks to the importance of a large and committed community that supports our work. Thank you for your partnership, you help us advance salmon recovery throughout the state and the Pacific Northwest. If we save salmon, we ultimately save ourselves.
Jacques White
Executive Director
Long Live the Kings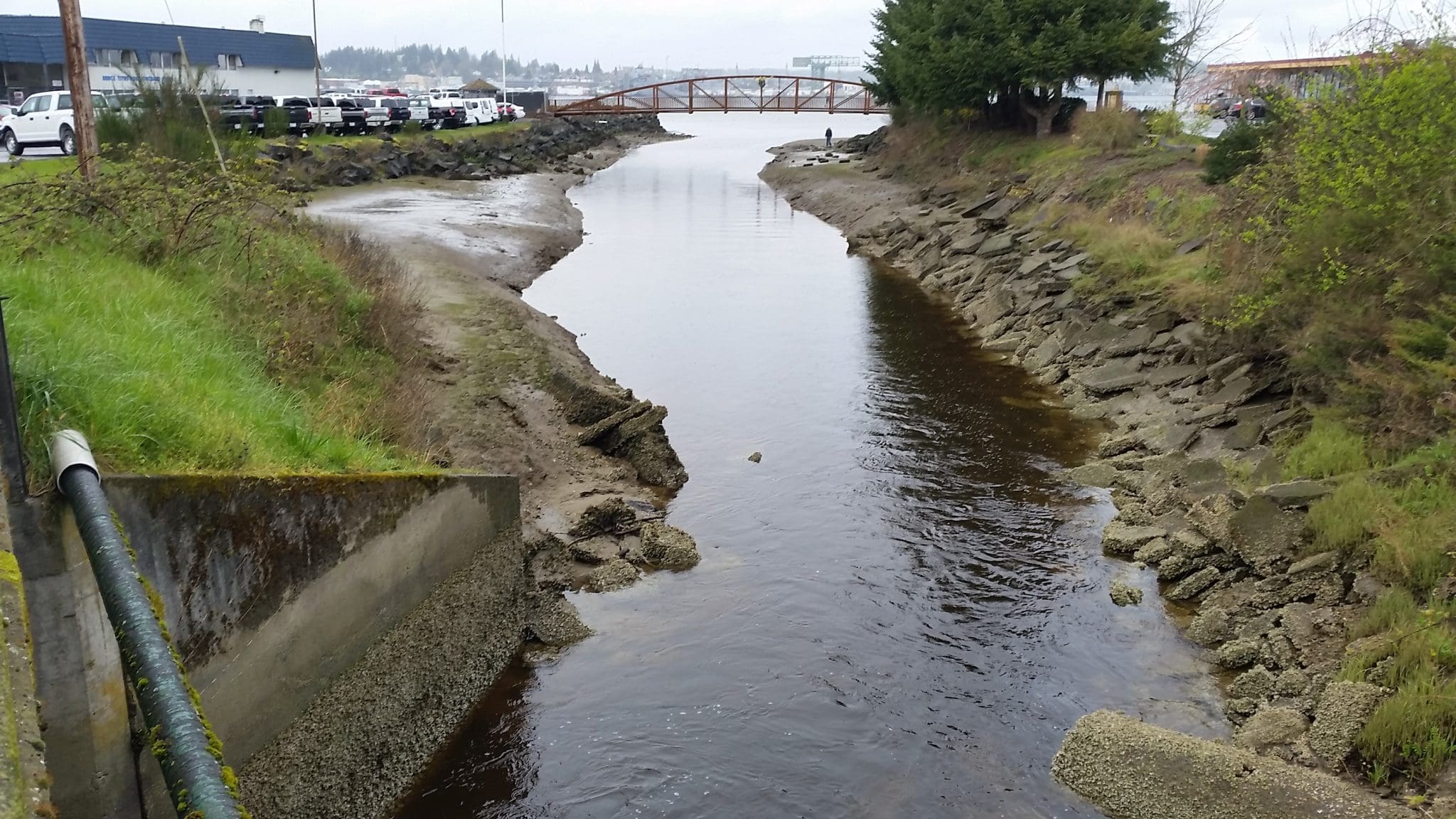 Environmental Science Associates is an LLTK Sponsor.
The Salish Sea (comprised of the Puget Sound, Strait of Georgia, and Strait of Juan de Fuca) is the lifeblood of the Pacific Northwest—it's a platform for recreation, a conduit for transportation, and is home to one of the region's most precious cultural resources: salmon. But with the region's surging population and the growing threats of climate change, the health of this lifeline hangs in the balance.
Even with the relatively small amount of funding devoted to recovery efforts, a modest amount of funding is still making its way into the region for restoration of the Puget Sound and its surrounding rivers and tributaries. And, while the funding is mostly federal, the work that actually affects species and habitats happens at the local level with on-the-ground projects. While local governments, environmental firms, and organizations (like Long Live the Kings and the Puget Sound Partnership) can help steer the efforts of salmon recovery, it is Washington's Native American tribes that play a critical role in the recovery and restoration of the Puget Sound ecosystem and its native salmonids.
The Suquamish: A Salish Sea Tribe Committed to Saving Salmon
As with most of Washington's Native American tribes, the Suquamish are connected to salmon in virtually every aspect of their daily life—from nourishment and family to ceremony and trade. Taking their name from a phrase in their traditional Lushootseed language, these "people of the clear salt water" are expert fisherman, canoe builders, and basket weavers that have lived in harmony with the lands and waterways along Washington's Central Puget Sound Region for thousands of years. Today, salmon remains a staple in the diets of Tribal people and is also the primary source of income for many Tribal families. The Suquamish Tribe is committed to maintaining the health and productivity of salmon to ensure availability for future generations, and, as such, have been an instrumental player in helping to restore healthy populations in the region. Here are two recent projects that Environmental Science Associates (ESA) partnered with the Tribe on that illuminate this commitment.
Partnership in Action: Recent Project Examples
Since the initial listing of Puget Sound steelhead as threatened in 2007, the Suquamish Tribe has been a champion for steelhead recovery and a leader in monitoring salmon and steelhead returns and watershed conditions. In 2016, the Tribe successfully persuaded NOAA Fisheries to expand the portion of the Kitsap Peninsula designated as critical habitat for steelhead. More recently, the Tribe has invested valuable time and resources toward assessing priority watersheds on the peninsula to enable more effective management, protection, and restoration of habitat for steelhead and other salmon species. Now, in collaboration with the West Sound Watersheds Council, the Tribe will be one of the first watersheds to tackle developing a recovery plan chapter for steelhead.
ESA—in partnership with Long Live the Kings—is currently assisting the Tribe with this laudable endeavor by developing population and habitat goals for this community of steelhead, an effort that requires broad evaluation of existing information, model approaches, and stakeholder input. With scant data available for these fish, we will rely the best available local science and other pertinent information along with regional tools and guidance such as the Puget Sound Partnership's Chinook Recovery Planning toolkit to expedite development of recovery strategies and the final plan.
Prior to this steelhead effort, the Suquamish focused on the human induced impacts to the spawning, rearing, and migratory habitat of native salmonids in the Blackjack Creek watershed, and finding ways to prevent further degradation and restore habitat-forming processes. Through a science-based assessment, ESA assisted the Tribe in developing a complete and clear plan of distinct strategies and actions that can guide, inform, and ultimately meet its objectives for restoring watershed processes, including the stream, riparian and floodplain conditions, estuary, and nearshore habitats in this specific area of Puget Sound.
While there is still a tremendous amount of work to be done, it is these concentrated efforts—in partnership with Salish Sea tribes—compounding over time that will have a profound and lasting impact in restoring the precious balance of Puget Sound.
Ilon Logan is a Senior Ecologist at Environmental Science Associates.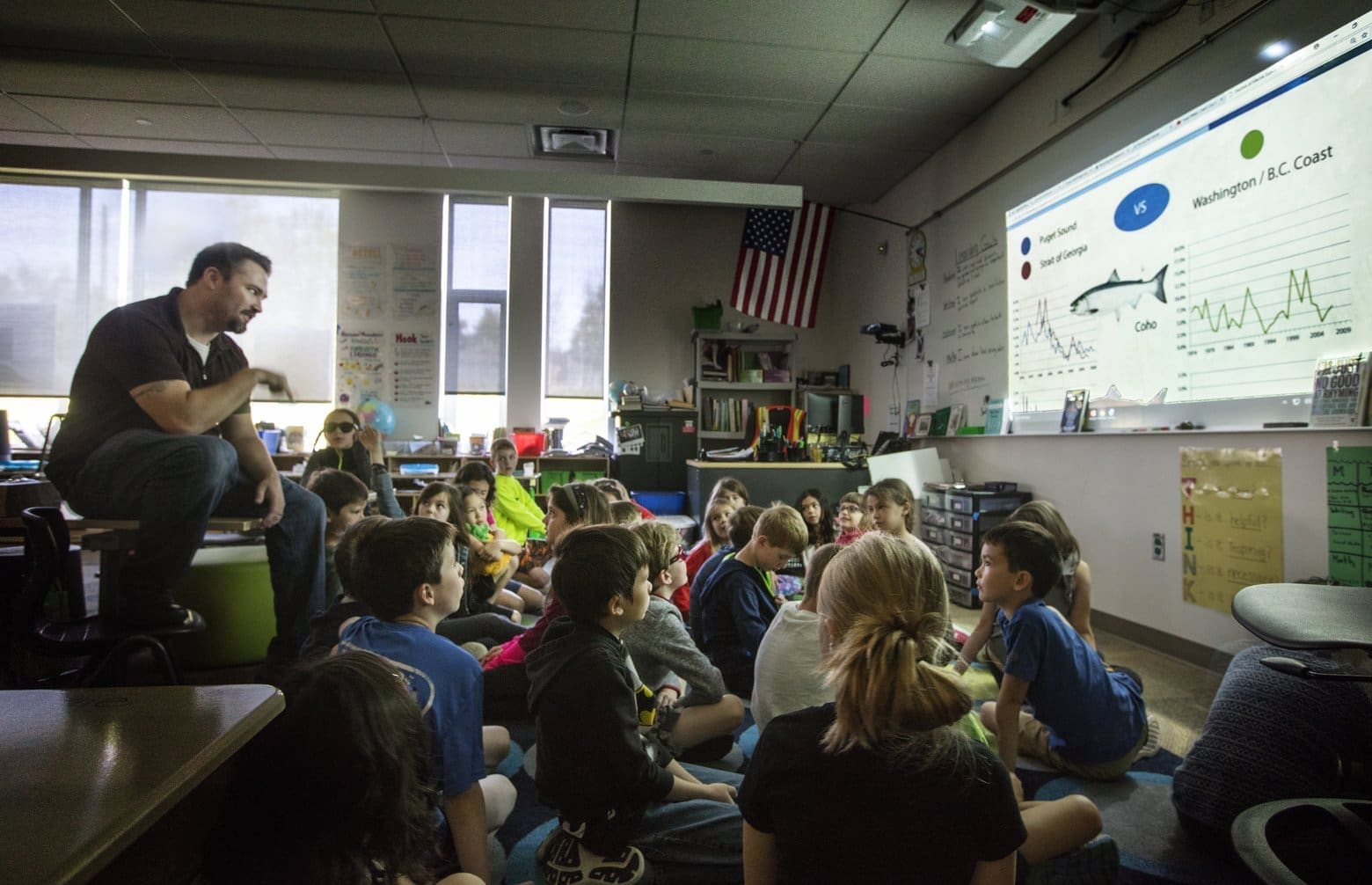 Image: Steve Ringman/The Seattle Times
To raise awareness about high mortality rates for steelhead and salmon in Puget Sound waters, "Survive the Sound" invites students to track juvenile steelhead as they travel to the ocean from their freshwater homes.
Just a few paces from the front entrance to Cascadia Elementary School, dozens of baby salmon dart around in a large, bubbling tank. But for a class of 28 second-graders down the hall, a cartoon juvenile steelhead named "Fishy McFishface" is stealing the show.
For the past week, teacher Gary Bass Jr. has used Fishy — an alias for a real fish that's been fitted with a surgically implanted tracking device — to teach his students about the obstacle-ridden journey from the river to the ocean that most Puget Sound steelhead die trying to complete.
"Should we check in on our fish?" Bass asked just after the morning bell on a recent school day. The students gave a cheer and scurried to the front of the classroom as Bass pulled up a website on a projection screen.
To the left of a map of Puget Sounds waters, a panel showed a leaderboard with 47 other fish, the migration mascots for the nearly 2,000 classrooms, most of them in Washington, that are participating in "Survive the Sound" this year.
Created by salmon-conservation nonprofit Long Live the Kings, Survive the Sound became a supplement to salmon and steelhead curricula somewhat accidentally. Described as a sort of fantasy football for fish, the initiative started during last year's steelhead migration.
Continue Reading at Seattle Times.
Image caption: Cascadia Elementary School teacher Gary Bass Jr. answers questions at the end of a lesson about salmon and steelhead migration to the Puget Sound. Bass also works writing and math into his "Survive the Sound" lesson plan.
More than ever before, people are becoming environmentally-conscious and want to understand how their efforts can improve biodiversity and the health of a range of organisms. This applies to those people living near bodies of water, such as lakes, streams and oceans. Urban runoff has a detrimental effect on aquatic animals and organisms. Many contaminants can sicken and kill off fish, coral and other aquatic animals. Other contaminants can lead to algae blooms which can also reduce the populations of necessary organisms.
This has a greater likelihood of occurring in and near cities and urban developments as many paved surfaces and buildings lead to a reduction of areas whereby rainfall may easily filter and penetrate the ground, but it can occur in even the smallest community to some degree. Necessary rainfall becomes easily polluted and in such cases can carry toxic substances and debris to waterways. Here are some ways the average household can help reduce urban runoff and make a difference in their local environment.
What Is Urban Runoff?
Urban runoff is much like stormwater runoff. With urban runoff, rainwater flows over areas that are saturated with water or impervious. Such rainwater does not immediately soak into the ground upon contact. Runoff increases in urban areas as there are less exposed areas that allow for seepage into the ground. The natural environment's landscape is altered and rainwater has to work its way around paved roads, rooftops and hard surfaces. Those living in such areas can expect more water to flow to beaches or streams as there are fewer areas where it may seep into the ground.
Another issue with urban runoff is that it comes into contact with undesirable and potentially toxic substances. Homeowners, residents and nature lovers should be aware that pollutants such as hard metals, fertilizers, pesticides, oil and road grime are only a few of the less obvious contaminants that can be swept up in the runoff and make its way into area lakes, streams and waterways. There are manmade options that can decrease urban runoff and allow necessary filtration and penetration into the ground.
How Can Homeowners Reduce Their Impact?
Homeowners who want to decrease urban runoff in their area can take steps to include green infrastructure in the design of their property. This is a design element that incorporates natural systems and engineered systems to duplicate the systems found in nature. Much of the stormwater that reaches a property can be retained, treated and used to irrigate plants and more. Green infrastructure benefits include:
Improved habitat for aquatic animals;
Less pollutants flowing into waterways;
Increased water absorption into the ground and available for underground wells;
Storage and usage of stormwater for irrigation; and
More retention of stormwater on the property.
Homeowners may also want to be more aware of the potential sources of pollutants in urban runoff. Stormwater runoff can easily be contaminated from illegal discharges, from pavement and vehicle wear; at building and construction sites, from detergents, sewer overflows, animal feces, weathering of buildings and organic matter decay. Suspended solids, micro-organisms, heavy metals and surfactant can come into contact with the runoff and make their way into local ecosystems.
One of the biggest concerns with stormwater is the affect it has on the salmon population. The toxins in the stormwater can actually kill the fish, but that is not the only threat they face from it. Even the salmon who survive swimming in this polluted water are in danger. There are sensors on their bodies that help them find food and locate predators, along with finding locations they need to head toward or away from. These sensors are thin and like hairs, and the stormwater runoff can damage those sensors. When salmon cannot find what they need to live, spawn, eat, and avoid danger, their chances of surviving are drastically reduced.
Fish and aquatic life can be negatively impacted by surfactants such as oils, detergents and soaps. Aquatic life can also ingest and become ill or die from litter and debris. Those who want to protect the biodiversity of local waterways can take steps to decrease the amount of urban runoff making its way off a property and provide means to allow for water filtration and ground absorption on their property.
Easy Ways to Keep Waterways Clean
Property owners can do their part to help the aquatic life and ecosystems in their area. One can look for and remove any potential trash that may be easily swept up in runoff, such as cigarette butts, soft drink cups, plastic bags and other immediately observable trash and debris. Additional ways to reduce urban runoff is to increase garden areas and redirect urban runoff to locations with low lying vegetation.
Runoff may also be collected in containers for later use. Gardening and the use of rain barrels can help property owners and residents do more with runoff and reduce the potential for it to be contaminated when running over large areas of land and a variety of materials. Urban gardening is one way that city dwellers can beautify their space while assisting in the reduction of stormwater runoff.
Those who want to take steps to add green infrastructure can start off with locating sources of potential pollutants, identifying where storm water runoff occurs, sketching the area and recognizing limitations. The addition of splash blocks at downspouts can direct runoff into storage containers or slow runoff speed. Landscaping can be used to control sediment runoff. These are a few of the many ways that individuals can reduce runoff and support the health of their local environment.
Justin Havre is a Calgary native and owner of Justin Havre & Associates.
A lot of effort goes into tracking juvenile steelhead.
People often ask us how we're able to pull off tracking 48 juvenile steelhead, and they're are always impressed to find out what goes into it. So, we've outlined the process in the steps below!
1. Over the course of about 2 months during spring, scientists from Washington Department of Fish and Wildlife and NOAA's Northwest Fisheries Science Center work together to trap 300-350 wild steelhead migrating from their natal streams to the saltwater.
2. Scientists surgically implant a small acoustic tag inside the body cavity of each juvenile steelhead. The tags are the size of a large pill and cost hundreds of dollars each. Each tiny tag is programmed to transmit, or "ping", a unique code every few seconds. The fish are anesthetized for surgery and placed in a special recovery tank afterwards. They are back up and swimming strong in a matter of minutes!
3. When scientists release the tagged fish back into the river and they continue migrating towards the Pacific Ocean, acoustic receivers placed underwater all around Puget Sound log every acoustic ping they 'hear' from nearby (200m or less) tagged steelhead. The batteries in the tag die soon after the fish reach the Pacific Ocean, therefore we are unable to track their return as adults.
4. In late summer, scientists travel to the location of each receiver and download its data. The data goes through a preliminary stage of processing and then 48 fish, who are representative of the larger group of tagged fish, are selected for Survive the Sound. Scientists interpret the data for all 48 fish to create a smooth migration path over a 12 day period.
5. The tracking data from each of the fish is assigned to a Survive the Sound character and 24 hours of the fish's movements are shown on the map each day of the migration.
Predators, disease, pollution, oh my! It's tough in Puget Sound for steelhead. Fortunately, you can help and have some fun in the process by joining Survive the Sound.
Survive the Sound is an opportunity for everyone to follow the perilous migration of 48 funny looking steelhead smolts. These fish will face all sorts of obstacles along the way, and few will survive. It's up to you to pick the fish that will make it to the finish line alive. Sponsor more than one fish, invite friends, or build a big team to have a chance at winning the grand prizes!
Beginning May 7th, you will watch your fish in their 12-day migratory race to survive Puget Sound. Each day you'll be updated on our fish's progress and learn a little more about the science behind wild salmon and steelhead recovery.
Proceeds help Long Live the Kings restore wild salmon and steelhead, and support free classroom participation.
For Immediate Release
March 14, 2018
GOVERNOR INSLEE ANNOUNCES ORCA RECOVERY TASK FORCE
***Statement from Jacques White, Executive Director, Long Live the Kings***
Long Live the Kings is leading a research project to determine why Chinook salmon, a critical component of Orcas' diet, are dying in Puget Sound.
Contacts:
Jacques White, 206-718-5061, Executive Director, Long Live the Kings
Michael Schmidt, 206-669-7276, Deputy Director, Long Live the Kings
"Governor Inslee's announcement today recognizes the urgency of our Orcas' plight – it's getting harder and harder for Orcas in Puget Sound to find enough salmon to eat, escape noise and traffic, and resist the toxic pollution building up in their bodies."
"The bad news is that Orcas are in serious trouble and we have a long road ahead to make Puget Sound a safer, healthier place for Orcas. The good news is that the actions needed to help Orcas will improve the overall health of Puget Sound for all of us. Cleaner water, stronger salmon runs, smarter hatchery management and restored natural areas will make Puget Sound a better, more productive place for people as well as Orcas."
Chinook salmon are a critical component of our resident Orcas' diet. Driven to help restore Chinook populations that are essential to Orca survival, Long Live the Kings has convened The Salish Sea Marine Survival Project uniting U.S. and Canadian researchers to determine why juvenile Chinook, coho, and steelhead are dying in our combined waters of Puget Sound and the Strait of Georgia, collectively known as the Salish Sea.
About Long Live the Kings
Long Live the Kings (LLTK) works to restore wild salmon and steelhead and support sustainable fishing in the Pacific Northwest. Since its founding in 1986, LLTK has combined innovative field work, pioneering science, broad partnerships, and sophisticated new management tools to help decision-makers advance salmon recovery while balancing the needs of fish and people.
Links
https://lltk.org/project/salish-sea-marine-survival-project/
https://davidsuzuki.org/story/orca-survival-depends-protecting-chinook-salmon/
We need your help! Steelhead have been suffering huge losses on their trek through Puget Sound and are at risk of extinction.
Please call or email your state legislator by February 10, and ask them to support the 'Recover Puget Sound Steelhead' request in the Department of Fish and Wildlife's 2018 supplemental budget (request details attached). It's that easy!
Who's your state legislator? Find out here and make a call for fish!
The legislative session is short, so act by February 10 to make sure your voice is heard!
Not sure what to say? Use this language in your correspondence:
Please support the 'Recover Puget Sound
Steelhead' request for$793,000 in the Washington Department of Fish and Wildlife's 2018 supplemental budget. It is the last of the funding needed to address severe threats to steelhead in our Puget Sound marine environment Problems like contaminants, disease, and predation have already been identified, and researchers are close to providing solutions.
The request is part of the international, collaborative Salish Sea Marine Survival project to determine why young Chinook, coho and steelhead are dying in Puget Sound and the Strait of Georgia. Previous appropriations by Washington State totaling $1.6 million have been leveraged by $17 million raised, and equal in-kind support, from the 60 public, private and nonprofit groups affiliated with the Salish Sea Marine Survival Project.
One of the biggest mysteries among people working on salmon recovery in Puget Sound and the Salish Sea is what happens to juvenile fish once they head for the ocean. Survival rates of Chinook, Coho and Steelhead have all declined since the 1980s, but resource managers don't know why.
A new grant from Microsoft is using artificial intelligence to greatly improve the computer models used to tackle the question.
A collaborative effort called the Salish Sea Marine Survival Project has been around for nearly a decade. It unites the work of 60 different scientific and non-profit entities, all trying to understand what is preventing salmon and steelhead from coming home. They already use sophisticated computer models to compile field data and answer some questions.
"Like how do short and long-term changes in like circulation, water chemistry — how do they affect salmon and other relevant species in Puget Sound," explains Hem Nalini Morzaria-Luna, an ecosystem modeler with the non-profit Long Live the Kings.
Morzaria-Luna, who works with field data from all over the region, says the recent grant from Microsoft has vastly improved the speed and capability of their modeling. Using artificial intelligence tools such as machine learning, they can dig in to much more complicated questions, for example comparing hundreds of slightly different answers to one question about available food and its effects on survival rates.
"Like, what happens if instead of 70 percent herring and 30 percent other species, what happens if that is 60 percent or 65 percent or 85 percent? It seems like a trivial question, but it actually in the end has important management implications. And before, we haven't been able to ask those questions," she says.
She says the relatively small grant from Microsoft (it's valued at about $10,000 for software, in kind) has the potential to improve not just the Puget Sound model, but several others on a widely-used platform from Australia, called Atlantis.
At first thought, it might seem odd that organisms as delicate as endangered salmon and other marine species could be helped with the slick technology tools that enable modern life.
But Long Live the Kings Deputy Director Michael Schmidt says Microsoft Azure and the cloud-computing and artificial intelligence it enables is just what the Salish Sea Marine Survival Project needs, to propel research that can inform ecosystem management and policy decisions.
"Machine learning is often applied to areas where you have lots of uncertainty, where there is lots of unknown and where you're trying to process a lot of information," Schmidt says.