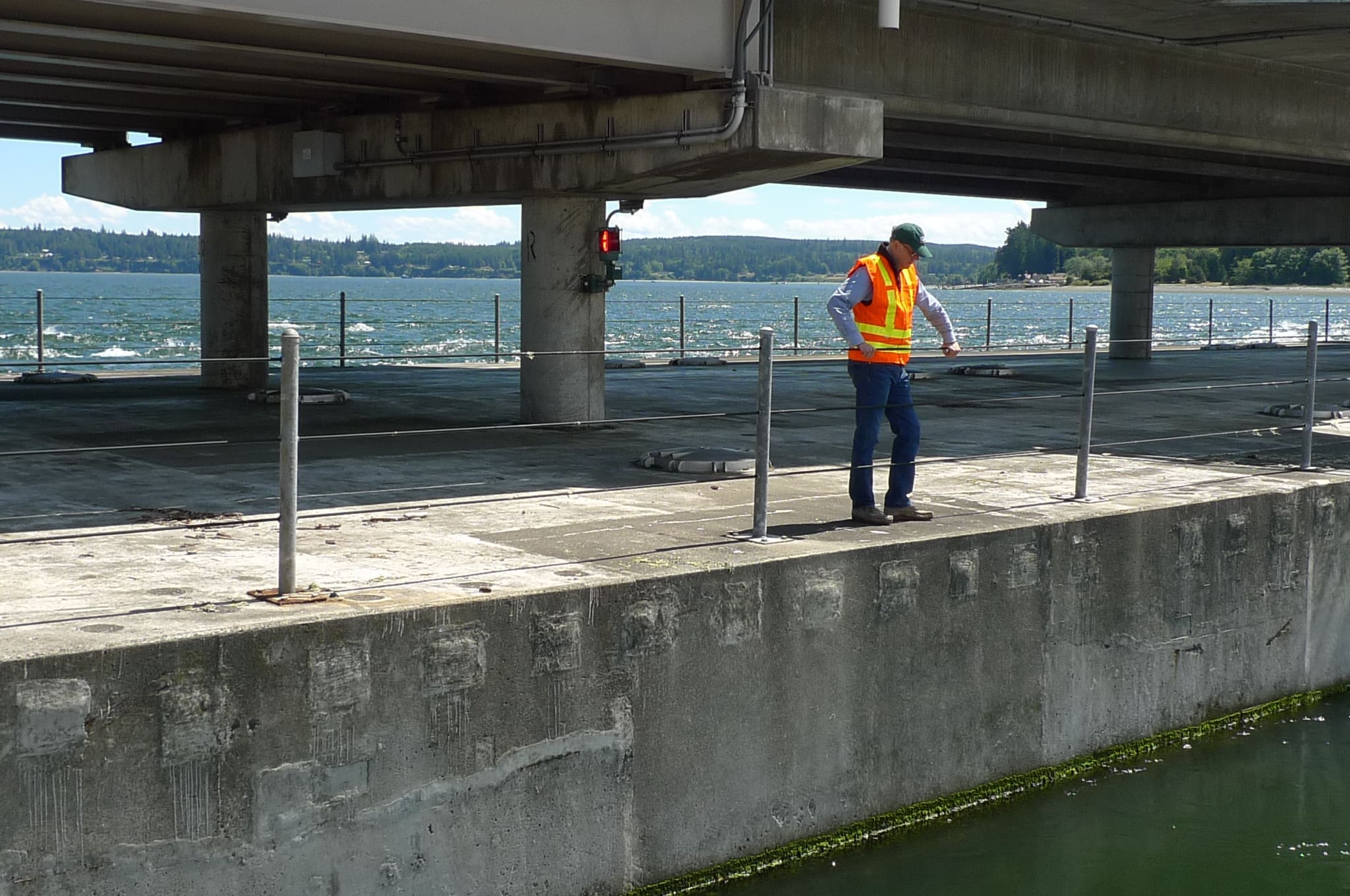 Long Live the Kings and Partners Awarded $750K to Address Steelhead Deaths Around Floating Bridge
Approximately 65% of juvenile, out-migrating steelhead that make it to the Hood Canal floating bridge do not make it to Admiralty Inlet, a location just North of the bridge on their migratory route. This high level of mortality may be limiting the species' recovery, as steelhead are listed as threatened under the Endangered Species Act. Long Live the Kings (LLTK), a Seattle-based environmental 501(c)(3) nonprofit with 30 years of experience in salmon recovery, is leading a team to pin-point exactly how steelhead are dying in the area and discover if the floating bridge impacts water quality. A $750,000 appropriation in Washington State's 2017-2018 biennial budget was recently received in support of the current, $2.5 million, phase of the Hood Canal  Bridge Ecosystem Impact Assessment.
LLTK's Executive Director, Jacques White commented, "Long Live the Kings has been working with our partners from around Hood Canal to address a significant survival bottleneck for our state fish. This project is an example of cooperative work to sustain both the environment and people by leveraging regional expertise and resources to improve wild fish survival without undermining the importance of critical transportation
infrastructure."
Scott Brewer, Executive Director of the Hood Canal Coordinating Council and a key partner in the project added, "The Hood Canal Coordinating Council works with the community to protect and recover Hood Canal's environmental, economic, and cultural well being. Recovering wild steelhead populations is an important component of that goal and the recent appropriation to the bridge assessment will help ensure our success."
Work on phase 1 of the Assessment officially began in late 2016 and will continue into early 2019, taking advantage of two field research seasons. The 2017 research period was successfully completed this summer and scientists are processing data that will provide additional insight. During phase 1, scientists will assess the impact of local predators, light and noise from the bridge, water circulation, and track juvenile steelhead using specially designed devices. The data will help determine cost effective solutions that do not affect the bridge's transportation functions.
The $750k state appropriation was championed by Senator Christine Rolfes (D-23) and Representative Drew MacEwen (R-35). Through the efforts of LLTK, Hood Canal Coordinating Council, Port Gamble S'Klallam Tribe, state legislators, and others, the appropriation received bipartisan support and was included in the operating budget during a legislative session with a historic number of demands on the State's funds. Other legislators were also critical to the appropriation's success, including: Senator Tim Sheldon (D-35), Senator Kevin Van De Wege (D-24), Senator Dino Rossi (R-45), Senator Kevin Ranker (D-40), Representative Sherry Appleton (D-23), Representative Drew Hansen (D-23), Representative Steve Tharinger (D-24), Representative Mike Chapman (D-24), and Representative Dan Griffey (R-35). The appropriation added to a pool of federal, private, local, and state funds, which has reached $2.25 million. The remaining need is $250,000.
"We need to know why these fish are disappearing in the vicinity of the bridge and we need to work together to address the changes that may be necessary. The lessons learned from this project may be applicable to bridge infrastructure in other parts of the state and nation, contributing to a healthier marine environment. The legislative delegation from the peninsula region was united in our support of this work," said Senate Rolfes.
Steelhead are essentially rainbow trout with a life cycle similar to salmon where they return to their stream of origin to spawn after maturing in the ocean. Salmon and steelhead are important cultural resources for local Native American Tribes, they are a fixture in the Pacific Northwest economy and day-to-day life, and are critical to the health of the local environment. The steelhead is also Washington's state fish.
The Port Gamble S'Klallam Tribe has fishing areas in Hood Canal which are an important part of their cultural heritage. "Since Port Gamble S'Klallam tribe helped initiate the project in 2012, we've made great progress," said Port Gamble S'Klallam Tribe's Natural Resource Director, Paul McCollum. "Steelhead are an important tribal resource and we are pleased to see the state's recent investment to protect tribal rights by working towards improving steelhead populations."
The Hood Canal Bridge is the third largest floating bridge in the world and provides a valuable connection for thousands of people each day traveling from the Kitsap and Olympic Peninsulas in Western Washington. The bridge's pontoons span 83% of the width of the canal and extend 15 feet underwater. The Hood Canal is a fjord, and the bridge's pontoons pose a potential limit on the exchange of fresh and salt water that is necessary to preserve water quality and prevent harmful conditions for aquatic species.
Other partners include: Port Gamble S'Klallam Tribe, Washington Department of Fish and Wildlife, National Oceanic and Atmospheric Administration, Pacific Northwest National Laboratory, Washington State Department of Transportation, and the U.S. Navy.