Fishers disagree about a lot of things, but they all find common ground around the fact that salmon and steelhead populations have faced a disastrous decline. In 1986, a group of salmon enthusiasts came together around this commonality and asked a question they intended to answer: could hatcheries be used to recover salmon and steelhead populations facing extinction? Current perspectives on the efficacy of hatcheries aside, at that time, this was a bold, genuine, and passionate attempt to save a priceless species and pastime for generations to come. This act marked the beginning of a more than 30-year quest to restore wild salmon and steelhead populations through an innovative nonprofit, Long Live the Kings.
In 1978, Jim Youngren, a real estate entrepreneur born with a rod and reel in his hands, started raising Chinook salmon in natural ponds on his Orcas Island property, isolated from wild salmon populations which only spawn on the mainland. When asked about Jim's success building a hatchery, his wife, Kathy Youngren, said "He dreamed it and here it is… he never ever for a second thought that this whole thing wouldn't turn out just exactly how it has." Jim's think-big and make-it-work attitude has helped supplement sport and commercial fisheries from Washington to Alaska in a sustainable manner. Shortly after LLTK took over operations of the hatchery in 1986, the organization began operating two additional hatcheries: one on Wishkah River near Grays Harbor and another on Lilliwaup Creek along Hood Canal. These facilities embodied Jim's vision by developing innovative techniques that mitigate the negative impacts of hatchery rearing on wild fish populations, and using those techniques to bring wild populations back from the brink of extinction. In Lilliwaup Creek and the Hamma Hamma River, LLTK has worked with other partners to rebuild the annual returning summer chum population from the hundreds to thousands, and have doubled the abundance of some steelhead populations.
In 1999, Congress created the Puget Sound and Coastal Washington Hatchery Reform Project, a groundbreaking effort to rethink how hatcheries can be managed to both conserve naturally spawning populations and support sustainable fisheries. With LLTK's on-the-ground experience, Congress designated the organization as the project's independent, third-party facilitator. The result was a comprehensive review of 200 hatchery programs, providing over 1,000 recommendations to improve their operations. This project created a paradigm shift in how hatcheries are managed in the Pacific Northwest. One of the most recognizable outcomes in Washington State has been the mass marking of nearly all hatchery fish—the removal of adipose fins–in order to easily distinguish them from wild fish. A majority of hatcheries in Washington have also instituted a series of changes to reduce the genetic impact that hatchery fish may have on wild populations.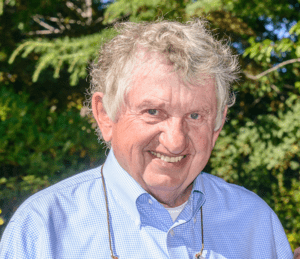 As LLTK matured and grew as an organization, Jim's example of bold thinking continued to influence decision-making. In 2014, LLTK and our Canadian partners, the Pacific Salmon Foundation, established the Salish Sea Marine Survival Project, a massive international endeavor to investigate the decline of salmon and steelhead populations in the combined waters of the Puget Sound, Strait of Georgia, and Strait of Juan de Fuca. Together, LLTK and PSF coordinate the efforts of over 60 organizations, producing research findings that are critical to saving salmon and steelhead populations threatened by extinction. Martha Kongsgaard, former chair of the Puget Sound Partnership, explains the importance of the work, "unraveling this mystery could provide answers for how to save the entire Sound." The project, now in its third year, has mobilized over 150 scientists, established more than 80 research sites, and raised $17.5 million.
Building on the Salish Sea Marine Survival work, LLTK took on another huge challenge at the Hood Canal Bridge, the third largest floating bridge in the world. Research revealed that juvenile steelhead are dying at the bridge and that the bridge may also be effecting the canal's water quality. LLTK has gained significant community support to address the problem by working with a team of experts to pin point how exactly the bridge may be impacting the ecosystem in order to implement solutions. It's uncommon for a small nonprofit to attempt to address a problem involving such an enormous piece of vital infrastructure, but Jim wouldn't back down from important challenges and neither will LLTK.
Most recently, LLTK has taken on a new challenge, launching a bold, new digital communications campaign in partnership with Paul G. Allen's Vulcan, Inc. to bring awareness and investment to salmon and steelhead recovery. The Survive the Sound campaign allows people to connect with the wild steelhead, a species vitally important to our ecosystem and Northwest culture. By presenting the campaign as a web app, LLTK is looking to educate the next generation about the plight of salmon and steelhead by giving everyone an opportunity to sponsor and track a fish as it races to the Pacific Ocean. In its first year, the campaign is already generating important conversations in the community and catalyzing dormant salmon enthusiasts.
Thirty years of work, 1 million fish returned, over 250 partners, and more than 125 project sites: who knows if any of it would have happened without the organization's bold, can-do thinking that Jim inspired.
LLTK will honor Jim at an annual benefit dinner, Salish Stories, on April 20th. If you would like to participate, please register here by April 15th.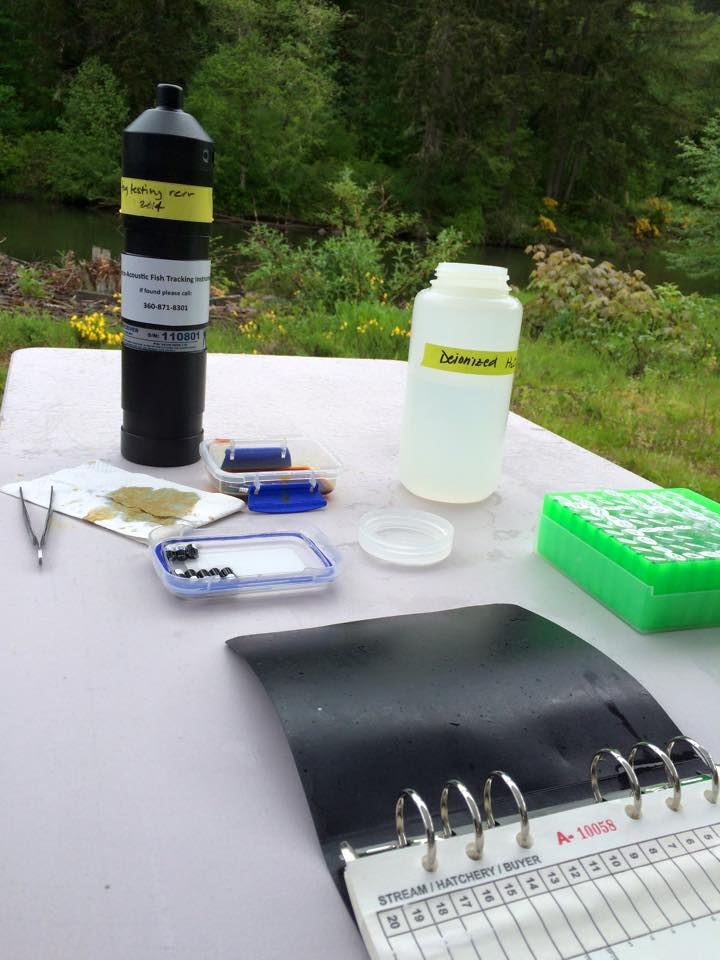 Understanding the decline of Puget Sound steelhead is no easy task. Try explaining the unexpected death of one of your children's cherished goldfish in a scientifically defensible way and you'll only begin to understand this daunting challenge. LLTK and our partners investigating marine survival devote countless hours developing strategies that allow us to understand one key piece to the puzzle – where steelhead die.
---
---
To identify where steelhead die, scientists need to characterize typical steelhead migration routes. They can do this by tagging a sample of steelhead and extrapolating the data gathered to the larger population. Steelhead maintain a relatively consistent speed and trajectory as they race to the Pacific Ocean. When tracking data show that they've deviated from that path or speed, it means they've likely encountered some sort of obstacle during their migration. The obstacle could be a physical barrier, an encounter with a predator, a decline in health related to disease, and/or a variety of other things. When scientists observe these changes in behavior, we know to investigate further in order to pinpoint the problem.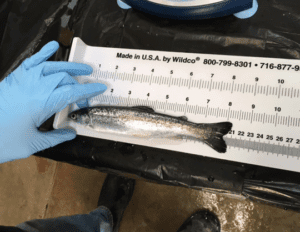 Acoustic telemetry is a relatively new and precise way to understand steelhead behavior. The system utilizes a tiny, pill-sized transmitter, or "tag", inserted into a juvenile steelhead's belly that communicates with an array of receivers, placed on the seafloor in strategic locations along the migration path. The transmitters are about the size of a pill capsule and the receivers no larger than a Gatorade cooler. There are over 125 receivers deployed in the Puget Sound and Strait of Juan de Fuca today. This includes a tight network of receivers around the Hood Canal Bridge. High steelhead mortality is occurring at the bridge, and we are now using the receivers to triangulate exactly where the steelhead are dying.
Acoustic receivers can detect tagged fish from 200 meters away! The properties of water make acoustic systems especially effective. Molecules in a liquid are more densely packed than those of a gas. This higher molecule density means less sound energy is lost over the same distance in water relative to air. If you've ever swum in a lake and heard a distant motorboat while underwater, you've experienced this property of water. Whales take advantage of the same principle, communicating great distances using echolocation.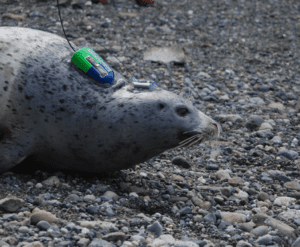 When receivers "hear" a tag, they catalog the precise movement of the fish. When multiple acoustic receivers hear a tag at the same point in time, researchers are able to triangulate the location of the fish based on the relative intensity of the fish's signal at each receiver. Some types of acoustic tags contain a pressure sensor which records information about the fish's depth in the water column.
Acoustic tags can also tell scientists about predator-prey interactions. In Puget Sound and Hood Canal, scientists attach a "backpack" containing an acoustic receiver to the backs of harbor seals. While the seals swim around the Sound, they collect data on every tagged fish they encounter. When the seals molt (shed its fur) in the fall, the backpack falls off and scientists can retrieve the data. Scientists are currently using this technique, combined with analyzing seal diets, in attempt to determine how big of an impact seals have on steelhead survival.
Now, an astute reader may be thinking, "Doesn't tagging a fish increase its chances of mortality and bias the results?" Many studies have been done to test this question. In these experiments, fish are tagged and held in large tanks for several months or more. Throughout the experiment, scientists monitor fish health to see whether the tags have any effects on growth or survival. Thankfully, all the studies have concluded that the tags don't adversely affect the fish.
Scientists working on the Salish Sea Marine Survival Project have also tested whether tags act as a dinner bell, calling seals to the tagged juvenile steelhead. This study is performed by pausing the "ping" a tag emits when the fish pass through the areas seals frequent, and the tags resume "pinging" before the fish reach the Pacific Ocean. We compare the fish whose tags were paused, to fish with tags that "pinged" continuously. The survival of these two groups is not different, and therefore, showing no evidence of a dinner bell effect in Puget Sound.
This spring, thousands of people across the Pacific Northwest will join Long Live the Kings (LLTK) and Vulcan Inc. for a fun and interactive journey. Starting March 15th, you and your friends, family, and coworkers can sponsor a steelhead with a minimum $25 donation. Once you've chosen your fish (see a few of our contenders below), you can team up or compete, and between May 8th and 19th, follow your steelheads' adventure as they fight to survive their grueling trek through Puget Sound, avoiding predators, fighting disease, and navigating other obstacles. Sign up now to be notified when you can begin sponsoring!
---
---
Survive the Sound is a new way for people to interact with and learn about our Washington State fish. Steelhead are magical: their behavior can signal deeper issues within the surrounding ecosystem, they are prized by chefs and anglers alike, and their presence is critical to sustaining tribal culture and treaty rights. Unfortunately, the Puget Sound steelhead population has declined dramatically over the past century —to less than 10% of its historic size— and they're now listed as threatened under the Endangered Species Act. Today, there is serious concern that this iconic fish will slip into extinction.
LLTK and our partners are especially concerned with the low numbers of juvenile steelhead surviving their brief, two-week journey through the marine waters of Puget Sound on their way to the Pacific Ocean. Fewer than 20% are successfully making the trek!
To track these patterns, LLTK and partners capture wild juvenile steelhead annually as they make their way downriver to Puget Sound. Upon capture, we implant sophisticated transmitters into the fish that emit a unique acoustic ping. Our partners then track each signal by triangulating their position with receivers strategically placed in the water around Puget Sound.
This research approach makes Survive the Sound possible. The steelhead available for sponsorship represent real fish, using data depicting real survival outcomes for the entire population.
This research is part of LLTK's work to restore wild salmon and support sustainable fishing. LLTK and our Canadian partners, the Pacific Salmon Foundation, coordinate the work of over 60 entities in the Salish Sea Marine Survival Project: to determine why certain species of salmon and steelhead are dying in the combined marine waters of Puget Sound and Strait of Georgia, known as the Salish Sea.
We're moving quickly to isolate solutions to specific problems we're certain impact salmon and steelhead. For example, we know steelhead are dying at the Hood Canal Bridge, and it's likely their normal migration path is being disrupted by the floating bridge somehow, increasing the chances that a nearby predator will find an easy meal. The Survive the Sound campaign shines a spotlight on our marine survival research and Hood Canal Bridge assessment by inviting people to learn what's really going on with steelhead beneath the surface of Puget Sound.
---
If you're interested in helping to save Puget Sound Steelhead and supporting Long Live the Kings, sign up for updates and share the campaign with your friends and family. If you're looking for more ways to get involved, contact Lucas Hall at lhall@lltk.org.
---
Survive the Sound is presented by: