Coho salmon rely on streams and side channels for spawning and juvenile rearing before their migration to saltwater to feed, grow and mature. They typically spawn between the ages of three and four in their natal streams. Coho and other salmon are vulnerable to many stressors including blocked access to spawning grounds and habitat degradation caused by dams, culverts and past land use practices.
One successful approach to restoring historic native coho and other salmon populations throughout the Pacific Northwest has included the removal of barriers to fish passage in conjunction with instream and riparian buffer habitat restoration.
One of fourteen Regional Fisheries Enhancement Groups in Washington State, the nonprofit Nooksack Salmon Enhancement Association (NSEA) in Bellingham, WA has successfully completed over 450 projects on salmon-bearing creeks in Whatcom County over its 30-year history. One of those is a channel modification and barrier removal project on a tributary of Goodwin Creek in the Sumas River watershed. Thanks to partnerships with three landowners and several state and federal agencies, a mile-long section of habitat has been reconnected with the native Pacific coho populations for the first time in over 30 years.
If You Rebuild It, They Will Come
Planning first began in 2015 to remove three fish passage barriers on private properties. "One of the great aspects about working on streams is the opportunity to get to know a diverse variety of landowners," explains NSEA Project Manager Darrell Gray. "A project begins with a conversation about salmon, and grows over time to a variety of topics. Throughout the years, I have had the great pleasure of getting to know some amazing landowners. These three were particularly great to work with."
Each of the three landowners came to the project with differing backgrounds, interests and needs. One 30-acre small business farm raises horses and cows. The second is an 80-acre farm and the third, owned by Rose Anne Featherston, is a 5-acre farm with a horse.
"It was around 2014 that I contacted the Whatcom Conservation District about participating in their CREP program," remembers Featherston of the stream that runs just meters behind her home. The CREP, or Conservation Reserve Enhancement Program, is a county-based voluntary program that pays landowners to establish native tree and shrub buffers along fish-bearing streams and rivers. CREP removed about an acre of invasive blackberries and planted native plants. Native plant buffers protect water quality, develop root systems that stabilize stream banks, reduce erosion, create shade that lowers water temperature and leaf litter attracts macroinvertebrates that young salmon eat.
"When we discovered that my culvert was almost blocked, CREP connected me with NSEA." Both Featherston and her neighbors had culverts that were too small. One culvert had a drop of more than six feet that prevented coho passage for more than three decades. But coho spotted north of the culvert were evidence that a restoration effort could be successful if done well.
The Restoration Approach
"After surveying the stream to develop project designs, it became apparent that all of the barriers should be removed at the same time to allow stored sediments behind each to move downstream, establishing a new stream gradient," remembers Gray.
Landowners allowed NSEA teams to replace barrier culverts with two bridges and a 10' diameter culvert as well as establish new native plantings to buffer the creek from adjacent agricultural activities.
Construction began in early September 2016 just in time for the fall rains and lasted more than three weeks. As the properties were all neighboring, NSEA was able to move equipment from one site to the next with the removal of a few fences. "This also allowed us to regrade the channel between sites to the anticipated new stream gradient," explains Gray. "Large cobbles were added to the stream bed to maintain the new gradient and provide areas of slower moving water where salmon can rest."
NSEA is required by permit to revegetate areas disturbed during instream projects. Work was completed by the NSEA team and native replantings were accomplished with help from six members of the Washington Conservation Corps(WCC), an AmeriCorps program administered by the Washington State Department of Ecology. They planted over 760 young native trees and shrubs across the three properties, including Western red cedar, Douglas fir, Pacific nine bark and black twinberry, all grown from bare-root stock in NSEA's nursery.
Immediate Impact
"Within a few weeks of project completion, through my window I heard the first splashes of the salmon returning. It was amazing," remembers Featherston who has since joined the NSEA Board of Directors to provide landowner perspective. "This year I've already seen opossum, eagles and coyotes feasting on salmon carcasses." More than 40 species of vertebrates, including salmon, birds and mammals directly benefit from salmon runs by feasting on salmon, their eggs, carcasses or their young.
NSEA monitors their project sites—through spawner and vegetation surveys—for three to five years after completion to evaluate restoration efforts. In addition to counting live fish, NSEA counts dead fish and new and old redds (spawning nests), and records stream flow and visibility. Having been monitored 19 times since 2017, NSEA has now documented more than 230 adult salmon migrating upstream, many of which spawned within the project reach.
What Swims Ahead
This project demonstrates that removing barriers to fish passage, such as culverts and steep elevation changes, while improving native plant buffers along streams, can restore historic coho salmon runs in Pacific Northwest tributaries in just a few years.
"The great thing about NSEA is that they listen to landowners," notes Featherston. "I'm impressed by how Darrell and NSEA never push landowners. They come up with creative solutions that meet the needs of diverse landowners and are gifted at striking that balance."
This summer, NSEA will continue their instream and riparian restoration work further upstream to give these coho access to additional habitat further to the south.
"We have great appreciation for landowners like these that are curious, patient and accommodating participants," adds Gray. "We hope this kind of work will help restore historic salmon populations and that these neighbors will enjoy the returning salmon for years to come."
Celebrating 30 Years Restoring Sustainable Wild Salmon Runs in Whatcom County
"Seeing the coho and spring Chinook return to spawn in areas that we've cared for is just one of the things that makes all of this hard work feel more like a reward than an effort," explains NSEA Executive Director Rachel Vasak. "It's such a joy looking up at a tree we planted—once just a tiny seedling but now over 50-feet tall—or hearing community members describe the wonder they experienced as a child when they learned about salmon and habitat from NSEA over 20 years ago. Over our 30 years, we've completed over 450 restoration projects, educated more than 25,000 students about salmon and planted well over a hundred thousand trees in Whatcom County."
NSEA is poised to continue this important work in the decades to come. In 2021 alone, NSEA will remove 13 fish passage barriers, improving access to over 20 miles of upstream habitat, as well as install 17 large woody debris structures and over 21,000 native plants along 7,900 feet of stream channel.
Learn more at www.n-sea.org!
_____________________
Darrell Gray, NSEA Project Manager, has been with NSEA for more than 25 years. He leads NSEA's instream and restoration projects with designs, permits and implementations.
Amy Johnson is NSEA's Advancement Manager in charge of communications and development, supporting education, restoration, and stewardship of Pacific salmon in Whatcom County.
Lorraine Wilde is Owner and Lead Strategist at Wilde World Communications. She has published more than 250 articles and blogs, helping small businesses and organizations spread positive messages, champion social justice and protect the environment.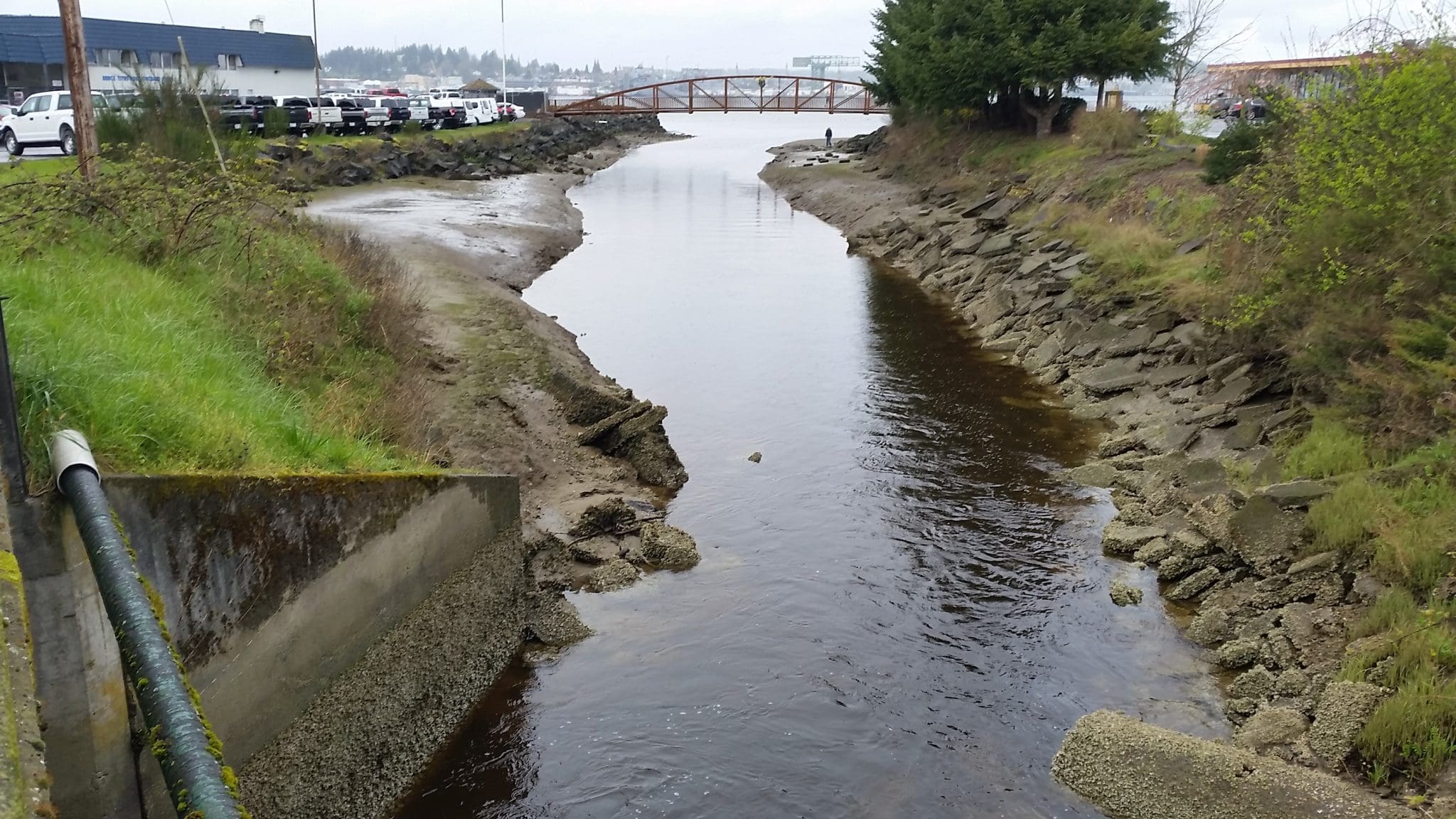 Environmental Science Associates is an LLTK Sponsor.
The Salish Sea (comprised of the Puget Sound, Strait of Georgia, and Strait of Juan de Fuca) is the lifeblood of the Pacific Northwest—it's a platform for recreation, a conduit for transportation, and is home to one of the region's most precious cultural resources: salmon. But with the region's surging population and the growing threats of climate change, the health of this lifeline hangs in the balance.
Even with the relatively small amount of funding devoted to recovery efforts, a modest amount of funding is still making its way into the region for restoration of the Puget Sound and its surrounding rivers and tributaries. And, while the funding is mostly federal, the work that actually affects species and habitats happens at the local level with on-the-ground projects. While local governments, environmental firms, and organizations (like Long Live the Kings and the Puget Sound Partnership) can help steer the efforts of salmon recovery, it is Washington's Native American tribes that play a critical role in the recovery and restoration of the Puget Sound ecosystem and its native salmonids.
The Suquamish: A Salish Sea Tribe Committed to Saving Salmon
As with most of Washington's Native American tribes, the Suquamish are connected to salmon in virtually every aspect of their daily life—from nourishment and family to ceremony and trade. Taking their name from a phrase in their traditional Lushootseed language, these "people of the clear salt water" are expert fisherman, canoe builders, and basket weavers that have lived in harmony with the lands and waterways along Washington's Central Puget Sound Region for thousands of years. Today, salmon remains a staple in the diets of Tribal people and is also the primary source of income for many Tribal families. The Suquamish Tribe is committed to maintaining the health and productivity of salmon to ensure availability for future generations, and, as such, have been an instrumental player in helping to restore healthy populations in the region. Here are two recent projects that Environmental Science Associates (ESA) partnered with the Tribe on that illuminate this commitment.
Partnership in Action: Recent Project Examples
Since the initial listing of Puget Sound steelhead as threatened in 2007, the Suquamish Tribe has been a champion for steelhead recovery and a leader in monitoring salmon and steelhead returns and watershed conditions. In 2016, the Tribe successfully persuaded NOAA Fisheries to expand the portion of the Kitsap Peninsula designated as critical habitat for steelhead. More recently, the Tribe has invested valuable time and resources toward assessing priority watersheds on the peninsula to enable more effective management, protection, and restoration of habitat for steelhead and other salmon species. Now, in collaboration with the West Sound Watersheds Council, the Tribe will be one of the first watersheds to tackle developing a recovery plan chapter for steelhead.
ESA—in partnership with Long Live the Kings—is currently assisting the Tribe with this laudable endeavor by developing population and habitat goals for this community of steelhead, an effort that requires broad evaluation of existing information, model approaches, and stakeholder input. With scant data available for these fish, we will rely the best available local science and other pertinent information along with regional tools and guidance such as the Puget Sound Partnership's Chinook Recovery Planning toolkit to expedite development of recovery strategies and the final plan.
Prior to this steelhead effort, the Suquamish focused on the human induced impacts to the spawning, rearing, and migratory habitat of native salmonids in the Blackjack Creek watershed, and finding ways to prevent further degradation and restore habitat-forming processes. Through a science-based assessment, ESA assisted the Tribe in developing a complete and clear plan of distinct strategies and actions that can guide, inform, and ultimately meet its objectives for restoring watershed processes, including the stream, riparian and floodplain conditions, estuary, and nearshore habitats in this specific area of Puget Sound.
While there is still a tremendous amount of work to be done, it is these concentrated efforts—in partnership with Salish Sea tribes—compounding over time that will have a profound and lasting impact in restoring the precious balance of Puget Sound.
Ilon Logan is a Senior Ecologist at Environmental Science Associates.
More than ever before, people are becoming environmentally-conscious and want to understand how their efforts can improve biodiversity and the health of a range of organisms. This applies to those people living near bodies of water, such as lakes, streams and oceans. Urban runoff has a detrimental effect on aquatic animals and organisms. Many contaminants can sicken and kill off fish, coral and other aquatic animals. Other contaminants can lead to algae blooms which can also reduce the populations of necessary organisms.
This has a greater likelihood of occurring in and near cities and urban developments as many paved surfaces and buildings lead to a reduction of areas whereby rainfall may easily filter and penetrate the ground, but it can occur in even the smallest community to some degree. Necessary rainfall becomes easily polluted and in such cases can carry toxic substances and debris to waterways. Here are some ways the average household can help reduce urban runoff and make a difference in their local environment.
What Is Urban Runoff?
Urban runoff is much like stormwater runoff. With urban runoff, rainwater flows over areas that are saturated with water or impervious. Such rainwater does not immediately soak into the ground upon contact. Runoff increases in urban areas as there are less exposed areas that allow for seepage into the ground. The natural environment's landscape is altered and rainwater has to work its way around paved roads, rooftops and hard surfaces. Those living in such areas can expect more water to flow to beaches or streams as there are fewer areas where it may seep into the ground.
Another issue with urban runoff is that it comes into contact with undesirable and potentially toxic substances. Homeowners, residents and nature lovers should be aware that pollutants such as hard metals, fertilizers, pesticides, oil and road grime are only a few of the less obvious contaminants that can be swept up in the runoff and make its way into area lakes, streams and waterways. There are manmade options that can decrease urban runoff and allow necessary filtration and penetration into the ground.
How Can Homeowners Reduce Their Impact?
Homeowners who want to decrease urban runoff in their area can take steps to include green infrastructure in the design of their property. This is a design element that incorporates natural systems and engineered systems to duplicate the systems found in nature. Much of the stormwater that reaches a property can be retained, treated and used to irrigate plants and more. Green infrastructure benefits include:
Improved habitat for aquatic animals;
Less pollutants flowing into waterways;
Increased water absorption into the ground and available for underground wells;
Storage and usage of stormwater for irrigation; and
More retention of stormwater on the property.
Homeowners may also want to be more aware of the potential sources of pollutants in urban runoff. Stormwater runoff can easily be contaminated from illegal discharges, from pavement and vehicle wear; at building and construction sites, from detergents, sewer overflows, animal feces, weathering of buildings and organic matter decay. Suspended solids, micro-organisms, heavy metals and surfactant can come into contact with the runoff and make their way into local ecosystems.
One of the biggest concerns with stormwater is the affect it has on the salmon population. The toxins in the stormwater can actually kill the fish, but that is not the only threat they face from it. Even the salmon who survive swimming in this polluted water are in danger. There are sensors on their bodies that help them find food and locate predators, along with finding locations they need to head toward or away from. These sensors are thin and like hairs, and the stormwater runoff can damage those sensors. When salmon cannot find what they need to live, spawn, eat, and avoid danger, their chances of surviving are drastically reduced.
Fish and aquatic life can be negatively impacted by surfactants such as oils, detergents and soaps. Aquatic life can also ingest and become ill or die from litter and debris. Those who want to protect the biodiversity of local waterways can take steps to decrease the amount of urban runoff making its way off a property and provide means to allow for water filtration and ground absorption on their property.
Easy Ways to Keep Waterways Clean
Property owners can do their part to help the aquatic life and ecosystems in their area. One can look for and remove any potential trash that may be easily swept up in runoff, such as cigarette butts, soft drink cups, plastic bags and other immediately observable trash and debris. Additional ways to reduce urban runoff is to increase garden areas and redirect urban runoff to locations with low lying vegetation.
Runoff may also be collected in containers for later use. Gardening and the use of rain barrels can help property owners and residents do more with runoff and reduce the potential for it to be contaminated when running over large areas of land and a variety of materials. Urban gardening is one way that city dwellers can beautify their space while assisting in the reduction of stormwater runoff.
Those who want to take steps to add green infrastructure can start off with locating sources of potential pollutants, identifying where storm water runoff occurs, sketching the area and recognizing limitations. The addition of splash blocks at downspouts can direct runoff into storage containers or slow runoff speed. Landscaping can be used to control sediment runoff. These are a few of the many ways that individuals can reduce runoff and support the health of their local environment.
Justin Havre is a Calgary native and owner of Justin Havre & Associates.