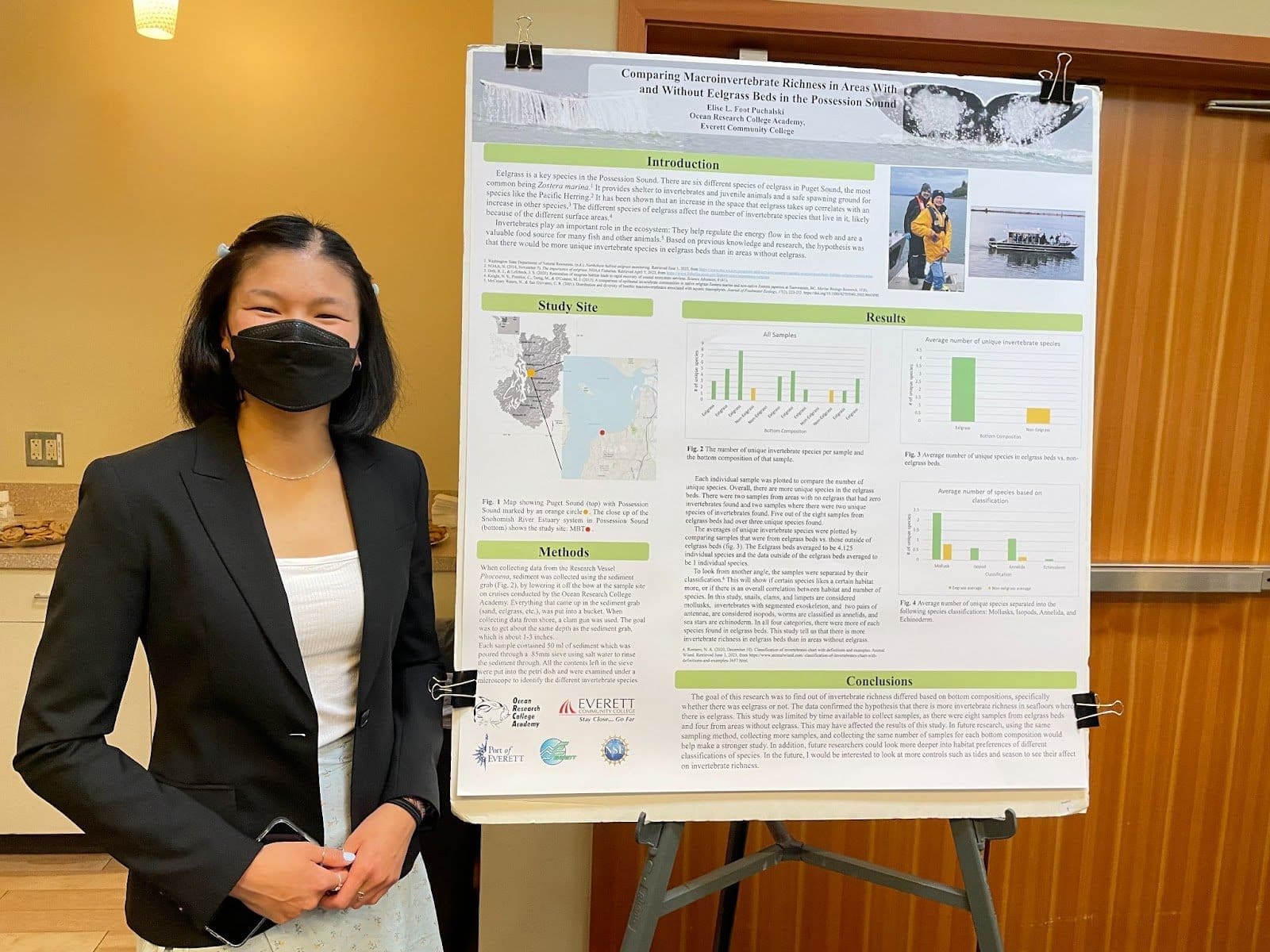 By Sophia DiCarlo, Digital Content Writer/Editor, foundry10
On June 8, first- and second-year Ocean Research College Academy (ORCA) students gathered with their classmates and families at Everett Community College's Waterfront Center to present their research as a part of the eleventh annual Possession Sound Student Showcase and Talks (PSSST).
ORCA is an innovative early college academy where students can earn up to two years of college credit while completing their high school graduation requirements. Most ORCA students graduate with an associate degree in addition to a high school diploma from their sponsoring high school. foundry10 is proud to partner with ORCA and support student-led research projects.
The well-attended event included two poster presentation sessions and three oral presentation panels focused on research questions related to the greater Possession Sound area. ORCA founder and educator Ardi Kveven shared that the goal of this event is to give students the opportunity to explore this region and what interests them about it while also gaining comfort working with data and presenting their research to a larger audience.
ORCA students also have the opportunity to present this research at other scientific conferences, including the Salish Sea Ecosystem Conference, UW Undergraduate Research Symposium, and Puget Sound Environmental Monitoring Program.
The poster presentation sessions included first-year students sharing research questions guided by their curriculum and data they used from ORCA's State of Possession Sound (SOPS) project. Their presentation topics ranged from water temperature, salinity, and chlorophyll values to plankton presence and abundance over time and in different locations in Possession Sound.
Elise Foot Puchalski
First-year students gave two- to three-minute summaries of their projects to attendees. They eagerly answered any follow-up questions and shared real-world applications sourced from their data, such as tracing the impacts of increased algae blooms on the food chain.
The oral presentations were given by second-year ORCA students who ask and investigate their own original research questions. Each student gave a five-minute presentation sharing the inspiration for their project, how they collected their research, and what they learned from the process. Students' Possession Sound projects covered topics including water chemistry, currents, underwater noise, biology, and more.
Abby Searle
Abby Searle
Second-year student Abby Searle presented about seasonal diet shifts in river otters at the mouth of the Snohomish River. This project required Abby to routinely collect and analyze otter scat to better understand what their diets were composed of. She was surprised to find a larger percentage of crustaceans in the diet samples, as opposed to a dominant source fish as she originally expected. There were even a couple weeks where Styrofoam made an appearance in the samples she collected.
After her sample collection and analysis were completed, Abby shared that preparing for this presentation allowed her to gain confidence in her public speaking skills. "It's definitely something that I can carry along with me—realizing that I can do it, even if it's hard and takes a lot of practice. But at the end of the day, I can do it."
Abby credits the supportive staff at ORCA for helping her put together her project and developing her presentation skills. "I genuinely don't know if there is a place I could feel more supported just because I could walk into any of their offices, ask a question, and come out satisfied with the answer. Or if they don't know, they'll help me figure it out, and they're just so willing to be a part of my research, but also step back and let me do it and figure things out by myself."
foundry10 was excited to partner with ORCA and support student data collection for their research projects. To learn more about ORCA, visit their website. To learn more about foundry10 research, programs, and events visit foundry10.org.
This winter marks our third field season working with the Nisqually Indian Tribe on innovative research into herring populations. The study combines Indigenous knowledge with contemporary scientific methodology. We use a traditional practice of collecting herring roe on evergreen boughs alongside genetic analysis and habitat surveys. As with a lot of marine science, the most interesting parts of this study happen underwater. We were thrilled to be able to work with artist Rosemary Connelli to illustrate the process! These two infographic posters show the relationship between herring and salmon survival, and how this project uses Indigenous techniques to support research and recovery. Click the download links below to access PDF versions.
Long Live the Kings is part of a new collaborative project led by the Puget Sound Institute to create the Puget Sound Integrated Modeling Framework (PSIMF). PSIMF will bring together five separate models of Puget Sound, helping scientists and planners understand the complex puzzle pieces of our region's ecosystems from ocean to mountaintops.
Funded in part by the Paul G. Allen Family Foundation, PSIMF will enable better regional planning and decision-making by providing a cohesive picture of the entire Puget Sound ecosystem. Components of the integrated framework will model land cover, freshwater, marine, food web and human activity. Hem Nalini Morzaria Luna, a researcher with Long Live the Kings, works with the Atlantis Ecosystem Model to study the Puget Sound food web. This research is key to ongoing work from the Salish Sea Marine Survival Project to understand how factors at the base of the food web – including the influence of climate change – ripple up to affect salmon and other predators like orcas. By combining Atlantis with the four other models, PSIMF provides a powerful tool for shaping the path to salmon recovery as part of a sustainable future for Puget Sound.
Read more on PSIMF and the power of data-driven modeling from Puget Sound Institute.
In the late 1800s, settlers converted the Ohop Valley to pastures and farm fields, turning a once meandering Ohop Creek into a straight-flowing ditch to drain the valley for dairy farming. The process drastically transformed the landscape, reducing its ability to provide spawning and rearing habitat for historical salmon populations, including chum, pink, coho, and Chinook salmon, as well as steelhead and cutthroat trout. As a major tributary to the Nisqually, the loss of this habitat was detrimental to these salmon and has contributed to decreased populations and the listing of Chinook and steelhead as threatened under the Endangered Species Act. Substantial work has been done to address the historic habitat degradation, however new science points to another more modern threat to salmon recovery.
Over the past 15 years, watershed partners have worked together to implement the Lower Ohop Creek Restoration Project, transforming the lower section of Ohop Creek and the surrounding valley, converting it back to what it looked like prior to settlement. Completed over two phases of construction, over 2 miles of Ohop Creek have been remeandered, derelict structures and invasive plant species removed, and large woody debris placed throughout the valley floor. As part of the restoration, nearly 200,000 native trees and shrubs have been planted across 180 acres of floodplain.
The restoration of Ohop Creek is a major step in recovering Nisqually salmon, but stormwater pollution that comes of off roadways has been recently identified as a major threat to recovery. Some of the harmful components of stormwater include heavy metals and microscopic tire particles. Traffic volume along Highway 7, which crosses Ohop Creek near the Town of Eatonville, has been on the rise due to population growth of the Puget Sound region resulting in more of these chemicals entering Ohop Creek. According to Washington State's Department of Transportation's 2019 annual average daily traffic data, assuming four tires per vehicle, roughly 12 pounds of microscopic tire particles are released at this site throughout the year. Scientists have recently discovered that these tire dust particles contain a chemical known as 6PPD-Quinone, which causes mortality in salmon, especially coho, in low quantities. The Nisqually Indian Tribe and Long Live the Kings have partnered with Cedar Grove, an environmental solutions company, to pilot a mobile biofiltration system designed specifically to capture and filter stormwater run-off from Highway 7.
In January 2022, the unit was installed between the two bridge crossings along Highway 7, in close proximity to Ohop Creek. The size of the unit allows for the collection of 91% of the roadway run-off. With each significant rain event, the system automatically collects water quality samples at three locations: where the run-off enters the filtration system, the middle of the system, and at the outlet where the water is discharged onto the Ohop Creek floodplain. The water samples allow researchers to test the effectiveness of Cedar Grove's system at removing harmful contaminants. These samples are tested for their chemical and toxicological composition, including heavy metals, ammonia, dissolved organic carbon, total suspended solids, nitrates, nitrites, total phosphorus, and polycyclic aromatic hydrocarbons (PAH's). Additionally, the composite samples are shared with Washington State University to assess biological impacts and University of Washington's Tacoma Campus to test for 6PPD and 6PPD-Quinone.
The biofiltration system is mobile, relatively inexpensive, and scalable for different stormwater filtration needs. If the system can safely remove harmful chemicals and prevent them from polluting salmon streams, don't be surprised if you see the use of this system become widespread. In the very near future, stormwater filtration systems will go hand in hand with habitat restoration as a principal salmon recovery tool.
Fall 2022 Update:
By the end of April, the Ohop biofiltration system had encountered two significant rain events. As of November, preliminary data analysis shows positive signs that this system is effective at reducing heavy metals, water toxicity, and 6PPD-quinone to levels that are not detrimental to salmon. We hope to continue this study and look forward to sharing more results as they are available!
Learn more from the Northwest Treaty Tribes here.
Come along on a tour of the project site (via LLTK's Instagram)!
—————————–
Authors: Ashley Von Essen is the Lead Entity Coordinator at the Nisqually Indian Tribe. Ashley Bagley is a Project Manager at Long Live the Kings. This article was originally published in the Summer 2022 issue of Yil-Me-Hu, the Nisqually Watershed Salmon Recovery newsletter. Read the full issue here.
Project partners include: Nisqually Indian Tribe, Long Live the Kings, Cedar Grove, Fremont Analytical, Herrera Environmental Consultants, Nisqually Land Trust, University of Washington at Tacoma, Washington State Department of Transportation, Washington State University at Puyallup.
Financial support for this project was provided by: Nisqually Indian Tribe, Puget Sound Stewardship and Mitigation Fund, Royal Bank of Canada, Sustainable Path Foundation, and Washington Sea Grant.
Following major findings from the Salish Sea Marine Survival Project about the important connections between healthy herring and salmon populations, Long Live the Kings is working with Tribal and other partners on methods to study and recover declining Puget Sound herring stocks. Because the loss of eelgrass and kelp beds has degraded herring spawning habitat, the Nisqually and Port Gamble S'Klallam Tribes are testing traditional techniques used by Indigenous coastal people to encourage herring spawn by sinking evergreen trees in nearshore areas. More forage fish, such as herring, helps salmon survival by providing both a nutritious food source for young salmon, and alternative prey for birds and mammals that otherwise feed on juvenile salmon themselves. Read on for an excerpt from our funders at the SeaDoc Society about the ecological and cultural importance of herring and what we're hoping to learn from this project. Find the full article at the link below.
Herring spawning stock has been in decline for decades and the concurrent lack of diverse spawning sites could have big implications on the Puget Sound and Salish Sea ecosystems. It's an issue in urgent need of attention and action.

Herring are especially important to juvenile salmonids as post-hatch larvae and small juveniles, with larger juveniles and adults being important to larger juvenile, and then adult salmon, said Paul McCollum, the Port Gamble S'Klallam Tribe's natural resources manager.

"Elders here talked a lot about the magic in January and February, that when the herring came into the bay to spawn, the whole world woke up, with salmon coming in to eat the herring, ducks, marine birds and many other fish. It was a very big deal," he said. "Now the herring in Port Gamble Bay are a very small fraction of what they used to be, which is likely a major issue for the crisis in salmonid stocks here in Puget Sound."

With salmon and herring so inextricably linked in the food web, recovering salmon and the Southern Resident orcas that rely on them is directly tied to the recovery of herring.

"We launched the Salish Sea Marine Survival Project with our partners at the Pacific Salmon Foundation 10 years ago because we knew that there were major unanswered questions about which factors were limiting early marine survival for Salish Sea salmon," said Jacques White, executive director of Long Live the Kings. "The finding that herring stocks were so important for salmon growth and survival has led us to focus on these herring recovery efforts with our Tribal partners as a critical piece for salmon and the Puget Sound ecosystem."
Read the full article from the SeaDoc Society.
Wildlife cameras help people connect with nature and see the world from another species' perspective. Many of us have enjoyed watching fledglings in an eagle's nest, or spotted cougars and coyotes passing through a wildlife corridor – but getting a view of life underwater is a little more challenging.
Thanks to a grant from the Washington Department of Fish & Wildlife and some DIY ingenuity by our staff, now you can! Long Live the Kings has set up a live video feed in one of the steelhead rearing ponds at a conservation hatchery on Hood Canal. View the livestream any time from here or on our YouTube channel to spend some time with the fish.
These steelhead (or rainbow trout, the freshwater variant of the same species) are part of an innovative conservation program that LLTK manages to support the recovery of Hood Canal's native steelhead. Hatched from wild-spawned eggs, they are being raised here to help give natural populations a boost. When they are mature, they are released to spawn in the rivers and migrate to sea. (Watch a steelhead release here.)
This is a live video feed, so visibility can vary. We clean off algae that builds up on the camera every few days. The fish are fed around 11:00am most days, which is a good time to see lots of activity! If you don't have a good live view, you can watch a highlight here.
In 2018, we were looking for a partner to revamp the website for our education and outreach campaign, Survive the Sound (STS). Like most nonprofits, we had a shoestring budget, limited staff time, and needed more than a web developer, but a true partner that would be able to understand our goals and bring together a unique website on a tight timeline. Enter Montana Banana, the exact collaborator we were hoping for. Their team was excited about the mission and delivered in a big way, helping us bring salmon education and awareness to thousands of new people. We are lucky to have so many expert partners that help us move salmon and steelhead recovery forward and we're glad to count Montana Banana among them.
Montana Banana describes themselves as, "a team of mature experienced computer geeks with an orientation towards online marketing and solving business problems." We can't think of a better way to explain them. Plus, many of them are local to Seattle, so they already knew how important salmon were to Puget Sound and had a deep appreciation for the environment that supports these beautiful fish. Their genuine interest in LLTK's work showed through as they dug deeper to understand more about the problems facing salmon. Consequently, their growing knowledge of our mission resulted in a smooth and successful web development process, benefiting our STS racers each year.
One of the greatest testaments to their company values is that they have done much of their work for LLTK pro bono. Their CEO and Founder, Stewart McCollough, simply said, "I just can't take any more money away from the fish." Everyone can find a place in salmon recovery work, and Montana Banana found theirs by doing what they do best, designing a great website and giving the generous gift of expertise.
In addition to the STS website, they've done the websites for our 2020 Annual Report and recent Strategic Plan, and we can't wait for our next project together. If you have a need for  "experienced geeks", give us a shout – we'd be happy to chat about our experience and connect you with their team. We often talk about supporting business that do good, and this team is no exception. When you support businesses that support salmon recovery, you help build a community of people and businesses that are jointly invested in environmental stewardship.
To this day, we still have no idea why they picked the name "Montana Banana" and we're fine with that.
Megan Moore, a researcher from NOAA's Northwest Fisheries Science Center, discusses her group's research, partnered with Long Live the Kings, to help recover steelhead populations throughout the Puget Sound. We're grateful for Megan's work to help us recover steelhead in Puget Sound!
Long Live the Kings and Seattle City Light have been proud partners in salmon recovery since LLTK's inception. Together, we power projects around our region that help salmon and steelhead overcome the many challenges they face. This most recent City Light project in Stossel Creek is just the type of work we want to see our private, public, and nonprofit partners coming together to accomplish.
In 2015, Seattle City Light purchased and is in the process of restoring a 154-acre property along Stossel Creek, a tributary to the Tolt River in eastern King County, Washington. City Light purchased the property as part of its proactive Endangered Species Act Land Program, which purchases property containing important habitat for endangered and threatened fish species. This program was established by the City of Seattle in 1999 under Resolution 29905 to help restore and protect habitat for fish protected under the Endangered Species Act (ESA). Stossel Creek is a tributary in the Snohomish River watershed approximately 30 miles east of Seattle, which provides important habitat for ESA-threatened steelhead and coho salmon. The City Light property contains over 3,500 feet of Stossel Creek as well as an additional 1,300 feet of an unnamed creek and wetlands. Steelhead and coho spend a significant portion of their life as juveniles in streams, so protecting or improving the creek habitat on the property can improve the water quality of the creek as well as the river.
The previous owner logged portions of the Stossel Creek property in 2012, which had not been replanted at the time of purchase. Erosion from the logged areas and dirt access roads may contribute sediment to streams where it can smother steelhead and coho redds, killing the eggs, or get trapped in fish gills, impairing breathing. Thus, key objectives in purchasing the property were to protect the wetlands, soils, and streamside vegetation and to reforest logged portions of the site. Trees provide shade that maintains cool water temperatures in streams and associated wetlands, a critical need particularly in the summer months. Trees also provide habitat for insects that are a food source to both fish species.
City Light looked for outside funding to aid with replanting the site, and in doing so developed a unique partnership with Mountains to Sound Greenway Trust, Northwest Natural Resource Group, and Seattle Public Utilities (the Partners), to apply for and receive a grant from the Wildlife Conservation Society, supported by the Doris Duke Charitable Foundation, as well as funds from Carter Subaru of King County.  As the Partners planned the replanting of the Stossel Creek property with the objective of reforesting the site, they took the long view of how the climate will change as the site matures. As climate changes, so too will ecosystems that are shaped by it. The Partners in this project used this understanding to plan a forest restoration project that takes into account the expected changes in climate to ultimately result in a more complex and resilient forest structure by the end of the century. Rather than reforest in a traditional way, this Stossel Creek site was planted using a climate-adapted approach.
The Partners' approach included planting tree seedlings from seed sources originating from southwestern Oregon and northern California, where the climate is similar to the warmer and drier summer climate expected at the Stossel Creek site during the mid to late 21st century. These seedlings were planted alongside locally sourced Douglas-fir and Western redcedar. A total of seven different tree species native to the Pacific Northwest, both deciduous and coniferous, were planted to provide relatively high species diversity. This method increases the functional redundancy of a forest – meaning, forest resilience that comes from multiple species from different taxonomic groups playing similar roles in the ecosystem. Plantings were located away from natural regeneration and grouped by associations suitable for local site conditions such as soil type and aspect. Trees were planted in a wider spacing than traditional methods to decrease the potential for competition during future droughts. These strategies were designed to increase the chances for long-term success of the forested landscape on the Stossel Creek property. Success will be determined through at least a decade of monitoring of tree health and survival within established monitoring plots.
The climate-adapted reforestation of the Stossel Creek property is a novel project designed to explore new replanting strategies that intentionally account for climate change. Through an innovative public-private partnership, this project demonstrates the use of new tools and approaches to restoring and conserving natural resources available today, with the ultimate goal of establishing a resilient forest into the foreseeable future and ameliorating expected climate impacts to aquatic habitat. Demonstrating and recognizing the role of these practices in creating more-resilient forests can help land managers plan and implement more comprehensive approaches to forest restoration and, in this case, fish habitat protection as the climate changes.
Links to film coverage:
https://www.king5.com/article/news/local/seattle-pilot-project-planting-trees-that-can-adapt-to-global-warming/281-575731931
https://www.king5.com/article/tech/science/environment/new-forest-climate-change/281-49507137-bc9f-4874-b6d6-a662222f08f9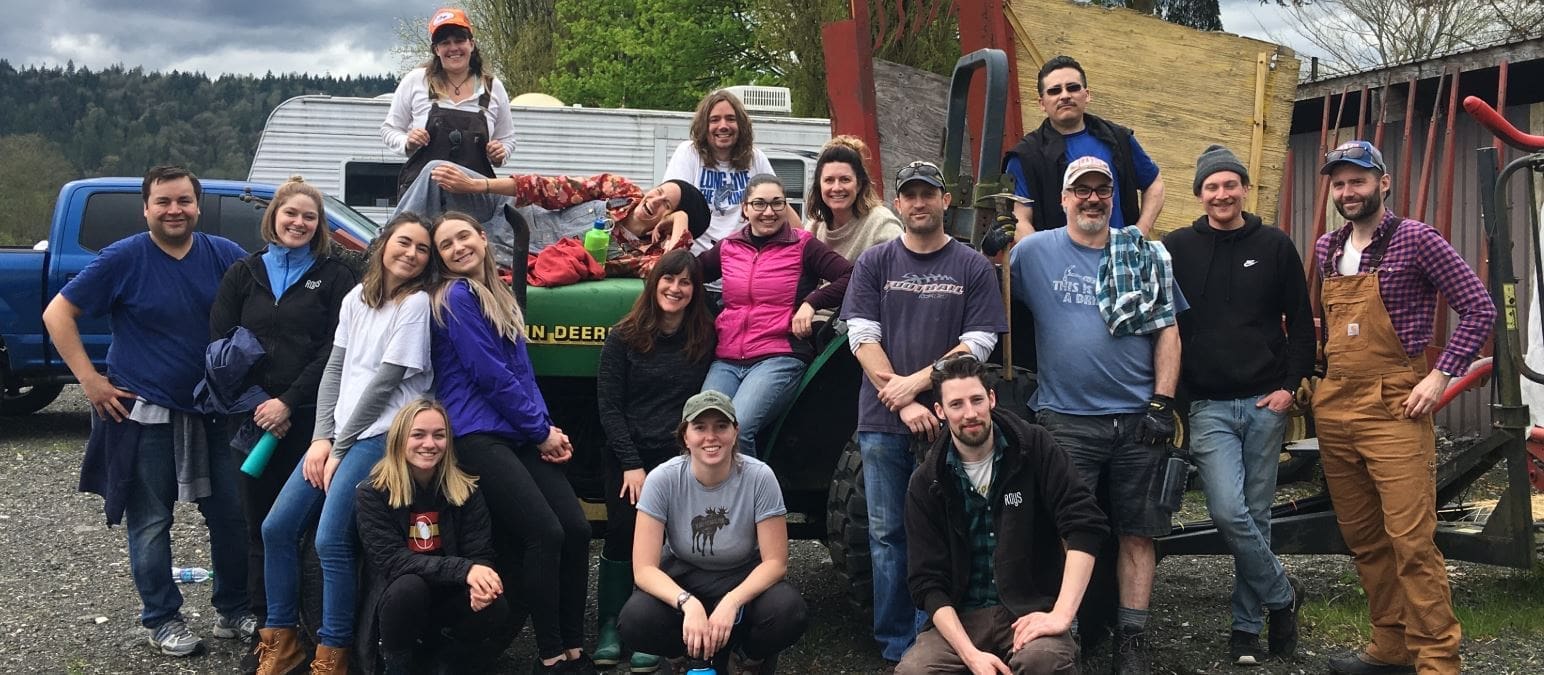 The Ray's team including owners, managers, chefs, servers and hosts all joined together this week to restore critical salmon habitat along the Snoqualmie River.
We teamed up with our non-profit partner Long Live the Kings to volunteer for a day with Stewardship Partners, a local non-profit committed to habitat restoration in the Snoqualmie Valley to help maintain economic viability of farms and forestland while helping landowners restore fish and wildlife habitat.
We worked to remove invasive plant species and install native trees and shrubs to enhance salmon habitat and restore the riverbank on an 80-acre farm in Carnation. The plants will eventually provide shade for the river that will help keep water temperatures low, providing an optimal environment for salmon to thrive.
It was a great day working outside as a team to help keep our local salmon habitats alive and well! Check out some photos from the day below.
Learn more about Stewardship Partners and how to get involved at stewardshippartners.org.