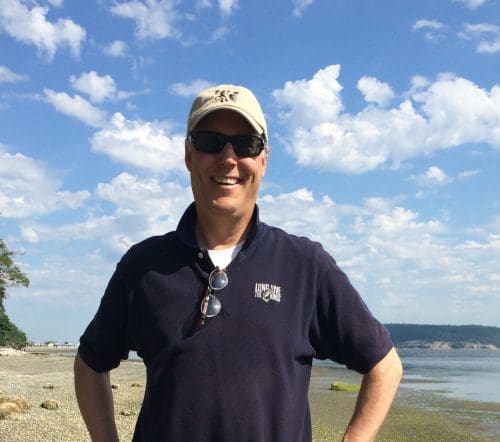 Progress for Salmon and Orca – Update from the LLTK Executive Director
As we have heard time and again over the last year, our southern resident orcas are in trouble. There simply isn't enough salmon to support them, and other factors make this deficit more consequential. They consume fat reserves filled with accumulated toxics while they desperately forage for salmon, a task made more difficult by our noisy waters. It's a troubling combination of challenges, but salmon recovery is likely to have the largest impact.
Long Live the Kings (LLTK) has worked for decades on efforts to the increase survival and population size of salmon and steelhead that provide the prime sustenance for our orcas.  Last year, in response to worrying population declines, Governor Inslee convened the Southern Resident Orca Task Force to address the crisis. LLTK has participated from the start of this effort as the only salmon recovery nonprofit at the table. Since then, orca recovery has occupied much of the region's attention, and LLTK is using our salmon expertise to bring our resident orcas more food.
In November, the task force delivered 36 first-year recommendations, which the Governor and state agencies advanced to the state legislature for approval and funding.  Notably, over 20% of these recommendations were influenced by LLTK's work, mostly driven by ongoing findings from the Salish Sea Marine Survival Project.
In what is being acknowledged as the best session for environmental legislation in four decades, this spring the legislature passed key orca policy protections related to noise, vessel traffic, toxics, oil spills and shoreline habitat. Both the Governor and the legislature deserve praise for these very positive outcomes.
But not all of the needed actions have been implemented, and there is still much work to do. Shovel-ready Chinook recovery projects have only received about a quarter of what is necessary over the past decade.  So clearly, much more effort is needed to fully fund salmon recovery, LLTK is working with our partners to secure funds to support this work.
To this end, LLTK again travelled to Washington, DC this past May as a part of 'Puget Sound Day on the Hill' and 'Salmon Day on the Hill', along with over 80 stakeholders from the west to meet with members of Congress and present the importance of a healthy Puget Sound and Pacific salmon recovery. During the DC visit, LLTK was invited to give a presentation on the Salish Sea Marine Survival Project and facilitate a panel of NW restoration experts for the Congressional Estuarine Caucus, a group of elected officials invested in protecting important water bodies around the country.  The trip resulted in increases in federal funding and renewed focus, as Congressman Derek Kilmer has requested to visit the LLTK Lilliwaup Field Station this summer.
Back in the Northwest, we are happy to announce that you helped us raise over $12M for the Salish Sea Marine Survival Project, smashing our $10M goal for this ground-breaking international project. Results from the project have already been incorporated into National Oceanic and Atmospheric Administration's Recovery Plan for federally listed Puget Sound steelhead, which will be released at the end of this year.
Our work with members of the Washington State Legislature is also proving to be successful. In the most recent legislative session, we helped secured $1.5M for the Salish Sea Marine Survival Project and $10M for the Middle Fork Dam removal. This dam removal project is supported by American Rivers, the Paul G. Allen Family Foundation and the City of Bellingham and will provide access to 16 miles of previously blocked river habitat for federally listed Chinook and steelhead.
The Hood Canal Bridge Ecosystem Assessment is nearing completion for Phase 1 research. LLTK and project partners are working to synthesize and report on our findings, and are now beginning to plan for Phase 2, solutions testing. Preliminary Phase 1 results suggest that many steelhead experience the bridge as a physical barrier, delaying migration, and indicate predation by a deep-diving, warm-blooded animal. Predation may be associated with patterns of fish biomass, predator location, and localized water flow in surface waters near the bridge.
Survive the Sound, our education and outreach campaign that invites the public to track their favorite fish through an epic migration, completed its third year. The campaign has assisted LLTK in graphically and interactively communicating the impacts of the bridge on juvenile steelhead to the public. This year we quadrupled participation, and nearly 2,000 of the participants were educators who reported serving over 200,000 students! And over half of the educators surveyed reported that they were not covering salmon issues prior to participating in Survive the Sound. If you raced with us, did your fish survive? What did you learn? If you missed the campaign this year, you can still visit SurvivetheSound.org to pick your favorite fish and watch its migration.
Finally, LLTK is working with our state, tribal, federal, and nonprofit partners in the US and in Canada to perform limited experiments at hatcheries to see if we can improve the survival and size of returning Chinook. This could eventually benefit southern resident killer whales and fishers, and teach us lessons we can translate to wild fish recovery.
At our Glenwood Springs Hatchery, LLTK will be rearing experimental groups, in addition to our standard May release, that will be reared slowly and released later. Slow rearing is done in attempt to delay maturity down the road and return bigger, older fish.  There is strong alignment between this effort and the findings of the Salish Sea Marine Survival Project, the distribution and timing of releases could address potential issues of competition, predation or changes in food availability.
Clearly, LLTK is moving forward on many fronts to increase the abundance and resilience of salmon in our region, and by extension, hoping that our efforts are successful in providing more food for our southern resident orcas. Your significant support of our work has allowed LLTK to push the boundaries of what's possible, moving ahead faster, taking bigger risks in more places, and having a bigger positive impact on our region and our future.  Thank you for being a partner in our mission to save a Pacific Northwest icon.
Just a few weeks ago, we received word that there is new J-pod calf spotted in NW waters. This is reminder that we should have hope, that nature is resilient if we give it a chance.  Thank you for being part of that hope, you give our salmon, steelhead and whales a chance to survive and thrive.