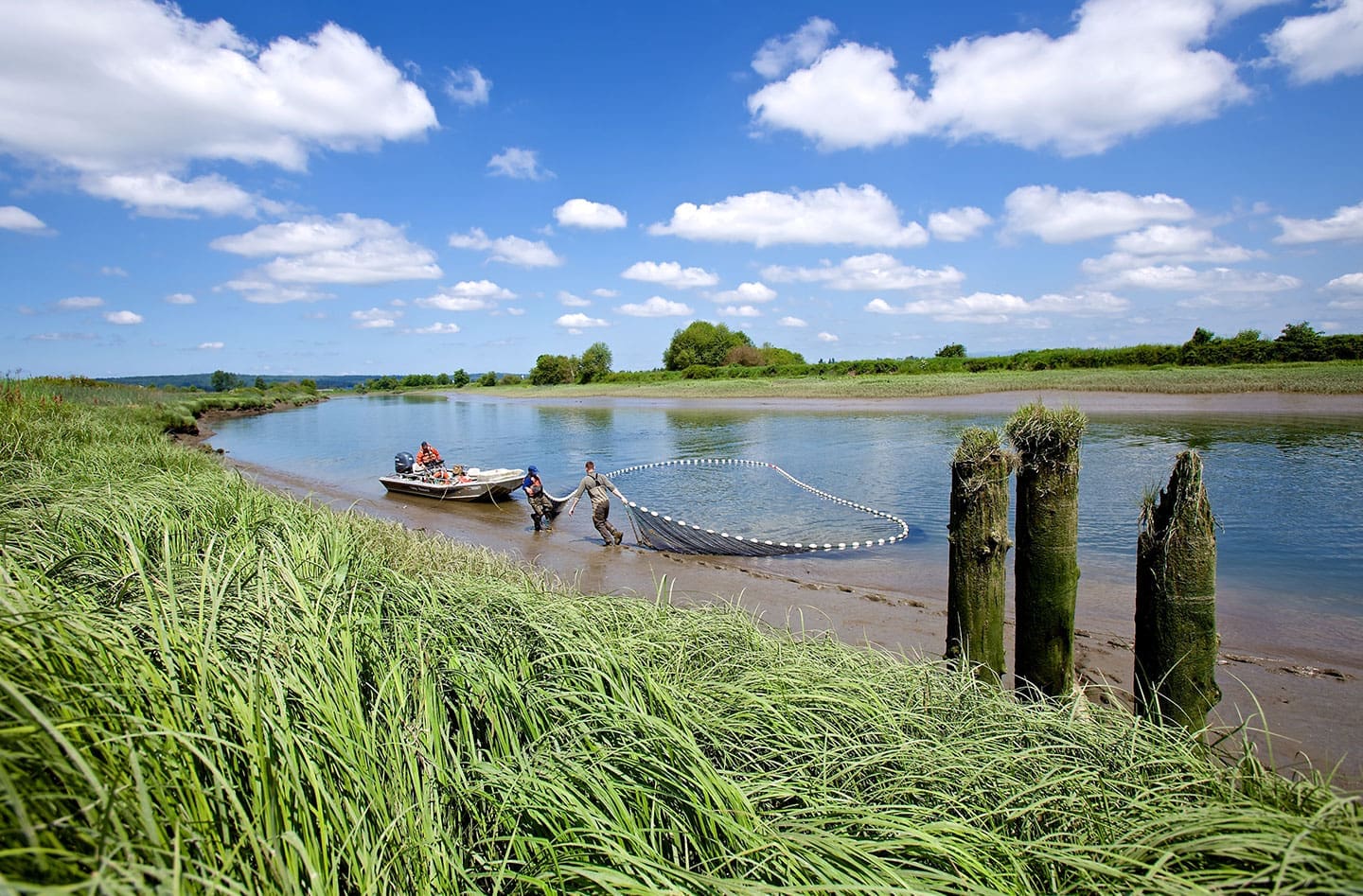 Updates from the Field: Summer Research Highlights
Our summer research season has kicked into gear. LLTK and our partners are out in the field, working to understand the impacts of the Hood Canal bridge on out-migrating steelhead, tracking harbor seals to monitor their interactions with young salmon, and more. Enjoy these updates from their efforts.
Hood Canal Bridge Impacts Study
LLTK is working with our partners to better understand and mitigate the impacts of the Hood Canal bridge on out-migrating steelhead. This summer, the Port Gamble S'Klallam Tribe has been documenting fish use in and around the bridge, to obtain a sense of how fish interact with the structure of the bridge itself. Check out their video of krill and a school of summer chum using a calm water area in the middle of the bridge subdeck >
Learn more about the Hood Canal Bridge Ecosystem Study >
Salish Sea Marine Survival Project
One aspect of research currently happening in association with our Salish Sea Marine Survival Project involves assessing interactions between steelhead and harbor seals. To obtain data about just how—and where— the two species come into contact, researchers are using new technologies aimed at tracking their interactions.
In April, Washington Department of Fish and Wildlife (WDFW) marine mammal staff—supported by the Nisqually Tribe, the National Oceanic and Atmospheric Administration (NOAA) and Long Live the Kings (LLTK), successfully mounted 16 harbor seals with GPS packs. This was a huge feat, taking two weeks longer than expected to complete. In May, NOAA, WDFW, and LLTK staff again worked together to acoustic tag Nisqually steelhead. Data collected from the steelheads' acoustic tags, in combination with that from the seals' GPS packs, will help researchers to assess predation rates and locations.
In a related effort, Western Washington University, Port Gamble S'Klallam Tribe, and WDFW staff have been collecting harbor seal scat in Whidbey Basin, North Hood Canal/Admiralty Inlet, and South Puget Sound, respectively. This work is being done to help quantify impacts to juvenile steelhead, Chinook and coho. Western Washington University has also teamed up with the Ocean Research College Academy (ORCA) at Everett Community College. ORCA students are taking the remnants of the collected scat and processing them for microplastics.
Learn more about the Salish Sea Marine Survival Project >
Hood Canal Steelhead Project
Our basin-wide Hood Canal Steelhead Project is nearing the end of its supplementation phase. The last smolts reared at Lilliwaup Hatchery were released into the Duckabush and Dewatto Rivers.
A few hundred steelhead remain at Lilliwaup Hatchery, to be reared and released as adults over the next two years. We will continue to monitor steelhead populations to determine whether wild born fish will continue to sustain a higher abundance compared to before we began the project.