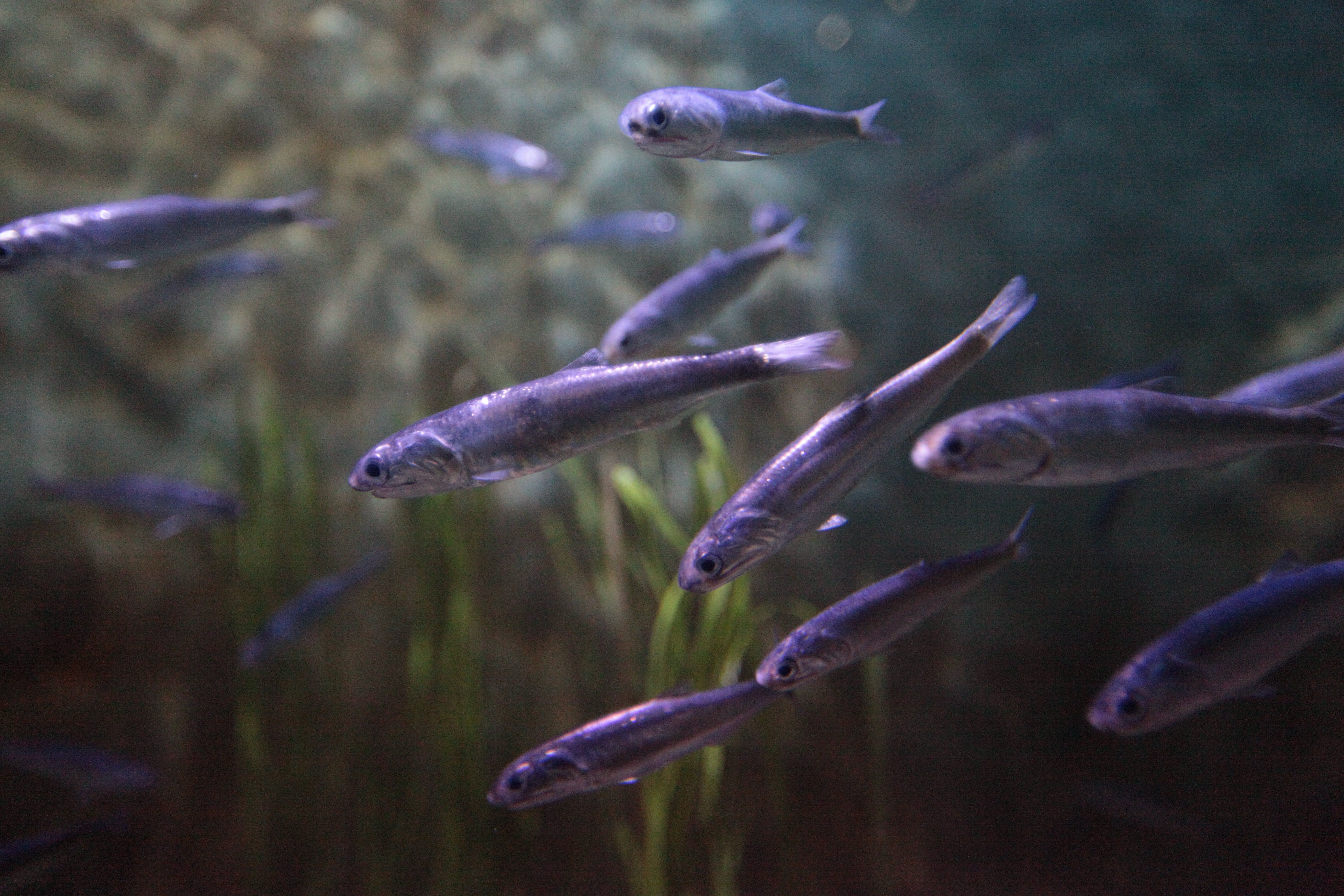 Forage Fish in the Salish Sea
Sand lance, herring, and surf smelt are called 'forage fish' because many larger animals forage (feed) on them, including marine mammals, birds, salmon, and humans. Forage fish are generally small, silvery fish and can be found in large schools throughout Puget Sound. Research monitoring the health of forage fish populations is limited, but the information that is available shows a tragic downward trend for some important populations.
For instance, Cherry Point, an area north of Bellingham, once hosted the largest number of spawning herring in Puget Sound. Cherry Point herring abundance has plummeted 93% since 1973; there are very few Cherry Point herring left. This is bad news for the health of Puget Sound and the prospect of salmon recovery because these small fish hold an important place in our ecosystem.
Recent research from the Salish Sea Marine Survival Project indicates that forage fish are especially important to the success of Chinook salmon in Puget Sound. Not only are they a source of food for Chinook, but they also provide food for birds and marine mammals that might otherwise feed on juvenile salmon. This information suggests that to recover salmon, we have to look at problems more broadly across our ecosystem, especially forage fish health.
Herring need kelp, eelgrass, and other substrates lower in the tidal zone to lay their eggs on and cumulative human development activity is decreasing the prevalence of this habitat. Overwater structures, such as docks, prevent aquatic vegetation from growing by not allowing in enough sunlight. Some structures are also coated in toxic chemicals that kill herring eggs. Pollutants that aren't associated with docks can also affect forage fish. For instance, PAHs (polycyclic aromatic hydrocarbons) generated primarily during the incomplete combustion of organic materials (e.g. coal, oil, petrol, and wood) can enter marine water directly or through stormwater inputs. Research shows that these pollutants can lead to reduced growth and cardiac defects in larval herring.
Sand lance and surf smelt depend on healthy, natural beaches to provide a place to spawn and protect their eggs until they hatch, but residential and commercial shoreline development has reduced the availability of spawning grounds. For instance, shoreline armoring or bulkheads, designed to protect property from erosion and flooding, can eliminate habitat by restricting access to spawning areas on the beach. They can also prevent natural sediment processes from occurring where erosion from the land replenishes the beach gravel needed for spawning habitat. Despite efforts by many organizations and landowners, we are still struggling to remove or replace bulkheads with engineered 'natural shorelines.'
Sea level rise and ocean acidification are likely to reduce spawning habitat even further. As sea levels rise around our developed community, tidal habitat and marine vegetation available for spawning will decrease.
Forage fish spawning habitat is currently protected through regulatory documents, which take a "no net loss" approach. This means that shoreline development should not change the ecological function of the shoreline. It's unclear whether this standard will be enough to protect forage fish habitat given the pressures of rapid development and our changing climate. This standard must be strictly enforced and complemented by restoration activities to be effective.
To improve the health of Puget Sound and salmon runs, an abundance of forage fish is critical and there are a number of complicated issues that threaten the health of these populations. Addressing these problems requires intensive monitoring efforts, stewardship from shoreline owners, strict regulations, and a willingness to try creative ideas. In December 2020, Long Live the Kings and the Nisqually Indian Tribe started a project testing how christmas trees could be used as herring spawning substrate in the estuary. If successful, the technique could be used more widely across Puget Sound to increase the amount of spawning herring. 
Learn more about forage fish in the Salish Sea here. 
Photo: Pacific Herring, Steve – Flickr