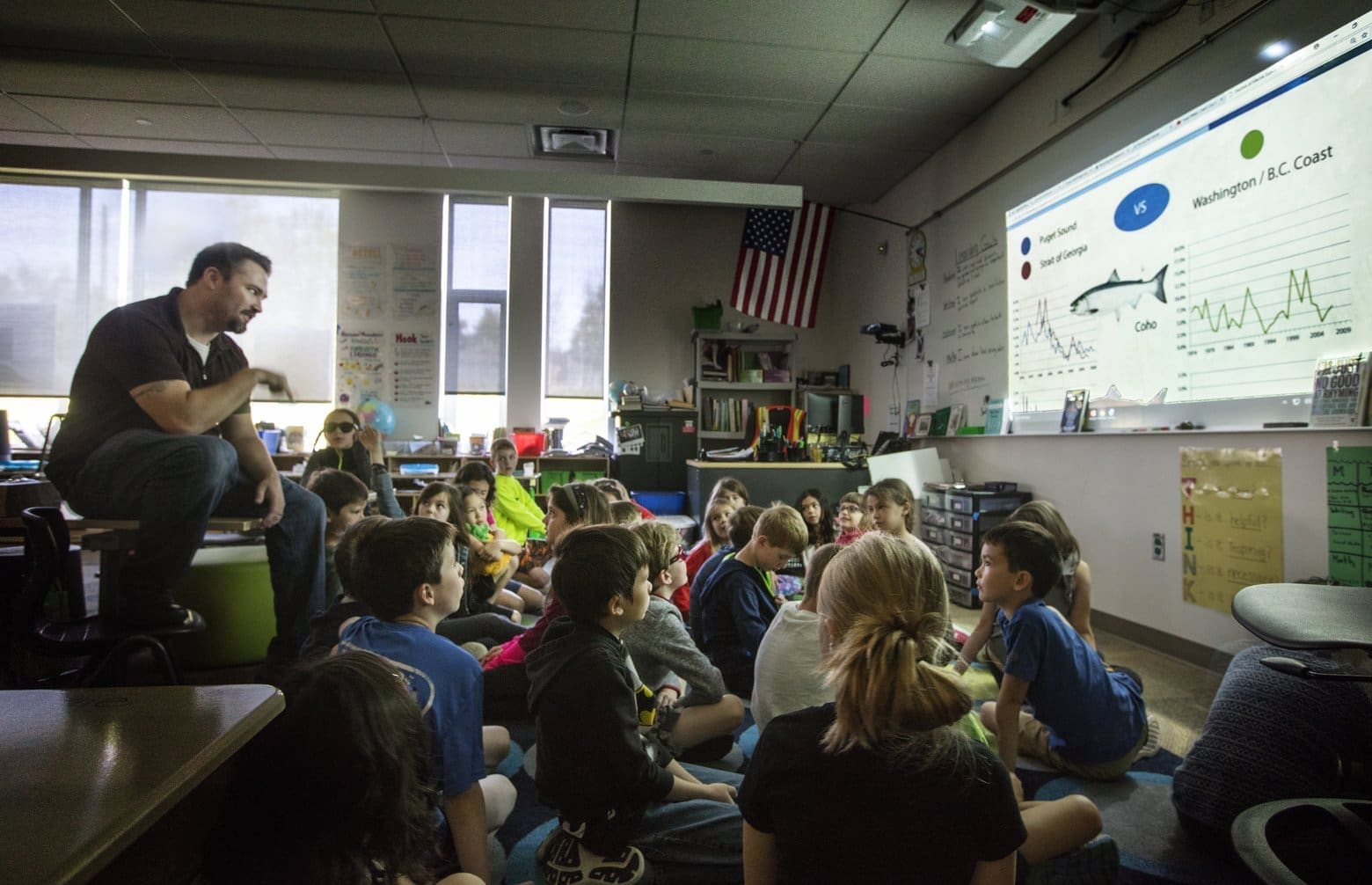 Seattle Times: Salmon migration lessons like fantasy football for fish, with 2,000 classrooms playing
Image: Steve Ringman/The Seattle Times
To raise awareness about high mortality rates for steelhead and salmon in Puget Sound waters, "Survive the Sound" invites students to track juvenile steelhead as they travel to the ocean from their freshwater homes.
Just a few paces from the front entrance to Cascadia Elementary School, dozens of baby salmon dart around in a large, bubbling tank. But for a class of 28 second-graders down the hall, a cartoon juvenile steelhead named "Fishy McFishface" is stealing the show.
For the past week, teacher Gary Bass Jr. has used Fishy — an alias for a real fish that's been fitted with a surgically implanted tracking device — to teach his students about the obstacle-ridden journey from the river to the ocean that most Puget Sound steelhead die trying to complete.
"Should we check in on our fish?" Bass asked just after the morning bell on a recent school day. The students gave a cheer and scurried to the front of the classroom as Bass pulled up a website on a projection screen.
To the left of a map of Puget Sounds waters, a panel showed a leaderboard with 47 other fish, the migration mascots for the nearly 2,000 classrooms, most of them in Washington, that are participating in "Survive the Sound" this year.
Created by salmon-conservation nonprofit Long Live the Kings, Survive the Sound became a supplement to salmon and steelhead curricula somewhat accidentally. Described as a sort of fantasy football for fish, the initiative started during last year's steelhead migration.
Continue Reading at Seattle Times.
Image caption: Cascadia Elementary School teacher Gary Bass Jr. answers questions at the end of a lesson about salmon and steelhead migration to the Puget Sound. Bass also works writing and math into his "Survive the Sound" lesson plan.