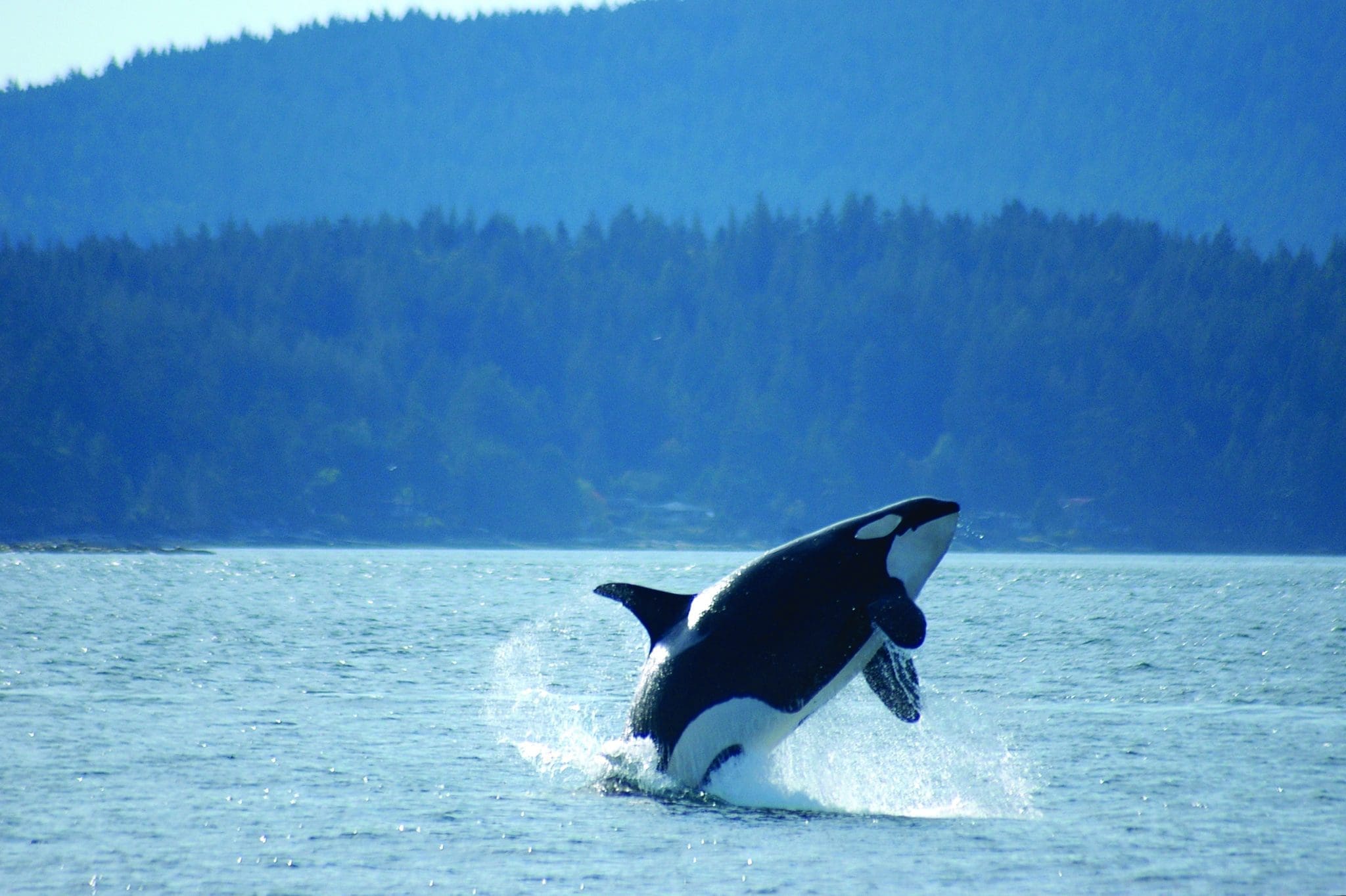 Fighting for our Killer Whales
How Long Live the Kings is working to save our Southern Resident Killer Whales
You have undoubtedly heard recently about the deepening plight of our southern resident killer whales (SRKW). It is heart breaking to see these magnificent symbols of the Pacific Northwest and the Salish Sea struggling to thrive and find enough salmon to sustain them.
These creatures need our help, and we are working hard to meet their needs.
LLTK and our partners are engaged on a daily basis in work to recover Chinook salmon, the whales' primary food source. As you might have seen in our most recent eNews, we are serving on Governor Inslee's Southern Resident Killer Whale Recovery Task Force and are intimately involved in developing comprehensive solutions for the whales, for our salmon, and for our collective future.
While we are all committed to wild fish recovery, a major fact of our current situation is a reliance on hatchery salmon in the Pacific Northwest; 70-80% of the salmon that return to Washington waters-feeding the whales, sustaining commercial and recreational fisheries, and supporting tribal treaty obligations-were spawned in hatcheries. One of the quickest ways to increase the numbers of fish available to whales currently under discussion is to ramp up hatchery production, but this is not without risk. Since the 1990s, when several northwest Chinook populations were listed under the Endangered Species Act, science has shown how hatchery salmon spawning in rivers can have negative effects on the genetic fitness and productivity of our wild fish. The diversity provided by these wild fish is the insurance policy for all salmon in the face of a changing environment and climate.
LLTK is well equipped to help address and reconcile the dual challenge of producing more hatchery fish while protecting wild stocks. From 2000-2010, we helped facilitate a technical review of all Puget Sound, Coastal Washington, and US Fish and Wildlife Service hatcheries in the northwest that led to the development of state and federal hatchery reform policies. We bring this experience and expertise to current discussions of how to increase hatchery production safely and with the lowest risk to our recovery investments and wild fish populations.
There are many other actions that should be considered to bring more prey to the whales' table. Both wild and hatchery salmon are facing significant and shared challenges. Our recent low abundance of salmon has largely been driven by impacts in the marine environment. LLTK, along with 60 partner organizations, has been working in the US and Canada to solve the biggest mystery affecting salmon populations and recovery in the Salish Sea-poor marine survival of juveniles. As the US organizer of the Salish Sea Marine Survival Project, LLTK helped identify critical uncertainties and developed a comprehensive approach to find answers. Problems that have been identified and we are working to address for juvenile Chinook include predation, contaminants, and lack of the right type of food during their early life in the Salish Sea.
Finally, habitat loss in our rivers and estuaries remains a critical limiting factor, and we absolutely need a bolder, faster, and larger commitment to habitat restoration in order to recover our wild salmon and our resident killer whales, support sustainable fisheries, and meet treaty obligations. LLTK is helping advance habitat restoration by identifying the most important projects and going to Olympia and Washington DC to fight for our salmon and whales in the legislature and Congress.
Thank you to everyone we've heard from; we know you are deeply concerned about our whales and the fish that sustain them. As a supporter of LLTK, your involvement is critically important to our success, the success of our partners, and the persistence of our ultimate clients: the salmon, the whales, and the people they support, now and in the future.
Jacques White
Executive Director
Long Live the Kings