Lummi Fishermen Complete Fourth Year of Tangle Net Fishery
On June 15th, Lummi fishermen completed another year of their pilot tangle net fishery.  This project, begun in 2012, stemmed from discussions between Lummi Natural Resources staff, Long Live the Kings and the Washington Department of Fish and Wildlife (WDFW).  The purpose of the selective fishery is threefold: to gather information on the status of the early Chinook spawning migration; to test the feasibility of conducting a traditional fishery in a manner that would protect ESA listed species; and to provide access to surplus hatchery fish returning to the North Fork Chinook supplementation program at WDFW's Kendall Creek Hatchery.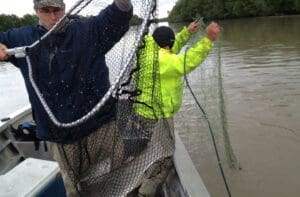 In 2016, the fishermen were able to provide 112 hatchery Chinook for ceremonial purposes including the First Salmon Ceremony and Memorial Day festivities.  This number is down significantly from the average in 2013 and 14, but it's slightly higher than what it was in 2015.
The number of hatchery Chinook caught for each natural-origin Chinook released was just under four. This is roughly half the number experienced during the previous 3 years of the fishery. Either the survival of the natural origin fish was better, or the survival of the hatchery fish was poorer than it has been in previous years.
The fishery captured 18 Chinook with coded wire tags from the Skookum Creek South Fork Chinook captive brood program sub-yearling releases, which could be an early indicator of the success of that program. Tissue samples were taken for later DNA stock assignment to confirm their origin.
The Lummi demonstrated the importance of this fishery to Sheida Sahandy, Director of the Puget Sound Partnership, and Peter Murchie, National Estuary Program Manager for Region 10 of the Environmental Protection Agency during a field trip to the Nooksack River. Sheida and Peter saw firsthand the deterioration of the lower river, caused by accelerated land use in the watershed which has increased the deposition of sediment which is filling in the Lummi's traditional fishing grounds.