Working in our Backyard: King County Projects
Recovering salmon in our urban environments is more than correcting past environmental damage. We're learning lessons and pioneering new methods so that growing Puget Sound communities and salmon can live together for centuries.
Over 2 million people live in King County which makes it one of the most populous counties in the Pacific Northwest. The 6 distinct watersheds in the county face a litany of environmental problems from the headwaters to the marine environment: high water temperatures, migration barriers, contaminated runoff, hardened shorelines, degraded estuary habitat, and legacy contamination.
Since 2018, Long Live the Kings (LLTK) has been working with partners in King County in a collective effort to ensure salmon thrive in our backyards. Here are some of the projects we're working on in King County.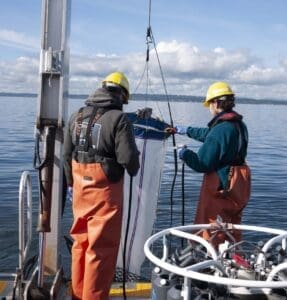 Improving Water Quality in the Lake Washington Ship Canal
In the Lake Washington Ship Canal, summer water temperatures can reach lethal levels for salmon leading to delayed migration, more parasites and disease and can even kill fish directly. Every migrating salmon in this watershed has to pass through the canal twice in its life and addressing this problem is an important step to save threatened runs and bring tribal and recreational salmon fishing back to Seattle.
To tackle this huge problem, LLTK is convening partners to build a common understanding of the problem based on the latest science and explore the potential options to address it. By 2022, we intend to have a completed report which is needed to guide a feasibility study and design process.
LLTK's role in this project is made possible by a grant from King County and in-kind support from Lake Washington/Cedar/Sammamish Watershed – WRIA 8.
Restoration Effectiveness in the Duwamish Estuary
Working waterfronts and waterways are essential components of our economy and are fundamental to our regional identity. However, over the past century of urban industrialization, the Duwamish estuary has lost 97% of the habitat it once provided these fish. LLTK's Salish Sea Marine Survival Project has confirmed that healthy estuaries are a critical need for young Chinook salmon: without functional estuary habitat, young salmon are less likely to survive to adulthood.
LLTK is leading a new partnership with Vigor and the University of Washington (UW)'s Wetland Ecosystem Team to restore habitat along the Harbor Island shoreline within the Duwamish estuary. This project will evaluate the effectiveness of a blue-green infrastructure approach to create functional estuary habitat for juvenile salmon along working shorelines. The partnership between LLTK, Vigor, and UW exemplifies collaboration across sectors to support the economy and environment. Lessons learned from this project will support future restoration projects within urban waterways.
Saving Lake Sammamish Kokanee
Kokanee are non-anadromous sockeye salmon, meaning they spend their entire lives in freshwater. Kokanee are culturally significant, important to regional
biodiversity, and have existed in Lake Sammamish for centuries. In the 2000s, one of the two runs in the area went extinct and the second is now on the brink of extinction.
A larger group of stakeholders is supporting a broad set of actions, including habitat restoration projects, to help recover these fish. Fresh water predation, warm water, and lack of habitat are some of the biggest problems facing these fish. In 2019, King County contacted LLTK with hope to apply our successful conservation hatchery programs used to rebuild steelhead and summer chum populations in Hood Canal, for Kokanee in Lake Sammamish. Kokanee were flown to our Glenwood Springs facility on Orcas Island where they are given cool, clean water to grow into adults and eventually spawned. In time. they will be reintroduced to Lake Sammamish to help rebuild the population.
Addressing Mortality at the Ballard Locks
Seals and sea lions are known to exploit natural and human-made features to consume thousands of salmon, the Ballard Locks being a prime example. Marine mammals are regularly seen planted in front of or inside the fish ladder, feeding on salmon trying to find a route through the Locks. Many fish don't make it past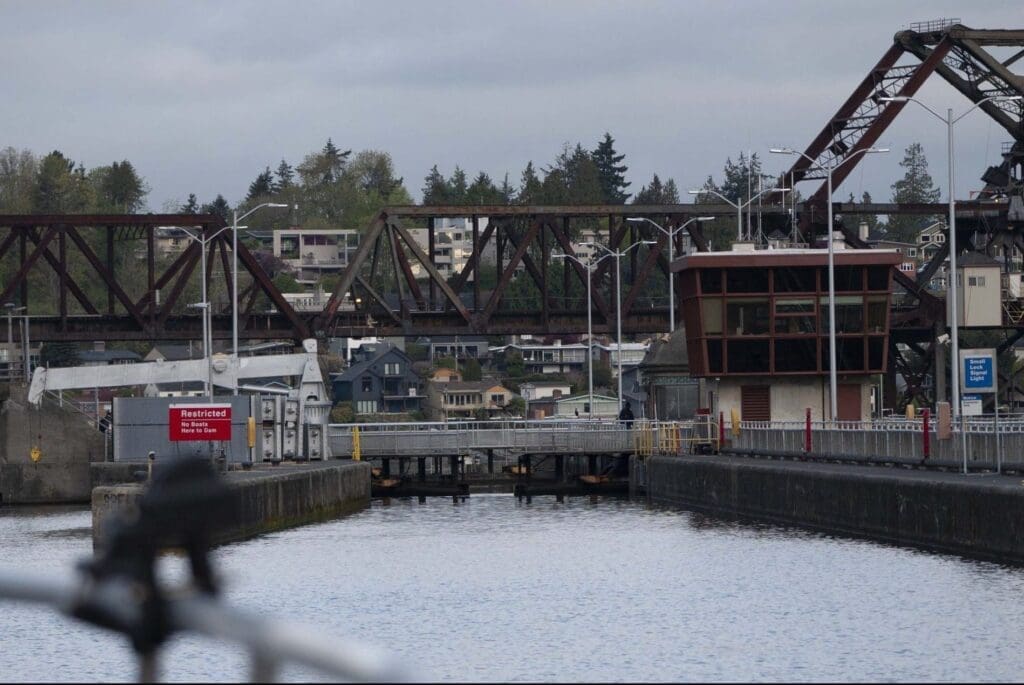 the Locks and some are injured so badly that they are unlikely to make it to the spawning ground. During the 1980s, virtually every strategy was implemented to separate marine mammals from fish with no success. Today, salmon are at some of their lowest numbers and steelhead are functionally extinct in the basin.
LLTK has identified a new device that has shown promising results in other situations, and we're working with partners to deploy and evaluate it at the Locks. The device is expected to be safe for marine mammals and salmon because it uses underwater sounds at modest volumes outside the hearing range of whales or salmon. The sound startles seals and sea lions out of the area. If effective, it could be an immensely valuable tool to keep marine mammals away from salmon at migration bottlenecks.