Heat Wave: Seattle salmon face lethal water temperatures on a challenging migration
Last month's record-shattering heat wave is driving an early start to lethally warm water temperatures for salmon in the Lake Washington Ship Canal. For over a week following the heat wave, water in parts of the Canal reached above 72 degrees Fahrenheit every day, a deadly threshold that weakens salmon and can kill them if they are exposed for long. Throughout the peak of sockeye migration and as threatened Chinook start to return, temperatures near the surface have stayed above 70 degrees.
Pacific salmon are cold-water species, adapted for mountain-fed, forested rivers and cool oceans and estuaries. Healthy water temperatures for salmon are under 58 degrees. Above 59 degrees, their bodies become stressed, making them easier targets for predators and at higher risk of disease. When water temperature reaches between 70 and 72 degrees, it forms a "migration barrier," meaning it's too hot for salmon to swim through, and can be lethal. These extreme temperatures have a generational ripple effect in struggling salmon populations. Even if they can survive to reach their spawning grounds, fish weakened from high temperatures are less successful in reproducing.
Human alterations to the landscape, combined with climate change, have made the Lake Washington Ship Canal an especially hot, difficult passage for Seattle's salmon. Sockeye, Chinook, and coho salmon from the Cedar and Sammamish Rivers must pass through the Ship Canal twice during their lifetime, where these deadly warm temperatures are now routine during the summer months. Temperatures climb quickly in the artificial environment of the Canal, an abrupt shift from cool salt water to warm freshwater that puts salmon under extreme stress. At the Ballard Locks, a major barrier, salmon can be seen "holding" for days or weeks, losing vital days on their spawning migration likely in part due to the need to avoid high water temperatures. Seals and sea lions are also a frequent sight at the Locks, where waiting, weakened salmon are easy prey. Biologists suspect that the combined stress of warm water and predator harassment can be a lethal combination. 
This summer's heat wave struck earlier than usual, at the height of the returning sockeye migration. Washington Department of Fish and Wildlife observed dead sockeye around the Ballard Locks fish ladder during and after the heat wave, near the transition from cold marine water to warmer fresh water. The high temperatures are expected to continue as this year's run of Chinook salmon, listed as threatened under the Endangered Species Act, start to return to the watershed in mid-July. But 2021 is not an isolated incident. High temperatures and low dissolved oxygen have been a known problem in the Canal for over two decades. Earlier this year, a report to the Lake Washington/Cedar/Sammamish Watershed (WRIA 8) Salmon Recovery Council found that the Canal is warm enough to harm salmon through almost all of the critical summer migration window. Between 2009 and 2019, surface waters were warm enough to negatively affect salmon an average of 87-92% of days from May to September. Parts of the canal are above 72 degrees, hot enough to block migration or kill salmon, between 12% and 24% of migration days. Thanks to the heat wave, 2021 is likely to push those averages even higher.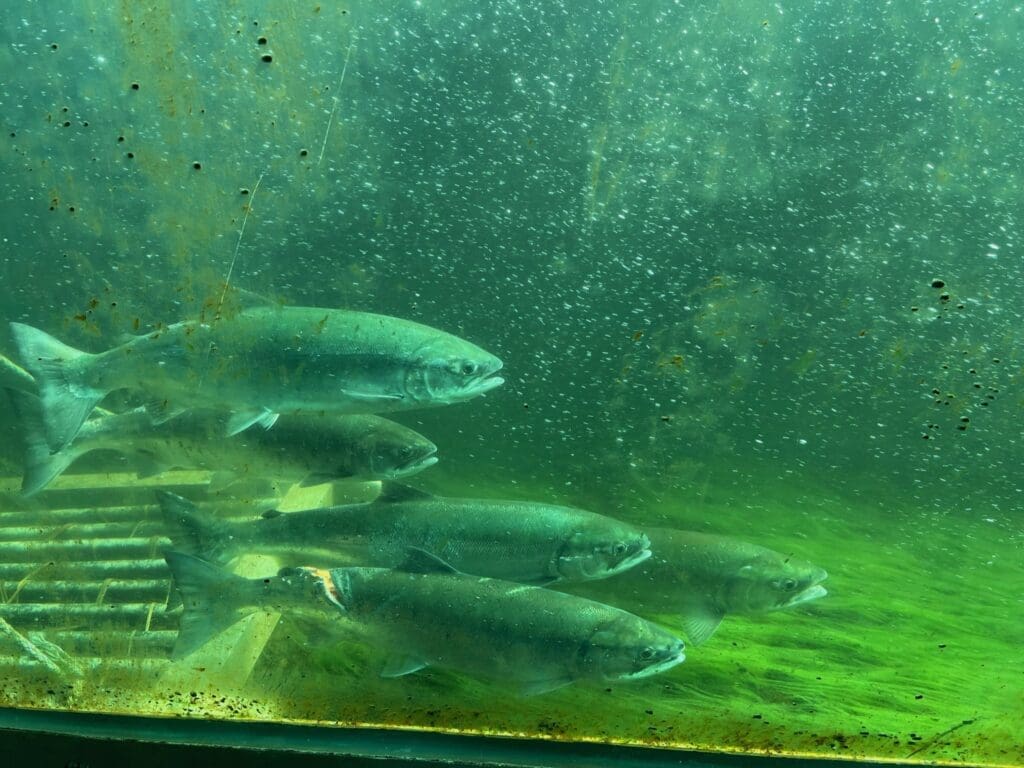 With climate change upon us, summer temperatures are continuing to get hotter, and more extraordinary records are likely to be broken. This summer has shown us just how dangerous these conditions can be for salmon who are already struggling. Experts agree that without addressing the Ship Canal, long-term salmon recovery in the Cedar and Sammamish watersheds will be nearly impossible. Like all climate resilience challenges, solving this complicated problem is an effort that will take action and involvement from everyone in our watershed community.
Based on the findings from the recent Report, LLTK and WRIA 8 are partnering to address this urgent issue. We're convening a team of government and community partners to review current science and evaluate strategies to improve salmon passage through the Canal. We'll be working urgently over the next several months to find creative, collaborative, and long-lasting solutions to help salmon migrate more successfully through these difficult waters, with preliminary recommendations expected by early 2022.
Funding support for the Lake Washington Ship Canal work group is provided by King County Water Works and the WRIA 8 Salmon Recovery Council.
Update 6/21/2022: The Lake Washington Ship Canal work group is completing a review process before releasing its report on preliminary recommendations for improving fish passage. We look forward to sharing the published report later this year.