Meet The Artist Behind Survive the Sound
This year's rollout of the Survive the Sound campaign, presented in partnership with Paul Allen's Vulcan Inc., shed new light on salmon and steelhead recovery. The campaign invited community members to sponsor juvenile steelhead as they competed for survival during a race to the Pacific Ocean. Gorgeous graphic design by Vulcan Inc. and Matterhorn Creative contributed to the campaign's success, but the whimsical and creative steelhead avatar illustrations took center stage.
Visual/UI designer and illustrator Jocelyn Li Langrand brought the steelhead avatar concepts developed by LLTK staff to life as beautiful pieces of art. Jocelyn devoted over 100 hours to creating all 48 fish and many people now want to know more about this talented illustrator. LLTK took the time to speak with Jocelyn about her life, her experience with Survive the Sound, and her relationship with the natural environment.
Jocelyn was born and raised in Shenzhen, Southern China. In middle school, she was always the one designing & drawing on the black chalkboard in the back of the classroom, but no one realized she was training for her future career. "It was more like a small hobby… Graphic design wasn't well appreciated in China back then and it was hard to take it seriously," said Jocelyn.
When Jocelyn moved to the US to study as an undergrad, she was faced with one of the most daunting tasks of college – picking a major. With the diversity of pathways for a young artist at an American college, there were many options. A practical student, she thought she might become an interior designer or even an accountant. Needless to say, life had other plans for Jocelyn. Her artistic aptitude blossomed, and she completed a degree in visual communication design at Cornish College of the Arts in Seattle.
After graduating, Jocelyn began a career as a visual and user interface (UI) designer employed by various Fortune 500 companies in the Seattle area. You may have seen her creations previously without realizing it! Building on her design expertise, Jocelyn followed her passion and launched a career as a freelance illustrator. Jocelyn told us, "I wasn't able to create and express myself and wanted to make the jump into illustrations before I had children."
During this time Jocelyn drew inspiration from a Taiwanese illustrator, Jimmy Liao, whose art gained popularity in numerous newspapers and children's books. Liao defined himself by going beyond traditional children's art and captured more adult themes, sometimes depicting lonely, sad, or even dark images. Jocelyn finds motivation in Liao's perspective on illustration, and she takes an important part of his philosophy to heart – just keep drawing every day. For one of Jocelyn's most ambitious projects, she set out to produce 100 8×8 watercolor illustrations depicting a character called Mr. Diggle. The illustrations were inspired by experiences in Jocelyn's life, dreams, and day-to-day happenings. To Jocelyn's surprise, she spent 2 years completing all 100 drawings. You can see "100 days of Mr. Diggle" on her Instagram account.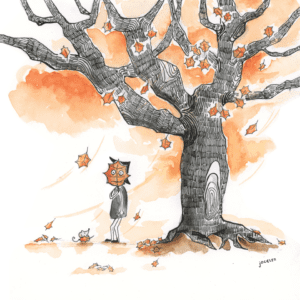 When asked about her experience with Survive the Sound, Jocelyn said, "I am very happy to be involved with [Survive the Sound]." When she was first given a list of 48 fish names with a loose description of each fish, she began by trying to understand our wacky puns. Once Jocelyn caught onto our sometimes obscure references, she explored her options in her favorite medium, watercolor and ink. Folks at LLTK and Vulcan Inc. were blown away by her initial designs, so she went to work creating all 48 unique fish digitally. Each week, LLTK staff waited with much excitement to see her latest batch of fish.
When LLTK asked Jocelyn about her relationship with salmon and the natural environment, she giggled saying, "No relation [to salmon] other than eating it." She went on to describe how she made hooks and went fishing with her grandpa during her childhood and noted that as salmon populations decline in North America, she has observed prices for salmon in Asia increasing.
During her 11-year residence in Seattle, Jocelyn was impressed by the city's connection to nature. She feels that, "[people] take Seattle for granted, but when you fly into Seattle it's like being comforted in a big green blanket." She further explained, "[it is] such a blessing to be around nature and having water in the city."
Jocelyn believes that, "Art connects people. For me, every time I experience art it opens up my mind. It's the story behind the art that gets people. Just a little background story gets that image stuck in your head and makes it so powerful and connects it to your life. [It makes you] care about things you might not have cared about before. It makes you a better person, because you think more of yourself." We hope that Jocelyn's Survive the Sound illustrations make people think twice about steelhead and their relationship to our lives, and realize the vulnerability of Puget Sound steelhead; without a concerted effort, they will slip into extinction. As Jocelyn puts it, "[they] might not be there for your children or your children's children."
Jocelyn recently moved to San Francisco and is currently working on her first children's book and a separate coffee table book, which features her 100 days of Mr. Diggle project. She enjoys spending time with her husband and one-year-old son and continues to draw every day. LLTK hopes she will join us in making Survive the Sound even better in 2018.
You can contact Jocelyn through Instagram (@jocelynlilangrand). For more information on Survive the Sound, please email sts@lltk.org. To purchase a poster of Jocelyn's Survive the Sound fish, visit the LLTK online store.