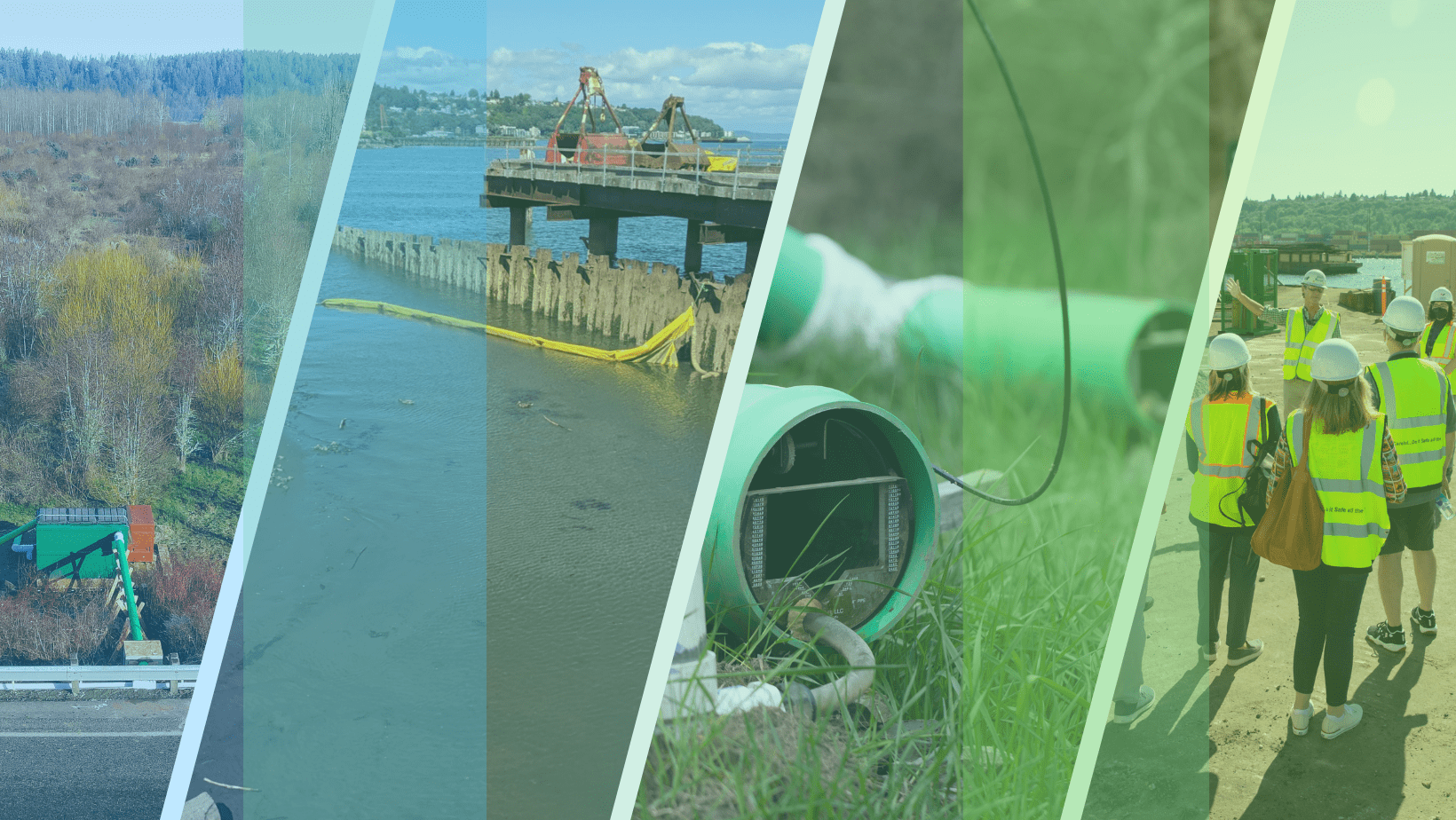 What is blue-green infrastructure?
Every day we benefit from the natural environment around us. These benefits, called ecosystem services, have not always been acknowledged in urban planning. However, in recent years there have been efforts to strategically draw on nature to deliver benefits that fall under the umbrella of "blue-green infrastructure" (BGI). This term can have many definitions, but in its broadest form these are natural and semi-natural areas with land ("green") and water ("blue") features designed to manage and deliver ecosystem services. Sometimes these are just referred to as "green infrastructure," but the recent addition of "blue" makes the central role of water in ecosystem services more explicit. So, what does BGI look like on the ground? You may already have some BGI features in your own backyard!
At the residential home scale, this can look like catching rain in rain barrels for irrigation in the dry season, controlling driveway run-off with natural mini wetlands (rain gardens), or planting more trees to shade the home, lower temperatures and reduce run-off. At a much larger scale, Hamburg, Germany launched a Green Roof Strategy with an ambitious goal to "green" at least 247 acres of rooftops in the city within one decade, to regulate temperatures and mitigate water runoff. Across the globe in the Yangtze River Delta of China, they are planning a 250-acre eco-corridor to transform an industrial area of Ningbo into a "living filter" with canals that mimic a floodplain, habitat for native plants and animals, and recreational, educational and cultural facilities. In cities and neighborhoods, these examples of blue-green infrastructure are addressing the impacts of climate change, such as floods and droughts, through water conservation, groundwater recharge, and reduced surface runoff.
Find out how to create your own rain garden with help from 12,000 Rain Gardens in Puget Sound.
Salmon here in the Pacific Northwest can also benefit from BGI practices. For example, BGI approaches to stormwater management can be used to keep rainwater from overwhelming sewer systems, which can contaminate the water and harm salmon in nearby waterways. In particular, runoff from highways has recently been linked to sudden death of coho salmon that were exposed to 6PPD-quinone, a toxic compound resulting from car tire wear. Studies are now underway to see how blue-green infrastructure can be used to address this issue. LLTK is working with the Nisqually Indian Tribe, Herrera, and Cedar Grove in Ohop Creek to test the use of a compost-based media, in a process called biofiltration, to filter out contaminants from roadway runoff. During the pilot project in early 2022, we collected stormwater samples to evaluate the performance of the biofiltration system at a site along a salmon-bearing stream. Biofiltration is usually used in bioswales or other systems permanently built into an environment. The system we used in this pilot project is mobile and containerized so the project team can easily remove the contaminated biofiltration media when necessary, making it a more flexible tool.   
See more of the Ohop Stormwater Pilot in the Nisqually Salmon Recovery newsletter Yil-Me-Hu.
In the lower Duwamish River, the ship building company Vigor has partnered with LLTK and the University of Washington to assess a blue-green infrastructure project designed to create natural, estuarine habitat for salmon at Vigor's shipyard on Harbor Island. This is an atypical "restoration" project, since Vigor is actually creating natural habitat on an artificial island that was built in the early 1900s to support industrial activities. The project goal is to create functional habitat that benefits salmon as they migrate out to the ocean through the Duwamish estuary. These pockets of habitat in an otherwise industrial landscape could provide rest stops for salmon during migration. The project is currently in the habitat construction phase, and the University of Washington and LLTK will assess the outcomes for salmon in 2024 and 2025. If the results show that salmon are using the habitat for resting and feeding, it will be a good indication that more "salmon rest stops" could help salmon in the Duwamish estuary.
Read more about the Vigor Urban Estuary Restoration.
LLTK seeks to better understand how we can use BGI in the Puget Sound to improve the health of our salmon populations. We'll keep you posted on the outcomes of these BGI projects!
Shaara Ainsley is a senior project manager at Long Live the Kings.