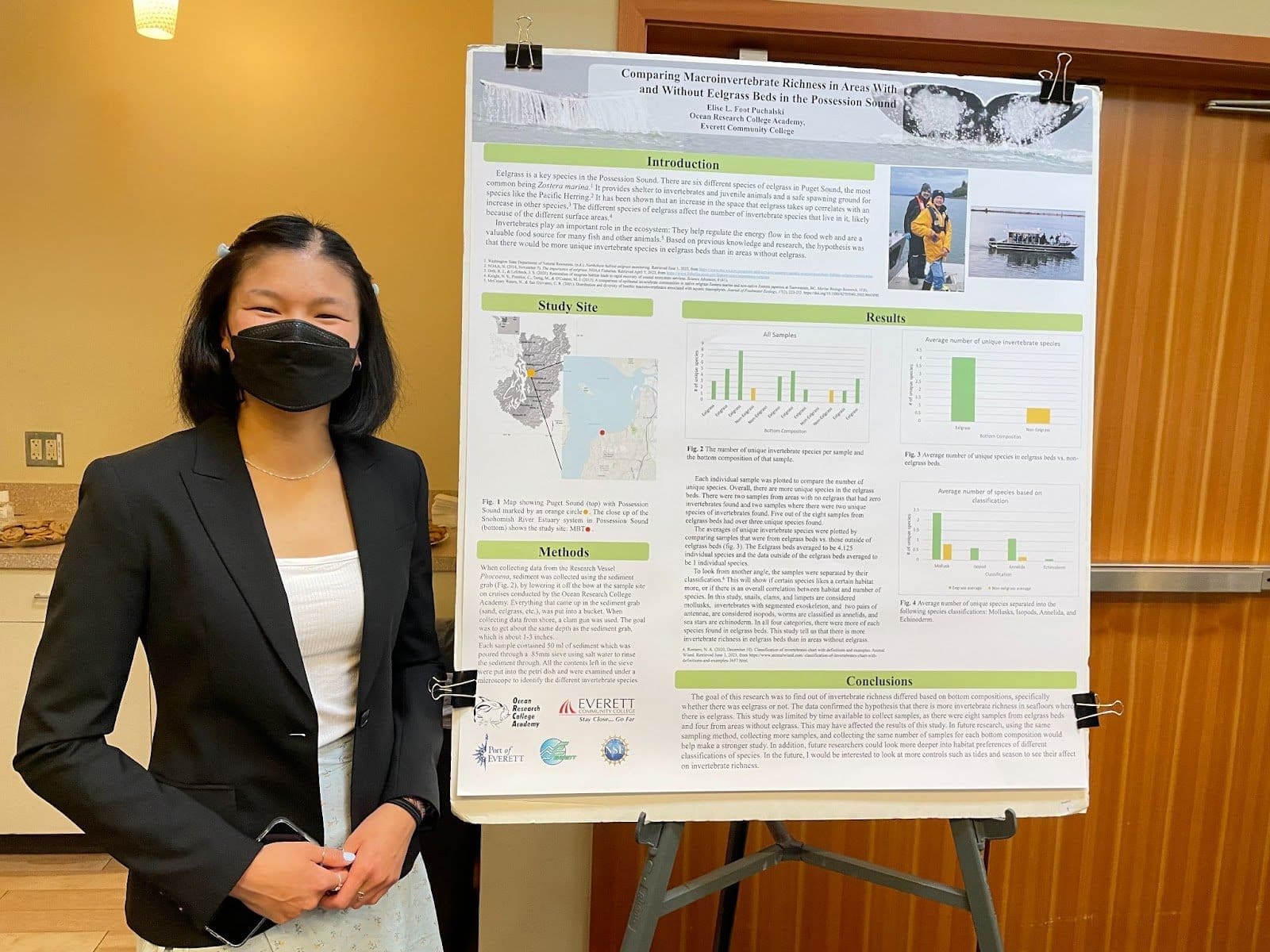 Feature
Student Research Spotlight: State of Possession Sound
By Sophia DiCarlo, Digital Content Writer/Editor, foundry10
On June 8, first- and second-year Ocean Research College Academy (ORCA) students gathered with their classmates and families at Everett Community College's Waterfront Center to present their research as a part of the eleventh annual Possession Sound Student Showcase and Talks (PSSST).
ORCA is an innovative early college academy where students can earn up to two years of college credit while completing their high school graduation requirements. Most ORCA students graduate with an associate degree in addition to a high school diploma from their sponsoring high school. foundry10 is proud to partner with ORCA and support student-led research projects.
The well-attended event included two poster presentation sessions and three oral presentation panels focused on research questions related to the greater Possession Sound area. ORCA founder and educator Ardi Kveven shared that the goal of this event is to give students the opportunity to explore this region and what interests them about it while also gaining comfort working with data and presenting their research to a larger audience.
ORCA students also have the opportunity to present this research at other scientific conferences, including the Salish Sea Ecosystem Conference, UW Undergraduate Research Symposium, and Puget Sound Environmental Monitoring Program.
The poster presentation sessions included first-year students sharing research questions guided by their curriculum and data they used from ORCA's State of Possession Sound (SOPS) project. Their presentation topics ranged from water temperature, salinity, and chlorophyll values to plankton presence and abundance over time and in different locations in Possession Sound.
Elise Foot Puchalski
First-year students gave two- to three-minute summaries of their projects to attendees. They eagerly answered any follow-up questions and shared real-world applications sourced from their data, such as tracing the impacts of increased algae blooms on the food chain.
The oral presentations were given by second-year ORCA students who ask and investigate their own original research questions. Each student gave a five-minute presentation sharing the inspiration for their project, how they collected their research, and what they learned from the process. Students' Possession Sound projects covered topics including water chemistry, currents, underwater noise, biology, and more.
Abby Searle
Abby Searle
Second-year student Abby Searle presented about seasonal diet shifts in river otters at the mouth of the Snohomish River. This project required Abby to routinely collect and analyze otter scat to better understand what their diets were composed of. She was surprised to find a larger percentage of crustaceans in the diet samples, as opposed to a dominant source fish as she originally expected. There were even a couple weeks where Styrofoam made an appearance in the samples she collected.
After her sample collection and analysis were completed, Abby shared that preparing for this presentation allowed her to gain confidence in her public speaking skills. "It's definitely something that I can carry along with me—realizing that I can do it, even if it's hard and takes a lot of practice. But at the end of the day, I can do it."
Abby credits the supportive staff at ORCA for helping her put together her project and developing her presentation skills. "I genuinely don't know if there is a place I could feel more supported just because I could walk into any of their offices, ask a question, and come out satisfied with the answer. Or if they don't know, they'll help me figure it out, and they're just so willing to be a part of my research, but also step back and let me do it and figure things out by myself."
foundry10 was excited to partner with ORCA and support student data collection for their research projects. To learn more about ORCA, visit their website. To learn more about foundry10 research, programs, and events visit foundry10.org.